Matt Marchese thanks Luis Suarez for his services to Liverpool on the day his departure from Merseyside was confirmed.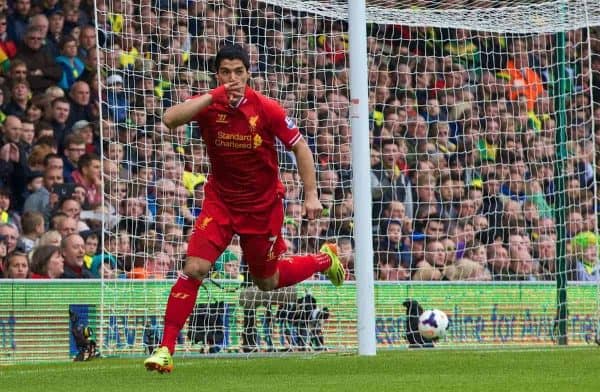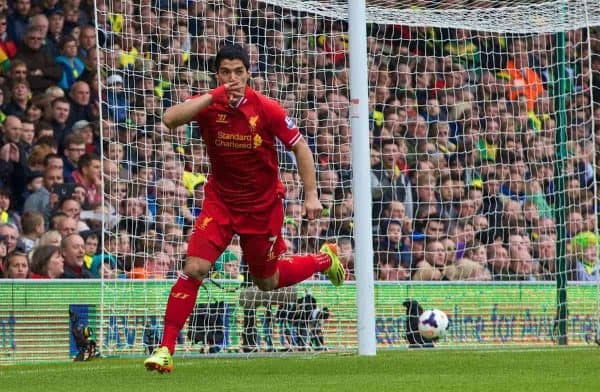 The day most Liverpool fans have dreaded, is finally here.
The announcement that the Reds have sold Luis Suarez to Barcelona was one that most expected, and many called for after another ugly incident in this year's World Cup with Italian defender Giorgio Chiellini.
Some said it was a long time coming, especially after Arsenal's advances last year during the summer transfer window, but it never did come to fruition. We thought that Suarez would be around for the foreseeable future after he pledged his allegiance to playing at Anfield. He was going to not only be a Premier League star, but a Champions League star after Liverpool's rise to the top four of the Premier League table.
Little did we know at that time, that he would be a Champions League star, but for someone else.
I don't know how to feel about all this. A man of two minds, if you will.
Liverpool fans all over the world will miss his sublime talent, magical goal scoring ability and the infectious smile that came when the team was successful.
On the other hand, we can all come to grips with the fact that he had his demons. He could never find his way out of trouble. It followed him everywhere. Whether it was the nasty incident between himself and Patrice Evra, his embellishing on the field and the two biting incidents.
At some point, you just need to cut a man loose.
Was his talent level so far beyond his on field problems? In the end, probably not.
We also cannot discount the fact that it was a goal of his to play in Spain for one of the giants in La Liga.

Suarez will always be remembered for both the good and the bad during his time at Anfield. But there is no doubt that his dazzling skill and breathtaking goals is what he should be remembered for. The performances that made Norwich fans cringe, his unbelievable goal scoring record over the past two seasons and the magical set piece goals that have made us all watch in disbelief. Those were the moments that will be forever embedded in the hearts and minds of Reds fans all over the world.
Brendan Rodgers should be applauded for everything that he has done when it pertains to Suarez. He took a lot of heat for trying to keep him last year and his constant defence of the enigmatic star. I think there's a lot to be said for Rodgers hunger to keep Suarez in the fold at Liverpool. Of course you want to keep one of the best players in the world on your side, but at the same time, Brendan believed that he could change his ways and find his way away from trouble.
At the end of the day, Luis Suarez is a member of Barcelona and no longer a Red and it didn't matter what anyone said, it was time.
I don't feel like he spurned Liverpool by any stretch of the imagination. It was just one of those scenarios where he had to go somewhere else to get a fresh start. No fan should feel any ill will toward Luis. He gave his all every time he put on that Liverpool kit and there shouldn't be any doubt about that.
Thank you Luis Suarez for the magic that you graced us with during your time as a Red.
Follow @MarcheseSNET590