Neil Poole is encouraged by the potential of Liverpool's latest batch of up-and-coming youngsters. However, he explains how the pedestals built for such blossoming talents have a tendency to simply fade away.

Despite the title, the kids are not all shite. It's just a coping mechanism to keep wicked hope at bay because I'm mentally weak. The fact is some of the kids look very, very good.
Only the most curmudgeon of souls couldn't have failed to have had their spirits lifted by the enthusiasm and endeavour of the young whippersnappers against Preston North End at the weekend. They charged around, they injected energy; they metaphorically waved their hands in the air and shouted, "Look at me Brendan, look at me!" I love those little try-hard scamps. They changed the game and they looked good.
But the kids have always looked good haven't they? And particularly in pre-season.
Whether you are 14 or 84 there has always been at least one name bandied around; a kid on the fringes who could make it. Even in recent lean times, everyone believed in someone.  In the 15 or so years between the emergence of the teenage Gerrard and the teenage Sterling though, the wheat has defiantly clung to the chaff, no cream has rose to the top and the floor of the Mersey is littered with sunken teenage boys who forgot to swim.
Take a random sample of the young players from Saturday's game and the cruel reality made is that if even one 'makes it' this will be something exceptional, not the rule. Names like Ibe, Peterson, Adorjan, Rossiter, Jones and Phillips no matter how promising you may think them will barely be footnotes in our history. Add them to Welsh, Darby, Nemeth and Hammill.
Surely Ibe will make it though…

It's a very subjective and unscientific business when concluding if a player who has come through the ranks or has been bought relatively young 'made it' or has been a 'success'. You have to draw your line in the sand somewhere. I sense the comments section angrily being populated with the name of successes between the emergence of Gerrard and Sterling I've failed to mention. You might count Stephen Warnock. I don't.
For me, my minimum benchmark would be the peanut headed and likeable man-child known as Danny Murphy. Not an academy player and still one who divides opinion among Liverpool fans. He was, however, a young player who undeniably sustained a career and had an impact. He established himself in the first team at Liverpool, significantly contributed to a period of success in the treble winning season and when he left Liverpool he continued to carve out a career in the Premier League with Tottenham Hotspurs and Fulham. He wasn't simply a journeyman and was fundamental to Fulham escaping the drop under Hughes in 2012.
Any more like that in recent years? Not that I can recall.
It seems that the writing is on wall when it's been there long enough that the weeds can grow around it. For me, Suso, Coady, Robinson and Kelly need to do something very drastic, very quickly if they're to have a future at Liverpool. For young lads they've been round an awful long time and there's more than just a whiff of the Daniel Pachecos about them all. Look up Pachecoitis in the dictionary and it says:
'an infliction resulting in the unwavering belief that this could be the year for a young player who has had more pre-seasons than you have had hot dinners, who multiple managers haven't fancied and who isn't actually 17 anymore but is 42. When the name is applied to writing it is always followed by the word loan. Always.'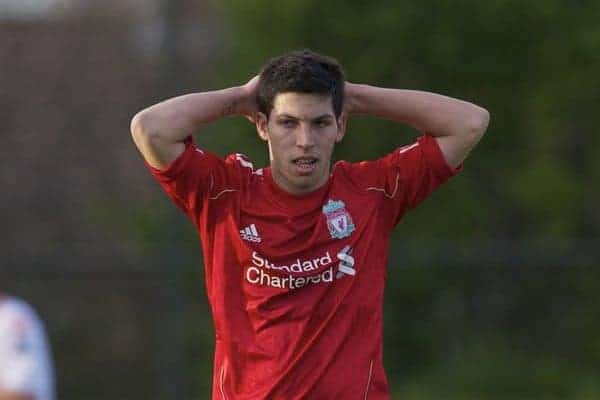 There is of course the rare antidote to Pachecoitis called Flanagan's Brew.
It's hard to accept that such players won't make the grade because we've invested emotionally in them. Plenty of us have pinned our hopes on a young player only to take the blindfold off and see we've simply pinned a tail on the donkey.
Everyone enjoys putting all their shiny LFC credential-eggs in a slightly gangly adolescent basket. Why wouldn't we? It's a low risk, high return game to play. Stick your neck on the line and proclaim without a hint of doubt that Rossiter will be the one who makes it.
Get it right and you can call your self the next Geoff Twentyman and get 'I told you so' tattooed across your chest. Get it wrong and you take your pick of excuses: he 'did' have the potential but wasted it, the club let him down or he wasn't given a chance. Much more likely though is no one will remember the player, no one will remember what you said, and you can brush it under the carpet. Ssshhh.
I'm still convinced Stephen Wright can make it. Half of you don't even know who he is. Honestly, he could have. Many of you don't remember him. Point proven.
When these young players leave there is always the nagging feeling that we might have missed a trick and we'll regret the decision. Most recently, this has been the case as players like Tom Ince and Alex Kacaniklic put in a string of decent performances at Blackpool and Fulham respectively.
But again, the reality is they don't go on to great things. They might fashion a respectable lower league career for themselves. They may score the odd revenge goal. But they never end up with one of our peers as a resounding success.
But this batch. There's some really good ones in there. Better than we've had previously? Maybe it's all about to change.
This is dangerous talk. The kids rarely make it. They are rarely are good enough. It's easier to cope by pretending the kids are all shite…
…except Ibe.
And Peterson has scored two in two…