Robbie Deighan looks at the trends in Premier League history as Liverpool look to build on their second-place finish last season and not fall by the wayside.

If you are first you are first, if you are second you are nothing.
—Bill Shankly
That famous Bill Shankly proclamation doesn't perhaps ring quite as true in modern football with the advent of the Champions League. Even fourth is something nowadays.
Yet the legendary manager's words would've resonated more than ever to the Liverpool fans in the away end at full-time at Selhurst Park in May. The title was everything but the title was gone.
Brendan Rodgers' goal now must be to ensure that it didn't count for nothing, to use last season as a platform for a prolonged stay in the upper echelons of the Premier League table.
Second place has been used as a platform before by Liverpool in the Premier League; not as a platform for success, rather a platform from which we plummeted back to the depths of irrelevance.
In complete contrast, on the five occasions our bitter rivals Manchester United have finished second in the Premier League they've responded by winning the title at the next attempt. Liverpool have collapsed after both of their previous runners-up finishes and dropped out of the Champions League as a result.
Gérard Houllier's Reds claimed silver in the 2001/02 campaign but poor judgment in the transfer market, probably combined with the Frenchman's health problems, resulted in Liverpool slipping to fifth the following season and then fourth the year after as Houllier departed.
Rafa Benitez fared even worse after narrowly missing out on the title in 2008/09; the Spaniard's side plummeted to seventh. 12 months after attaining Liverpool's highest ever points tally (86) Benitez was gone; that's how harsh second place in the Premier League has been to Liverpool.
Indeed, the Reds are alone with Aston Villa when it comes to clubs having only experienced traumatic follow-up seasons. Newcastle retained second spot once, while Blackburn, Man United, Arsenal, Chelsea, and Man City all went on to win the title after finishing second.
The chart below lists every Premier League runner-up from Aston Villa in 1992-93 down to Man City in 2012-13, along with where they finished next season and their respective points totals.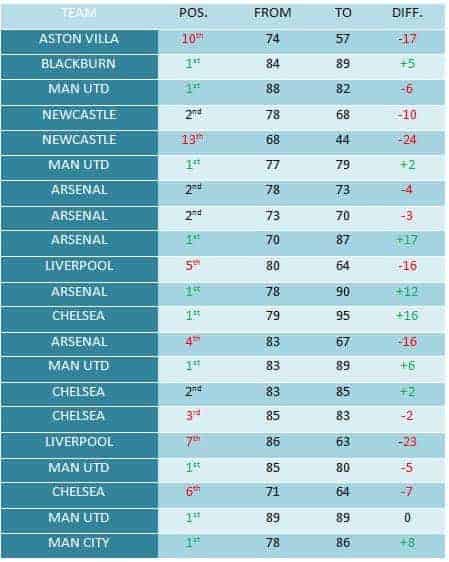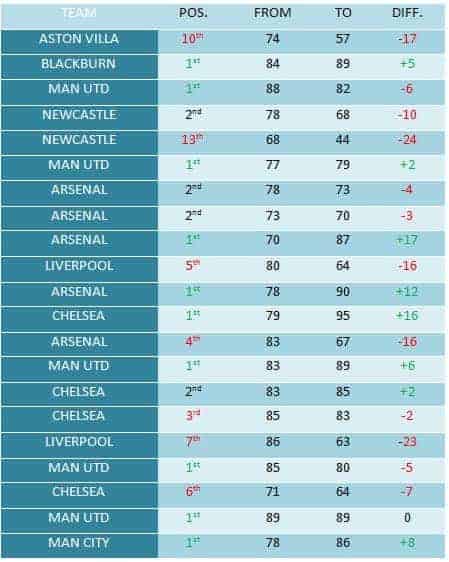 As you can see, of the 21 Premier League seasons that have succeeded the inaugural campaign the runner-up has gone on to claim the title ten times. First place is the mode number (the most commonly occurring finish) and if Liverpool were to claim it this season it would make it eleven from 22, a perfectly balanced 50% success rate. And the universe loves balance, right?
First may be the mode but the average position works out as third place and with the loss of Luis Suarez some Reds' fans may be content with that. After all, merely retaining our Champions League status with a place in the top four would be an improvement on Liverpool's previous showings coming from this position.
The chart shows that this has been accomplished by Premier League bridesmaids 16 times, which equates to a 76% success rate. Liverpool can boast of the dubious honour of being the only club to drop out of the top four on two occasions.
Aston Villa, Newcastle, and most recently Chelsea keep us company, although it must be said that Chelsea's fall is tempered by Roberto Di Matteo's success in the Champions League and FA Cup that year.
One of Liverpool's dropout seasons, the 2009-10 campaign, saw the Reds finish 23 points worse off than the previous year.
This represents the second biggest points drop by a runner-up, just a point behind Newcastle's disastrous 1997-98 season in which they came 13th, the only runner-up to slide into the bottom half of the table. Liverpool ended up in seventh and have only now truly recovered.
Coincidentally, last season was something of a reverse of 2009-10 as Rodgers' Liverpool climbed from seventh to second with an improvement of 23 points on the Irishman's debut haul.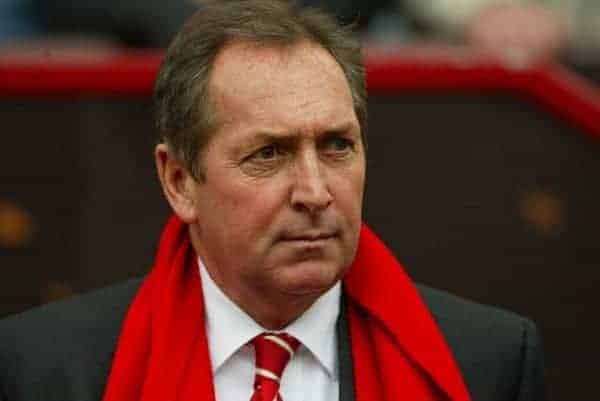 In 2002-03 we were inferior to the previous year to the tune of 16 points, although we did beat Manchester United in the League Cup final for some consolation.
Slightly strangely, point increases have only been posted eight times despite runners-up either retaining the position or winning the league 14 times out of 21.
When Man United won the league in 1995-96 they actually accumulated six points less than the year before when they came second. They repeated this in 2010-11, finishing top on 80 points after finishing behind champions Chelsea with 85 the previous season.
Three of the four sides to retain their runner-up spot achieved it with a reduced point tally.
The stats show that clubs should be confident coming from second. It is a position of power. Liverpool's story reads differently to the trends and successes enjoyed by most of the rest, but it must be noted that Adam Lallana and Lazar Markovic are not Salif Diao and El Hadji Diouf, nor is John W. Henry a ringer for Tom Hicks or George Gillette.

For those are what scuppered Liverpool before; one of the most calamitous transfer windows imaginable and the cancerous influence of  the previous ownership finally spreading to the manager and playing staff.
We can take further solace with the thought that our two previous second place finishes came after years of squad building, very much at the end of a cycle. Rodgers, in just his second season, guided Liverpool to second with a largely inherited team, complimented only by a few signings of real note.
Houllier and Benitez made slow and steady climbs up the table; Rodgers rocketed into second from nowhere and left those behind choking on the fumes. Rafa's 2008/09 campaign in particular felt like the culmination of all his work, his plans finally come to fruition.
With Rodgers the sense is that this is still a work in progress. And that's exciting; he led us to second, with the unfinished article. Not with the culmination of his work, but hopefully with the beginnings.