A week after Luis Suarez's bite incident in Brazil, and with the dust yet to settle, Danny Gallagher faces up to the realisation that this could be the end of Liverpool and the Uruguayan's relationship.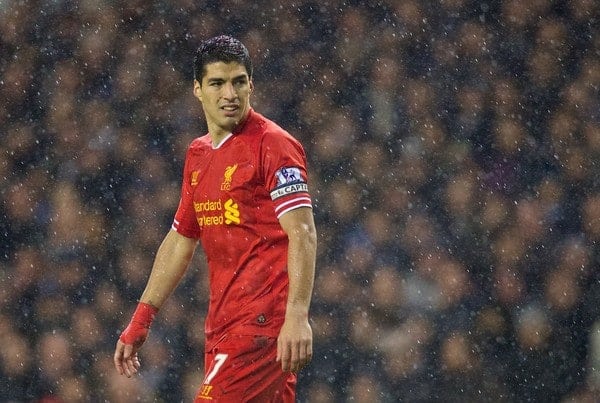 After the majestic Premier League campaign of 2013/2014, many fans, myself included, were hard-pressed not to be left forcefully digesting a turbulent cocktail of emotion – ranging from raw passion and pride to anguish and desolation.
A season that initially bore little optimism, with only the bleak 'what-if' of European football qualification, resulted in a final-day title decider with Brendan Rodgers' men letting the Premier League trophy pass agonisingly close, by a mere two points, into the neighbouring grasp of free-spending Manchester City; a simply unfathomable fairy tale.
Since then, the World Cup has arrived – and for fans of England, unfortunately passed. Nevertheless the time is nigh to begin thinking about next season; a bubble of excitement draped with realistic expectations of serious intent. That was, however, until Uruguay happened to face Italy in Natal on June 24th.
Déjà vu
"Surely not again? A bite? For the third time!?"
Everything had been going so well for Luis Suarez – a sublime Premier League season had seen 'El Pistolero' drowning in every sporting accolade on offer; thoroughly deserved in unquestionable measure.
The stage was indeed set for Suarez to take his scintillating form to the greatest show on earth, proving first hand to the eyes of the globe his rightful claim to the title of one of, if not the, greatest striker on the planet.
Instead, Suarez's now ever apparent 'red mist' descended once more; teeth were sunk and uproar was unleashed – in hearty measure. It is difficult writing this as a Liverpool fan, but the latest antics of Suarez simply beggar belief.
In the immediate aftermath of the Ivanovic bite, it would not be unfair to suggest that perhaps rose tinted spectacles were simultaneously sported by many Kopites.
It cannot be forgotten that in said incident, Suarez escaped instant punishment from the referee, thus later capitalising upon this human error of the official's by sending an equalising header crashing past Petr Cech at a jubilant Kop end.
This time however, things are different. On no occasion have the actions of Suarez been excusable, yet is it perhaps this latest saga involving Juventus' Giorgio Chiellini that lay things in a more observable light.
Three strikes and you're out
Will Liverpool hold on to Suarez? Certainly a question that is not readily answerable. Yet with Barcelona looming and an eerie mist of subdued tranquillity descending from all parties, it appears that this is the summer that we shall finally part with our phenomenal, albeit highly troubled, South American magician.
Where then, should it be the case, does this leave Liverpool with regards to the upcoming season?
Many a sceptic would here strongly suggest an educated lowering of expectations concerning the Reds' 2015/16 exploits – perhaps likening the scenario to that of Spurs and the loss of the talismanic Gareth Bale – "No amount of money can replace such a player", they say… but really?
Rebuild
Should Suarez depart, Rodgers immediately finds himself with a healthy hand of cards to play. The interested parties of Real Madrid and FC Barcelona, respectively, will be more than astutely aware that Suarez's latest misdemeanours will not slice a generous sum from his price tag.
The transfer window of last summer only has to be recollected to observe just how intently Liverpool and owners Fenway Sports Group will fight tooth and nail to maintain their prized assets.
Last summer's transfer window, coupled with the Reds' domestic campaign, proudly proved that Liverpool are still very much a winning club, and, with all due respect to Tottenham Hotspur, do not identify themselves as a selling institution.
The buy-out clause of Suarez's contract, rumoured to be around the £70-80 million mark, (and applicable only to the key Spanish clubs in question, depending upon which sources you believe) leaves Liverpool in the rather luxurious situation of either playing hard-ball with the delirious spendthrifts of Real Madrid.
Likewise, lowering the price margin for Barcelona, on the premise that the Catalan club include one of the decorated talents of either Pedro or Alexis Sanchez; the latter a current talk of many after a tremendous World Cup with his native Chile.
New era
With the return to the promised land of the Champions League just around the corner, optimism should be rife. The successful acquisitions of Rickie Lambert, Emre Can and Adam Lallana early into the battlefield that is the transfer window bodes well for Rodgers in formulating his blueprint of assault for the coming campaign.
Should other circling rumours be true, the watchful eyes of the Reds' scouting network have also been observing the likes of Lazar Markovi?, Divock Origi and Dejan Lovren, all potential-laden outlets who could each offer a different dimension to Liverpool's upcoming fixture-hectic year.
Last season evidenced that an optimum level of understanding had been achieved, with Rodgers' ethos gradually saturating itself more and more across Anfield, subsequently seeing a commanding rise in players such as Jordan Henderson, Raheem Sterling, Philippe Coutinho and Daniel Sturridge.
It goes without saying that Rodgers will not have lavished away from football this summer. Rather, the football-obsessed Northern Irishman will have been meticulously planning the next step for Liverpool's restoration to the height of European football.
Financial muscle
It is only a matter of time before the Premier League powerhouses begin to bludgeon the transfer market, armed with hefty chequebooks – something of which Liverpool have never really had the royalty of doing so.
Despite this however, given the chance to seek out his targets and identify a suitable spending margin, Rodgers has proven first hand that he can efficiently and methodically manoeuvre through the seas of inflated price tags and laughable wage demands, whilst procuring a few gems along the way.
Kopites should not be dismayed by the possibility of Suarez departing. Life will go on at L4 and certainly no individual is bigger than the club. A new challenge has arisen, one that should be grasped with both hands.
Liverpool have graced the Champions League before, that is a given. Brendan Rodgers on the other hand, has not. This is a prime opportunity for the Carnlough born man to pit his wits, expertise and philosophy against Europe's finest.
Different emphasis will be placed upon the Reds next season. Should it occur, losing a 31 goals-a-season striker is never an easy variable to accommodate. If last season taught us anything however, it is that a solid step forward has been taken, an air of confidence has been inhaled and a real sense of belief and intention now surrounds Liverpool football club once again.
As reported meetings with Barcelona are soon to take place, Suarez may leave – or Suarez may stay.
Regardless, the team will build, improve and assert themselves once more.
With the return to the Champions League and the big guns of Europe eying up a revitalised Reds side, Brendan Rodgers' project at Liverpool is finally beginning to come to fruition – the baring of fruit is not far away.
Come the start of the 2014/15 season, a new era will begin.