With Alberto Moreno making his debut for Liverpool in the 3-1 loss away to Manchester City on Monday night, Jack Lusby provides an in-depth analysis of the Spaniard's performance.

Monday night's trip to the Etihad Stadium proved to be a disappointing affair, with Brendan Rodgers' Liverpool given a lesson in cutting-edge attacking play by league favourites Manchester City.
A brace from Montenegrin striker Stevan Jovetic was followed by an instant return by substitute Sergio Aguero as the Citizens decimated a solid 35 minutes of exceptional pressing play by the Reds.
Good work by Daniel Sturridge and Rickie Lambert forced Pablo Zabaleta to concede an own goal to reduce the deficit, but Rodgers' side were unable to make more of an impression.
Prior to the game, one name stood out in the Liverpool team-sheet: 22-year-old left-back Alberto Moreno.
PHOTO: @lfc18alberto's first ever #LFC jersey. He makes his debut tonight pic.twitter.com/8GddvRuxG5

— Liverpool FC (@LFC) August 25, 2014
The £12 million summer signing made his first start for the Reds, on the left-hand side of a defence which also consisted of centre-backs Dejan Lovren and Martin Skrtel, with Glen Johnson on the opposite flank.
Joining from Sevilla, this was some stage for Moreno to make his Liverpool debut.
It will be an unhappy memory for the young defender, but how did Moreno perform on his first outing for Rodgers' outfit?
(Video courtesy of MostarLFC)
Speaking before the game as part of his pre-match analysis for Sky Sports' Monday Night Football, Liverpool legend Jamie Carragher spoke of Moreno:
"I talked to Xabi Alonso as soon as we signed Moreno. He likened him with Jordi Alba, and that's a statement right there."
This is high praise indeed, with Barcelona left-back Alba the premier option for the Spanish giants and, in turn, the Spanish national side.
Expectations were amped and a debut away to Manchester City was somewhat of a baptism of fire for the young defender, but Moreno initially performed encouragingly.
Most notably, in the early stages, was the Spaniard's attacking contribution.
Moreno was fearless on the ball and intelligent in terms of output; whilst some full-backs offer a reductive bursting run forward followed by a tame, uninspired cross, Moreno proved to have a sharper edge than this.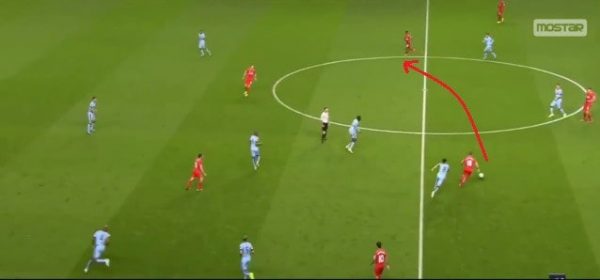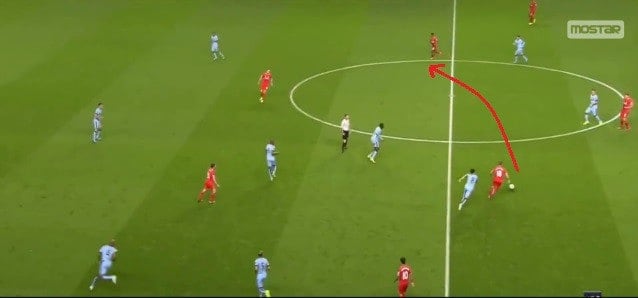 Firstly, this could be seen as the 22-year-old saw his forward foray thwarted by a doubling, or tripling, up on the right-hand side of the City defence.
Moreno instead cut this play short and opted to take the ball inside, eventually finding Raheem Sterling with a precise pass.
This ability will give Liverpool further options from the defensive flank.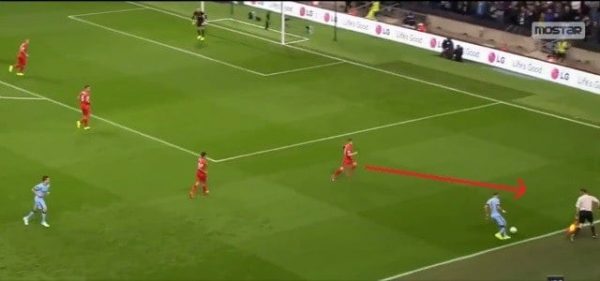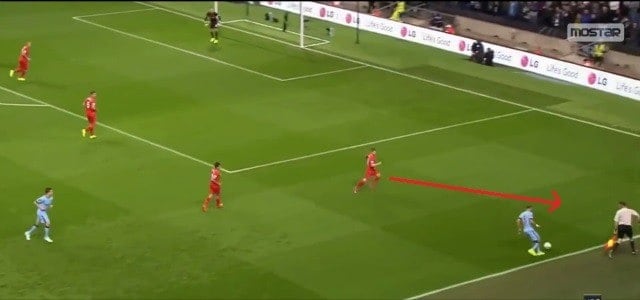 In the first half, Moreno also proved his defensive capabilities.
Moreno closes down Zabaleta. I've never seen that before from a Liverpool fullback :P

— ML (@FootyML) August 25, 2014
Fellow Liverpool left-back and compatriot Jose Enrique is enduringly criticised for a lackadaisical defensive attitude.
However, Moreno proved with a determined block to stymie City's Zabaleta on 18 minutes that this isn't a prominent feature of his own game.
With Liverpool dominating the opening stages, Zabaleta saw no joy on the right flank, mainly due to the attentions of Moreno.
This transition from defence to attack continued in earnest for Moreno.

A gut-busting run down the left by-line on 20 minutes saw the youngster outpace French midfielder Samir Nasri, allowing Moreno the space to produce an intelligent, low cross—unfortunately blocked.
That's the sort of ball #LFC need in the box. These are giants. No point lumping it in. #Moreno

— Graeme Kelly (@GraemeKelly1) August 25, 2014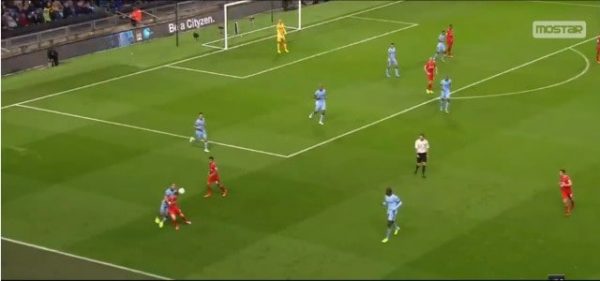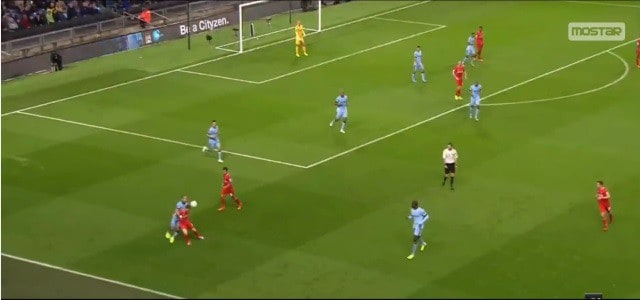 Collecting the resulting rebound, Moreno drew a foul from Zabaleta with some great work, shielding the ball from the Argentine's grasp.

Soon after, Moreno produced another teasing ball across the City six-yard box—these are the sorts of balls that players such as Sterling and Daniel Sturridge will thrive on with well-timed runs.
According to WhoScored, the Spaniard attempting four crosses in this tie; taking this as an "average", this dwarfs last season's output by Glen Johnson with 1.75 crosses on average per game.
As Liverpool dominated, the majority of possession could be seen to be played down the left flank, and this is largely due to the success of Moreno.
Possession: Man City 32% – 68% Liverpool. Is this Anfield? pic.twitter.com/KTUiE3UBlM

— Squawka Football (@Squawka) August 25, 2014
However, unfortunately, the left-back's performance soured late into the half, as the exceptional Zabaleta began to assert his authority.
This resulted, eventually, in Liverpool conceding the opening goal on 40 minutes.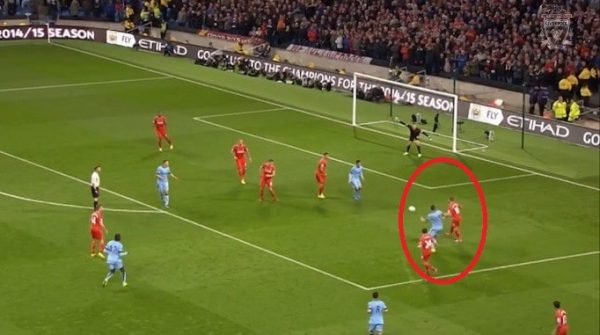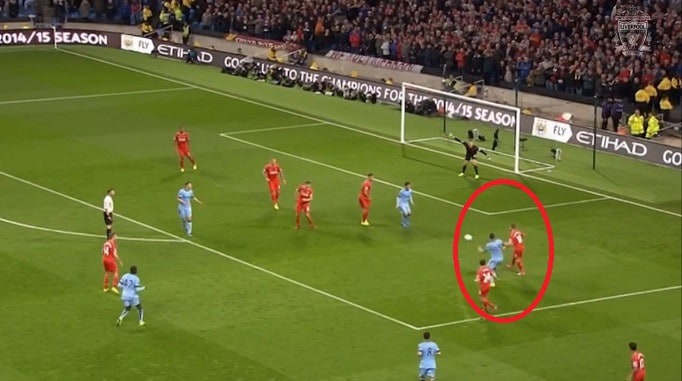 Moreno giving an early reminder of the pace of the Premier League. Costly hesitation. Jovetic in. 1-0 to #mcfc.

— Henry Winter (@henrywinter) August 25, 2014
A large measure of the blame can be placed at the feet of Moreno, with the No. 18 hesitating with a clearance, this allowed Jovetic to nip in and fire home; although Lovren and Steven Gerrard were also at fault.
This lapse sullied an otherwise impressive first half for the new left-back.
Moreno's second half was somewhat muted in comparison, with the defender's confidence perhaps affected by the goal.

However, the left-back looked determined to make amends for his error, particularly with a lung-bursting run to block an onrushing Edin Dzeko to thwart a second City goal on 49 minutes.
https://twitter.com/downeytrev/status/503996890934161408
This didn't last long, however, as the Reds were duly punished as Jovetic scored his second just five minutes later.
More great play by Jovetic saw the forward play the ball out wide, then make an intelligent run to receive it in the 18-yard box and strike home.
Nasri provided the assist, and it can be argued that Moreno failed to track the run of the Frenchman; however, much debate has arisen post-match due to the positional discrepancies between the left and right sides of defence.
Look at Lovren and Moreno and then look at Skrtel and Johnson. Lovern leads the line so who is at fault? #LFC pic.twitter.com/Hg6DIbWmJq

— Robbie Sargent (@Sarge1972) August 25, 2014
Was this due to Lovren's poor leadership, or Skrtel and Johnson's poor positioning?
Finally, Aguero's goal saw the Argentine escape the attentions of the Croatian centre-back, sanctioning Liverpool's misery—however, little blame can fall at the feet of Moreno this time around.

Moreno perhaps gave the most encouraging forecast of his Liverpool future with a fine passage of play involving substitute Lazar Markovic (circled below); a clever one-two leading to Moreno almost creating a goalscoring chance.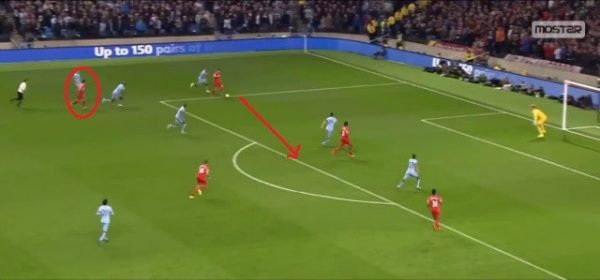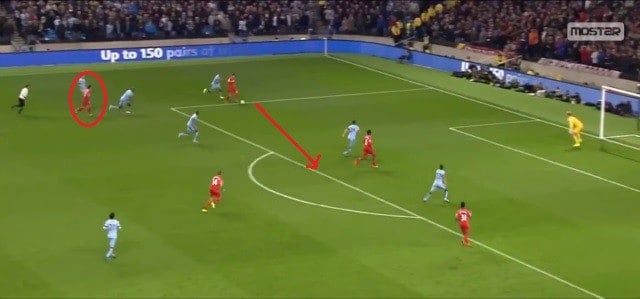 The pair will be vital on the left-hand side in the future.
However, suffering an injury late on, this will hamper the left-back's immediate progress within Rodgers' squad.
Overall Analysis
A mixed bag of a debut, Moreno gave a solid account of himself in terms of both defence and attack, but will need to adapt to the fast-paced physical style of the Premier League.
Problems have arisen over Liverpool's defence as a whole, and this unit must be fine-tuned, and fast; an unsettled selection with potential lay-offs for Moreno, Johnson and Skrtel will not help this.
On his debut for the club, Moreno can be encouraged by a promising display, but must keep his concentration for future endeavours.
Moreno Statistics
Minutes Played – 90
Tackles – 4
Interceptions – 0
Clearances – 3
Passes – 42
Crosses – 4
Take-Ons – 2
Passing Accuracy – 90.5%
Overall performance rating: 6 out of 10
Do you agree with Jack's analysis? Let us know in the comments below.