With Spanish right-back Javier Manquillo joining Liverpool this week, Jack Lusby asks whether the Atletico Madrid loanee can become the Reds' first choice.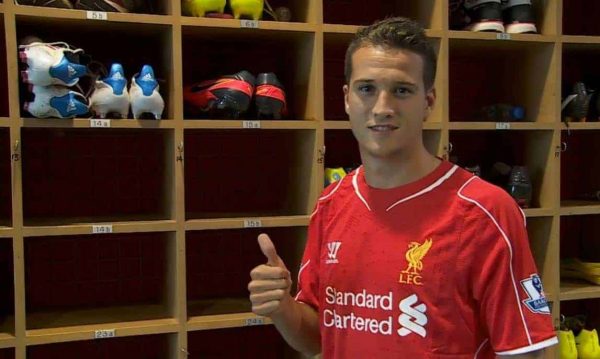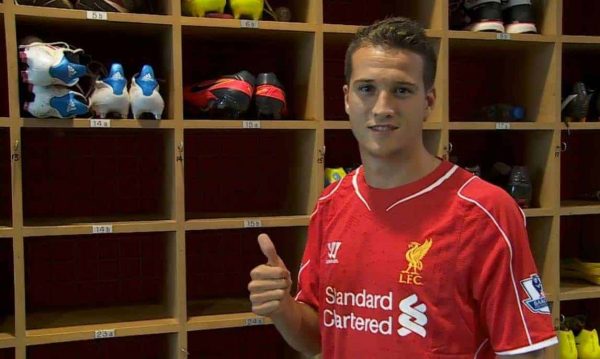 This week saw Brendan Rodgers add much-needed full-back reinforcement to his Liverpool squad with the loan signing of Atletico Madrid youngster Javier Manquillo.
The 20-year-old defender has joined on an initial two-year loan spell, with the option of a permanent deal for a £5 million fee during that period.
It has become abundantly clear in the past several months — perhaps even throughout the entirety of 2013/14 — that the full-back positions at Liverpool are in dire need of renovation.
The Anfield faithful will hope that this signing will go some way to plugging this gap, and the Spaniard has his sights set on a long-term role at the club.
The Liverpool Echo recently quoted the defender's ambition: "I've come here to try and secure a place for myself in the side and, if possible, stay here for many more years in the future."
An encouraging assertion, but can the young right-back make the first-team spot his own this season?
2013/14 Form & Qualities
Manquillo's 2013/14 season was derailed by a serious neck injury, affording the 20-year-old a mere seven appearances last term.
However, this presented the youngster with important experience in both La Liga and the Champions League; the latter will likely be crucial for the Reds this season.
This inactivity may provoke feelings that Manquillo is lacking in match fitness, but the defender is still considered one of the most promising in European football.
https://www.youtube.com/watch?v=SjUPRMwuAsc
Atletico fan Billy Edwards wrote a testimonial to the youngster upon speculation of Liverpool's interest back in July, revealing a multi-faceted maturity to Manquillo's game.
"His best attribute in my opinion is his athleticism, has great strength, pace and power and uses all to good effect…[At] the U20 World Cup last year…Manquillo was bombing forward at every opportunity and was one of the most impressive defenders at the tournament."
This alludes to the defender's attacking quality, but Manquillo also "reads the game well and is strong in the tackle."
Javier Manquillo won 83% of his aerial duels and made 17 clearances in 3 La Liga games last season. Stats page – http://t.co/xjx6ktFdp3

— Squawka Football (@Squawka) August 6, 2014
Edwards lists decision-making as the loanee's main weakness; however, this is a deficiency that can be nurtured.
A raw talent, but clearly possessing the skills to make the position his own in time.
Glen Johnson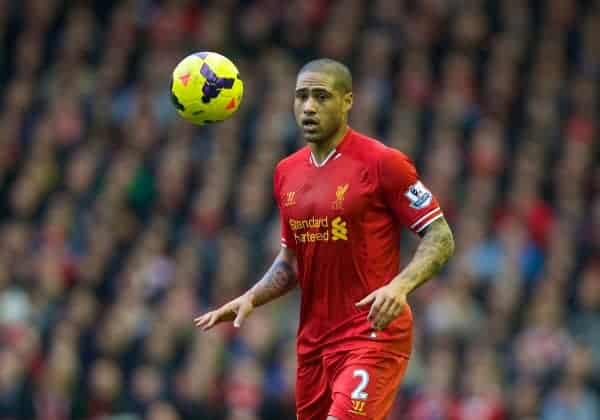 The main reason for Liverpool's full-back woes in recent months has been the pitiful form of last season's first-choice right-back, Glen Johnson.
The 29-year-old's struggles have been well documented, with lapses in concentration, a lack of end-product and a general lethargy weighing down any legacy the England international had at Anfield.
Karl Matchett, writing for Bleacher Report, bemoaned Johnson's "run of form since February [which] has been a huge standout in a team otherwise filled largely with excelling individuals."
If there was any danger of an improvement this season, pre-season performances by the right-back have seemingly quashed any hopes.
"Pre-season hasn't seen any change in that pattern, with his display at left-back against Manchester United offering several cases in point, culminating in an aimless, lethargic attempt at a lob over an opponent's head in the latter stages of the game, just outside his own penalty box."
The arrival of Manquillo should provide Johnson with the impetus to improve on form and secure the right-back berth for another season.
However, if the Englishman fails, the Spaniard will be waiting in the wings.
Glen Johnson at left-back during Liverpool training today. Manquillo at right-back in the attack v defence drill

— Phil Kirkbride (@philkecho) August 8, 2014
This may already be the case, however, with Friday's open training session at Anfield suggesting the Reds' first-choice back-four at this juncture featuring Manquillo at right-back and Johnson deputising in the unnatural left-back role.
However, injury to Jon Flanagan—who could hope to fill either full-back spot this coming season—may have skewed this selection.
Either way, Johnson has at least one young buck breathing down his neck this season.
Predictions
In full flight, our new boy from Spain Javier Manquillo trains with #LFC at Anfield today pic.twitter.com/ptb0kCz5Pg

— Liverpool FC (@LFC) August 8, 2014
Whilst it is early days in Manquillo's Liverpool career, the ambition of the young Spaniard suggests that a long-term right-back spot could be in contention this season.
The 20-year-old knows it'll be tough, with the Liverpool Echo continuing to quote "I'm coming here to earn my place in the side. And above all, like any footballer to keep on improving as much as I can in training and compete to the very best of my ability."
It is clear that the loanee still has much development come, but this is more of an encouraging sign than a hindrance to the 2014/15 season.
With the hunger, desire and commitment that Rodgers so cherishes, Manquillo should be streets ahead of the lethargic Johnson in terms of mentality; output on the pitch should soon follow.
Should Johnson falter, Manquillo will be ready to pounce.
The 20-year-old becomes #LFC's seventh signing of the summer so far – http://t.co/iUckfJn8Du #ManquilloLFC pic.twitter.com/7H4xksWjBC

— Liverpool FC (@LFC) August 6, 2014
Perhaps expect a slow start from the young Spaniard—the return of Flanagan, the potential signing of Alberto Moreno and the bizarre persistence of Johnson could stand in the way.
Given the opportunity, however, Manquillo has the tools to make the right-back spot his own this season.
Should Javier Manquillo be Liverpool's first-choice right-back this season? Let us know in the comments below.