Much has been said and written about Mario Balotelli's attitude and character, but Joseph Copeland is keen to focus on the footballer.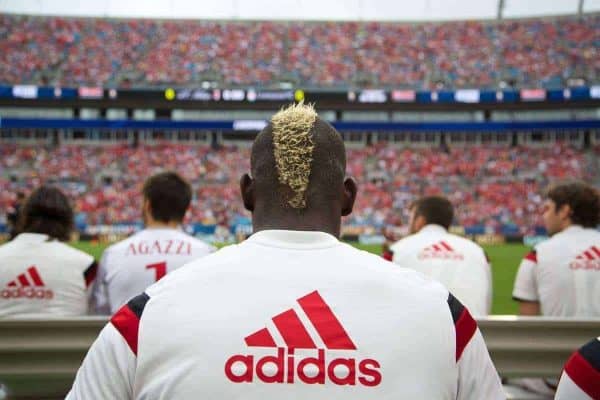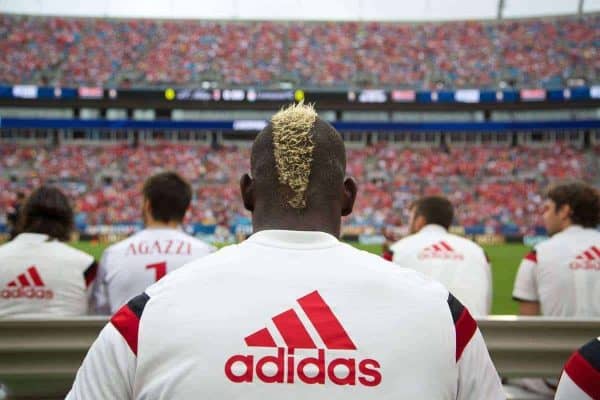 It's been a whirlwind 48 hours on Merseyside. Liverpool have secured the services of AC Milan and Italy forward Mario Balotelli on a £16 million transfer. The verdict is still very much out on the mercurial Italian as his off-field antics have red flags popping up all over.
However, I'm not here to delve into how he will fit in with the lads off the pitch. His chequered past has been combed through probably more than it needs to be. Instead I'm focusing on Balotelli the footballer.
Potential
The word potential is thrown around quite a bit in sports nowadays, but "Super Mario" encapsulates the definition of untapped potential. At 24 years of age, Liverpool is the fourth major club he will have played for in his young career.
At the previous three he has amassed a solid goal return rate. 88 goals in 220 appearances for Inter Milan, Manchester City and AC Milan show the talent is there. Some of those goals have been quite spectacular to behold. Some such as this cracker:
https://www.youtube.com/watch?v=gWCd3MNQA8Q
Unpredictability
Balotelli is an impressive physical specimen. He stands 6'2" and checks in at a sturdy 194 lbs. He has the capability to bully any opposing defender without much effort. He lacks the pace of the rest of the Liverpool attack, but he has solid speed once he gets moving. He has no fear on the field in terms of taking shots on goal.
Some people call it arrogance, while others view it as supreme confidence. I see it somewhere in the middle. I'm not sure Balotelli knows what he is going to do next on the football pitch, not unlike the departed Luis Suarez.
It is this unpredictability that he must learn to harness. If he doesn't know what will happen next, what are defenders thinking? On his day, the young Italian is a match winner. He could be absent from the game for 75 minutes, but he possesses the skill and courage to make a decisive impact on the game.

Work Rate
Unlike Suarez however, Balotelli lacks the work rate required of a top forward. He has the tendency to drift in and out of games, almost to the point that his team is playing 10 vs 11 at times.
He appears to mentally check out of games if he doesn't see the ball early on. He lacks discipline in the big games, as demonstrated by him missing 20 games due to suspension over the last four years.
It is still unclear how Brendan Rodgers plans to deploy him this season, but it is assumed that he will be partnered with the free-scoring Daniel Sturridge up front on multiple occasions throughout the year.
Role
What made the Sturridge-Suarez partnership so lethal was the off-ball movement from both players. It was as if they could read what the other was going to do before they actually did it.
Suarez was constantly making incisive runs, which in turn cleared space for Sturridge to operate in and vice versa when the Uruguayan was on the ball. Balotelli will not make those same runs. It will take him time to fit into the side.
He has the propensity to "stop" the ball in order to attempt an audacious move that will leave you scratching your head. In Liverpool's free-flowing passing game, that is something he will need to eliminate quickly.
Balotelli lacks the passing vision of a Suarez or Philippe Coutinho, so there might be the odd occasion of Balo-Sturridge getting in each other's way. To alleviate this a bit, Balotelli has shown the ability to play just behind a lead striker.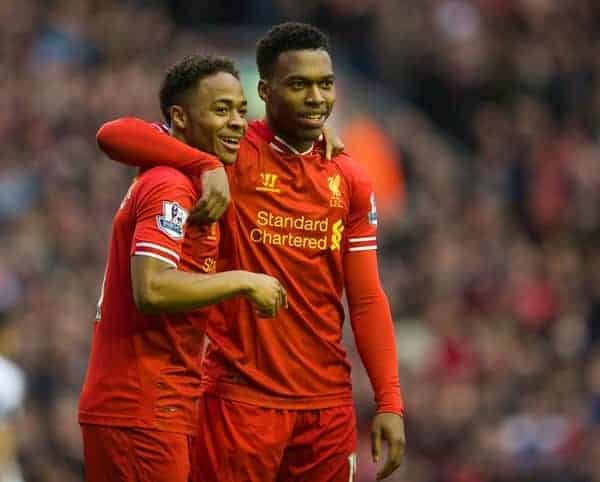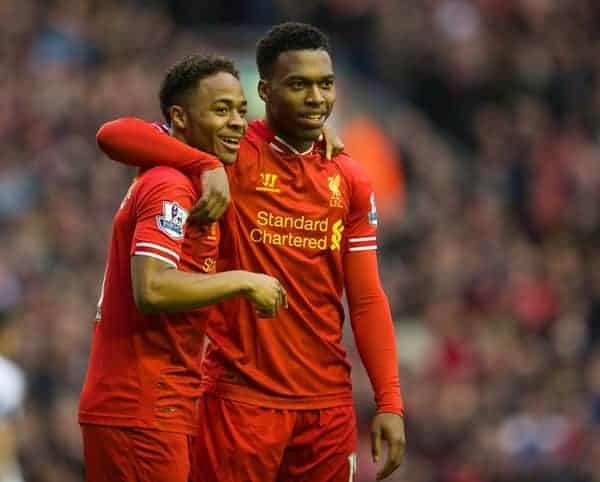 This would give both men more room to roam around up front. However, with the likes of Coutinho, Adam Lallana, Raheem Sterling, Lazar Markovic and Rickie Lambert in the side, it might not be wise to deploy him centrally as well.
He has played as a winger sporadically during his career. The wingers for Liverpool are not asked to pump pinpoint crosses into the box time and again (though it wouldn't hurt if you have the ability to do so). Instead, they are encouraged to interchange with the forwards and central midfielders and make penetrating runs behind the defense. This type of wing-play would suit Balotelli if the need ever arose.
Options
The plethora of attacking options at the disposal of Rodgers means we will see a handful of different attacking combinations.
With their predatory instincts obvious to see, Sturridge and Balotelli should see the field together a lot this coming campaign. Having played in the much slower and more direct Serie A for the past 18 months, there will undoubtedly be an adjustment period for him. Luckily for the Reds, he has played in the Premier League before and he has shown he can handle the physical style of play.
It will be fascinating to see how Balotelli is used this season at Anfield. If he can keep his head on straight, and learn to work hard for the team, this could be an absolute steal of a transfer. He must buy-in to the team first philosophy, or he will be left behind.
Whatever the result is, you can bet it will make for some enthralling viewing.