Hundreds of fans will march on Premier League and Football League headquarters this Thursday (14th August) demanding cheaper ticket prices throughout football.

The march will be led by the Football Supporters' Federation (FSF) with fans from scores of clubs joining them. Supporters say clubs should use multi-billion pound media deals to lower ticket prices for both home and away fans.
The Premier League's current media deal is worth £5.5bn, an increase of £2.1bn on the previous three years, but fans say there is little sign of anything being done to make life easier for match-going supporters.
From the increase in Premier League media rights alone all 20 top-flight clubs could have let every fan into every game for free, without being any worse off than they had been the season before.
Instead, many clubs chose to increase prices and £50+ tickets are now common in the top-flight. Hull City's Category A tickets jumped from £30 last season to £50 in 2014/15.
Kevin Miles, chief executive of the FSF, said:
"Nine out of 10 fans think football's simply too expensive. There's always the odd deal that clubs can quote to play it down, but the truth is supporters tell us they think tickets cost too much. It's not just top-flight football either, fans throughout the leagues tell us prices are too high.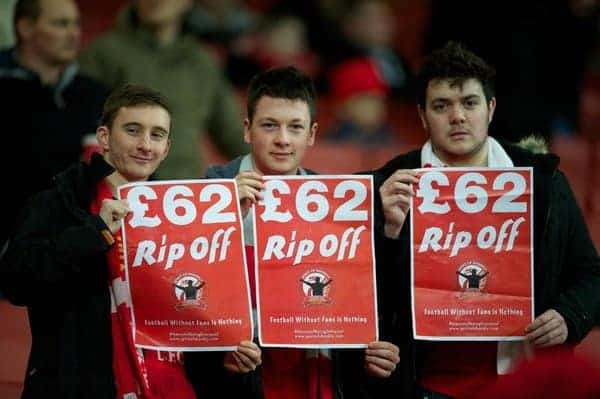 "Football is swimming in money, with clubs pocketing record amounts from broadcasting deals while squeezing supporters with high prices. Something has to give.
"Ultimately we, as football supporters, have to speak up about this. Join the FSF and hundreds of fans on Thursday when we deliver that message to the Premier League and Football League."
Fans will gather at Marble Arch for 1pm and leave for the Premier League and Football League offices at 30 Gloucester Place (W1U 8PL) at 2pm.
A delegation of fans will meet with the football authorities, while those on the demonstration head back to The Globe (NW1 5JY).