As the precarious situation that is Glen Johnson's future at Liverpool continues to rumble on, Ben Twelves discusses whether Liverpool should keep the England international.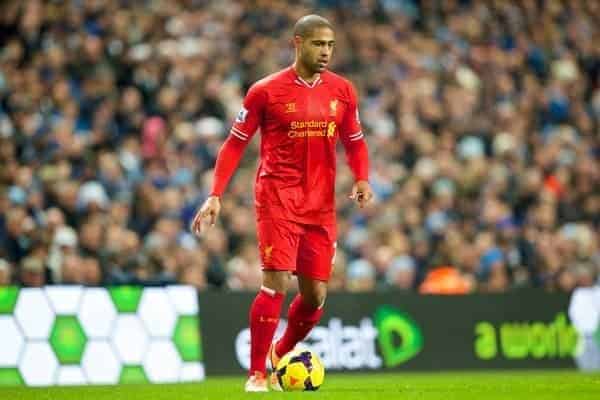 Glen Johnson has now entered the remaining 12 months of his contract at Liverpool and as talks have seemingly stalled over a new deal for the right back, the debate to move him on or keep him at Anfield has sparked into life once again.
Reports have suggested that the England international isn't happy with the clubs' reported reduced pay-cut offer – while other media outlets seem to indicate that the stumbling block is over the duration of an extended deal – with Johnson said to be looking for a security that the club are reluctant to give him. Older players on long contracts and huge wages is very much a thing of the past with FSG in charge.
120k a week Glen #Johnson offered an extra year, defender wants longer stay at #LFC http://t.co/jKfkfOyuff

— LFCZA (@LFCZA) May 19, 2014
However, there's been very little speculation surrounding a departure from Merseyside for our first choice right back this window – perhaps an indictment of the soon-to-be 30-year-olds' contractual demands – with only tame links suggesting a potential move to Harry Redknapp's QPR, with Liverpool looking to sign Uruguayan Maxi Pereira from Benfica as a replacement.
#Liverpool target #Benfica defender Maxi #Pereira with #QPR tracking Glen #Johnson http://t.co/kcKN8JPVIj #LFC

— Express Football (@ExpressFootball) June 30, 2014
But is selling Glen Johnson this summer something that Liverpool should really be looking to do?
The Positives
The England right back, while being frustrating with certain aspects of his game admittedly, is a decent player, and one who is still a valuable asset amongst the Liverpool squad. He's been an underrated and under-appreciated player over the years, especially on a national scale, in a country where a full-back's job has largely been viewed as to defend and defend only.
Johnson is strong and dynamic player, but vitally for Rodgers, he has an excellent first touch and a composure on the ball that's not often associated with English defenders. With that, he always looks to keep possession, he rarely panics and doesn't resort to aimlessly blasting the ball forward.
He can dribble and carry the ball extremely well from the back to start the play – often gliding past opposing players effortlessly – and his comfort in possession with either foot gives him an advantage and unpredictability when attacking.
The attack minded ex-West Ham man always provides a good option in possession too – whether that's for his goalkeeper, centre back, midfielders or even attacking players as he moves forward to link up. He therefore continues to offer a lot of positives to our attacking play and there are a number of instances from last season where a large amount of our good work came down the right hand side with him bombing forward to join the attacks.

A great example of one of these games was in the 4-0 win over Fulham at Anfield. Liverpool battered the Cottagers from the first minute and in the first 20 minute period of the game Johnson was instrumental in everything Liverpool did going forwards, and almost every ounce of our attempts to break down their back line involved the 29-year-old.
His desire to get forward provided Liverpool with an outlet ball and also a threat in behind as Johnson's marauding runs from deep, looking to nip in behind and in the space between centre back and full back pinned Fulham in, dragging players out of position as he crept up the outside. By doing this, he created space for Philippe Coutinho, Jordan Henderson, Luis Suarez and Daniel Sturridge to go to work and win the game.
It was also his from his forward burst against Tottenham at Anfield that Liverpool took the lead and sparked another 4-0 thrashing as we continued our run towards the Premier League title back in March.
Alternative Options

Over the years at Anfield, Johnson has been the only genuine quality right back in the squad, meaning he's played almost every fixture and even through injury, such is his value. But with Javier Manquillo arriving, and Jon Flanagan showing he is a strong back-up option, there are now alternatives to playing him regardless of his condition or form.

Neither of the young right-backs can be expected to offer what a seasoned pro like Johnson does at this time, but if he does have a dip in form – something that has become far more frequent than desired – there should be no hesitation to drop him and hand one of Manquillo or Flanagan a starting berth.
Keeping Glen
Champions League football being added to the already tough domestic schedule means that heading into the new season with just Flanagan and Manquillo would be an extremely bold move, and Johnson's experience of playing on the big stage means that he would be an important figure in the squad to have around.
James Pearce on Glen Johnson and Right Back pic.twitter.com/Zkfi3wN6PD — Kop 305 (@Kop305) July 10, 2014
While patience wears extremely thin with Johnson as each game passes amongst the Reds' support, there seems no real desire from the club to bring in a new first choice right back with immediate effect at this stage and by the options we have available to play on the right side of defence, Johnson should not only remain at Anfield, but also as the number one choice.
[poll id="220″]