Liverpool have agreed a fee for Pepe Reina to move to Bayern Munich for a reported fee of £2 million.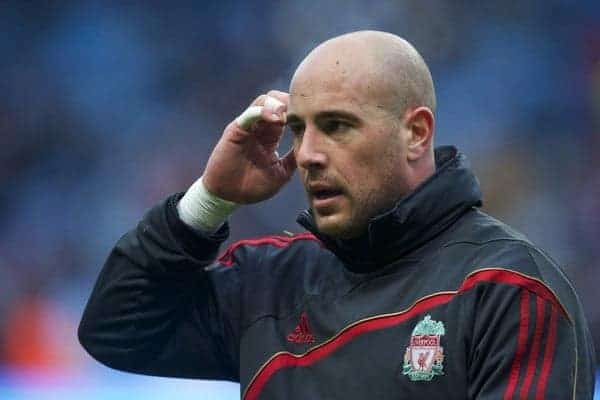 Reina's departure has been somewhat messy but he provided many positive memories under Rafa Benitez in his first five years at the club. He now looks set to play backup to Manuel Neuer at the German giants.
Here are a selection of reactions to the news from Liverpool supporters.
In the end, there are a number of people to blame for Reina. Himself. He got lazy Hodgson, whose methods did not inspire

— Tony Evans (@TonyEvans92a) August 5, 2014
But most of all Christian Purslow who gave Reina 110k a week. For a goalkeeper!!!??? FSG were never going for that and don't blame them

— Tony Evans (@TonyEvans92a) August 5, 2014
Time was right for Reina to move on but people shouldn't forget how brilliant he was for us those first 3/4 years. Best LFC keeper in ages.

— David Martinez (@DMARTINEZ_85) August 5, 2014
Really surprised at the decline of Pepe Reina, a few years ago he was in the top 3 keepers in the world, now he's a backup. #Madness #LFC

— Karl (@KarlThyer) August 5, 2014
https://twitter.com/MrBoywunder/status/496720974105284608
He could have become the greatest keeper in the club's history. The large salary/contract given to him was his ultimate downfall. Shame.

— Raks (@RaksMistry) August 5, 2014
Hey Hey
Pepe Reina
Pepe Reina

Gracias Señor

— Brian Durand (@BrianDurand56) August 5, 2014
@thisisanfield pic.twitter.com/AnYLplq3LY

— ?????? (@daithiOcoirc11) August 5, 2014
#Reina (despite two poor seasons) will still go down as 1 of our best ever keepers. Possibly (for me) 3rd behind Bruce & Clemence 2/2 #LFC

— LFCZA ?? ???? (@LFCZA) August 5, 2014
https://twitter.com/Kroosify/status/496721105919295489