Liverpool face AC Milan in Charlotte on Saturday evening, evoking memories of Liverpool's unforgettable Champions League triumph against the Italian giants in 2005. Henry Jackson looks at how many Brendan Rodgers' current crop would get into Rafa Benitez's side.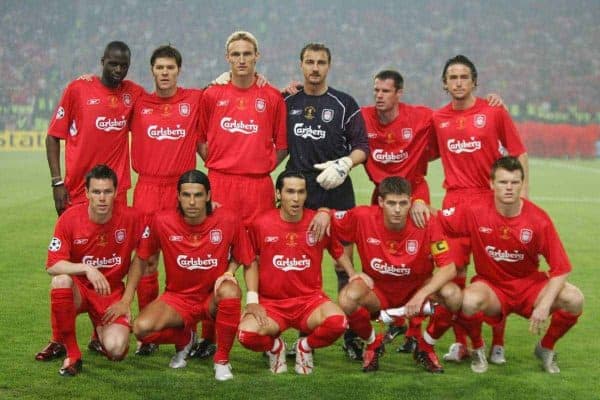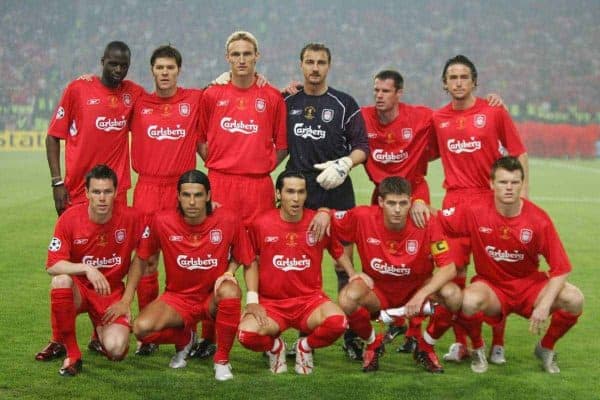 Liverpool v Milan
Saturday, 2nd August 2014, Guinness International Cup
Kick Off: 6.30pm (EST) 11.30pm (BST)
GOALKEEPER & DEFENCE
Jerzy Dudek was one of many heroes on that unparalleled night in Istanbul on May 25th 2005, saving penalties from Andrea Pirlo and Andriy Shevchenko to secure Liverpool victory.
Despite this, the Pole was not as strong a goalkeeper as the current man between the sticks, Simon Mignolet.
The 26-year-old enjoyed a good first season at Anfield, despite a dip in form around Christmas, and he has more of a presence about him than Dudek. He has years to improve further too.
Steve Finnan was an extremely reliable right-back, and would always get the nod over the increasingly erratic Glen Johnson. The Englishman actually has more natural ability than the former Republic of Ireland international, but makes far too many errors both on and off the ball to be considered ahead of him.
Although Djimi Traore started at left-back on the night, John Arne Riise, who started on the wing, would be the strongest option ahead of current stars Jose Enrique and Jon Flanagan.
The Norwegian was a great servant to Liverpool, and his attacking thrust and solid defensive work put him head and shoulders above anything the Reds had both at the time and now.
Sami Hyypia and Jamie Carragher were an outstanding centre-back pairing, and were a huge reason why Liverpool won the 2005 Champions League.
They ensured clean sheets were kept against Chelsea, twice, and Juventus away, in the knockout stages, defending for their lives and inspiring others around them.
Whether it be Martin Skrtel, Mamadou Sakho or new signing Dejan Lovren, it's fair to say that none of them match Hyypia and Carragher at that time. In fairness, not many in Europe did.
The difference in defensive quality between now and nine years ago is frightening, and you just wonder what Liverpool would achieve currently if they had that 2005 back four.
COMBINED GOALKEEPER AND DEFENCE: Mignolet, Finnan, Carragher, Hyypia, Riise
MIDFIELD THREE

As influential as Steven Gerrard remains at Liverpool, at the age of 34, there is still no comparison between him now and in 2005.
He was one of the top two or three midfielders on the planet at the time, with pace, power, creativity and an ability to drag his side though matches time and time again. His performance in Istanbul epitomised that.
Understandably, the skipper has lost that dynamism to his game these days, and replaced it with a more measured approach. He remains a fantastic footballer, however.
Xabi Alonso was a wonderful player, and one who would walk into the current Reds side. The Spain legend dictated games with ease with his pinpoint passing, but he also had a steely side that made him a born winner.
Didi Hamann, although a substitute in the final, turned the game when he came on and was a brilliant holding midfielder for several years for the Reds.
Despite this, I would prefer Jordan Henderson currently. The 24-year-old is becoming more and more of a force at Anfield by the game, and his box-to-box style gives him the edge over the more one-paced Hamann. With Alonso in the side, there's also less of a need for the German too.
COMBINED MIDFIELD: Alonso, Gerrard (2005), Henderson
ATTACK

If the 2005 crop of Liverpool stars outdo the current ones defensively, it is the polar opposite when it comes to attacking talent.
The likes of Harry Kewell, Milan Baros and Djibril Cisse were far from truly top class players- Kewell was in his heyday at Leeds but his Reds career was disastrous- and they made the best of their ability.
Luis Garcia was a real favourite at the club, and his goals against Bayer Leverkusen, Juventus and Chelsea in the lead-up to the final against Milan will never be forgotten. He had his flaws, however, and could blow hot and cold. The same applies to Vladimir Smicer.
The current first-choice Liverpool front three of Philippe Coutinho, Raheem Sterling and Daniel Sturridge would all have walked into the team in 2005, in my opinion.
Despite their tenders years- they are all younger than 25- they play with such maturity and quality that age simply isn't an issue.
No Reds attacking players nine years ago had the vision of Coutinho, the pace and fearlessness of Sterling or the goalscoring of Sturridge.
COMBINED ATTACK: Coutinho, Sterling, Sturridge
CONCLUSION
What the above evidence suggests, hopefully correctly, is that the Liverpool of 2005 under Rafa Benitez was extremely different to that of the class of 2014 under Brendan Rodgers.
Benitez's side was built on a wonderful defence and were very tough to beat, whereas Rodgers' team are a little leaky at the back but devastating going forward.
As an all-round unit the 2005 kings of Europe probably just have the edge, but such is the youth and potential of this current side there is every chance they will go on to become far better.
Who knows, we may even celebrate the 10th anniversary of Istanbul next May with a sixth European Cup.
What would your 2005 vs 2014 Liverpool combined XI be? Let us know in the comments section below.