New Liverpool signing Mario Balotelli made his hotly anticipated debut in Sunday's 3-0 victory away to Spurs, with Jack Lusby analysing his performance.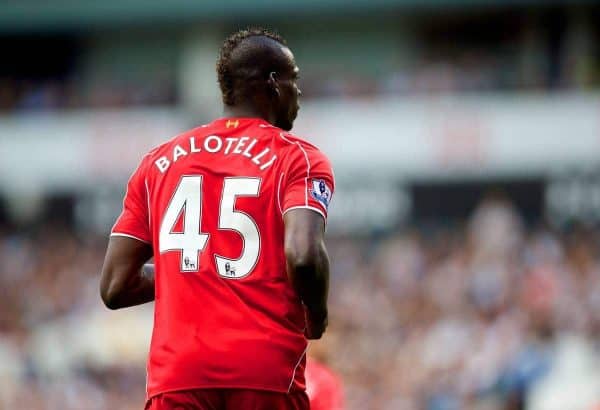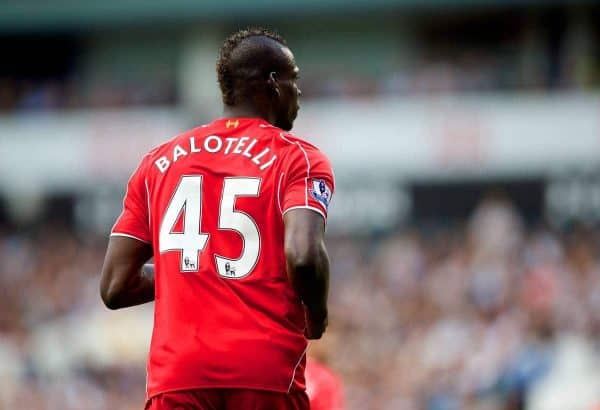 Since Mario Balotelli's £16 million move from AC Milan late last month, the name on everyone's lips amongst the Liverpool faithful has been that of the Italian maverick.
The striker joins with a notorious reputation, and it has been debated persistently as to whether the 24-year-old will be a success or a failure at Anfield.
The former Manchester City man didn't have to wait long to make his debut for the Reds, starting in the first game since his signing, in Sunday's 3-0 away victory over Spurs at White Hart Lane.
IMAGE: #LFC v @SpursOfficial starting XI and subs match graphic pic.twitter.com/eIbvpEUU4K

— Liverpool FC (@LFC) August 31, 2014
For most, this was the 'marquee' signing that Liverpool needed following the loss of Luis Suarez this summer, and as such the excitement surrounding Balotelli's debut was palpable.
Making his way on to the field—late—all eyes were on the Italian.
Balotelli emerges for warm-up with bib on. Let the fun and games begin.

— Henry Winter (@henrywinter) August 31, 2014
Pochettino just called Balotelli an unbelievable player and one of the best strikers in the world.

— AnfieldIndex (@AnfieldIndex) August 31, 2014
Exciting line up for Liverpool with Balotelli making debut with Sturridge up top and Sterling in behind with the diamond formation.

— Neil Mellor (@NeilMellor33) August 31, 2014
Looking forward to seeing how Balotelli fits in with Sturridge and Sterling could be a devastating trio. Tough game like Pochetinno teams.

— Jamie Carragher (@Carra23) August 31, 2014
Following a miserable loss away to City the previous weekend, Liverpool needed the lift that this victory conjured—in a mixed display, Balotelli was the catalyst to this.
http://www.dailymotion.com/video/x24z0q9_mario-balotelli-vs-tottenham_sport
(Video courtesy of MrBoywunder)
Signed, naturally, to help ease the burden on English forward Daniel Sturridge in terms of goal scoring, Balotelli will be expected to return at least 10 goals this season.
The striker almost opened his account immediately.

On the end of a fantastic Sturridge cross, Balotelli should have scored from close-range with his header thumped towards the sprawling Hugo Lloris on three minutes.

Just 10 minutes later, Balotelli could have had another, latching onto a Steven Gerrard free-kick only to head wide of the post.

Unfortunately, this continued with the ball at his feet, too.
A well-worked corner routine, again courtesy of set-piece king Gerrard, could have ended in a fine curled finish from a sharper Balotelli; however, the Italian managed to send his effort high and wide of the target from near the edge of the box.
#Balotelli could have had hattrick. He'll get sharper no doubt. #lfc

— LFCZA ?? ???? (@LFCZA) August 31, 2014
This profligacy would be worrying if this wasn't Balotelli's debut but, lacking match fitness and growing into the aesthetic of Brendan Rodgers' side, this aspect of the striker's game will return in time.
SHOT MAP: Mario Balotelli had 5 shots in the first half. 4 off target. He's just warming up, right? #LFC pic.twitter.com/9HmPqlghQT

— Squawka Football (@Squawka) August 31, 2014
By half time Balotelli had registered five shots, with just one of those landing on target; based on this, perhaps this debut would be considered a failure.
However, there were other, more surprising areas to the Italian's game that were hugely commendable against Spurs.
A trio of missed chances for Balotelli but no lack of appetite. Not sure he's ever worked so hard. He gets it, so far. 0-1 h-t at Spurs.

— Paul Hayward (@_PaulHayward) August 31, 2014
This, namely, was the 24-year-old's uncharacteristic work-rate and determination on and off the ball—traits synonymous with Rodgers' Liverpool, but not previously with Balotelli.
Most surprising today is watching Balotelli and Adebayor closing down!

— Jamie Carragher (@Carra23) August 31, 2014

For example, Balotelli proved a surprising defensive outlet here, winning a header in his own half—in the left-back position no less.
With the Italian seen operating often in the wide areas, this inclination to track back and provide defensive cover will be crucial within Rodgers' system.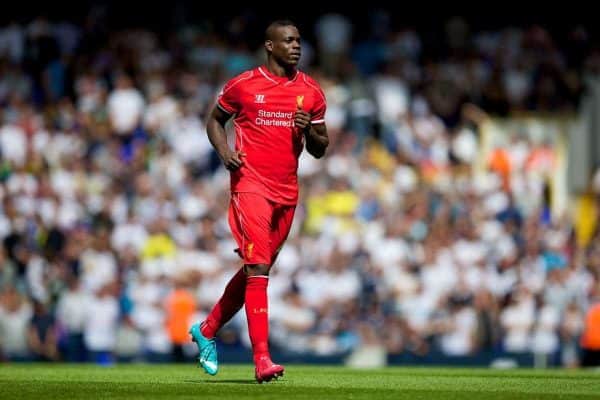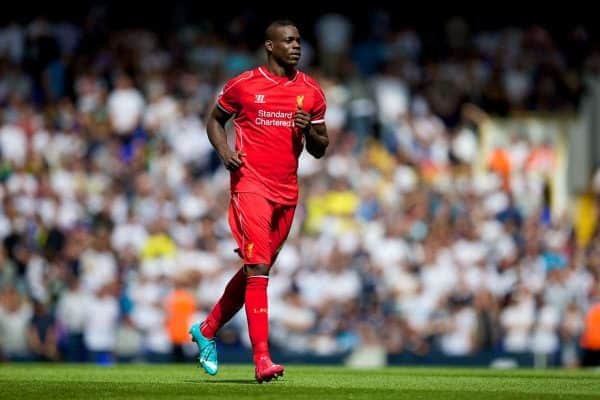 Balotelli's closing down was matched by his ability to hold up the ball, and provide for his teammates equally.

Receiving the ball in the Liverpool half, Balotelli adeptly held off the hulking Younes Kaboul—demonstrating great strength—before intelligently thwarting the Frenchman with a swift turn and run.
This, and the striker's lofted pass through to Sterling immediately after, forced Lloris into a drastic sweeping save—unfortunately, receiving the rebound, Balotelli once more scooped his long-range attempt off target.
30mins; Mario Balotelli backheels into Daniel Sturridge and the striker curls at the far left corner but Hugo Lloris catches #THFC 0-1 #LFC

— Liverpool FC (@LFC) August 31, 2014
Furthermore, a deft back-heeled pass to strike partner Sturridge a minute earlier displayed Balotelli's more ostentatious creative qualities.

If this were to fail, this would be beyond risible.
However, the Italian possesses a canny ability to produce the magical consistently and, without meaning to cast aspersions, moments such as this back-heel evoked the telepathic partnership Sturridge enjoyed with Suarez.
Work on this together, and the pair can become a formidable attacking prospect in tandem.

As well as this blossoming partnership, one of the most admirable qualities that Balotelli brought to Rodgers' side against Spurs was of a less tangible, box-office persuasion.
The introduction of the Italian to this Liverpool side seems to draw attention away from his teammates.
Balotelli acts as a vacuum for defensive focus, and as such in this encounter this allowed the likes of Sturridge, Raheem Sterling and Jordan Henderson to run riot.
Far post headers clearly not Balotelli's favourite scoring method, but his presence is allowing Sturridge and Sterling more freedom.

— Paul Hayward (@_PaulHayward) August 31, 2014
The front LFC guys a pleasure 2 watch with ball (movement, pace, intent) + whitout it (pressure, run into space). Different level 2 Spurs

— Guillem Balague (@GuillemBalague) August 31, 2014
This was lacking against both Southampton and City in the Reds' previous Premier League encounters this season—the most outward example of this being the demolition job Victor Wanyama performed on Philippe Coutinho in the former.
Marked out of the game completely, Liverpool's No. 10 could not provide the nuanced, creative play that he was employed to provide, and as such the side struggled.
However, Balotelli is a player that, whilst demanding similar attention, seems to thrive on it; rather than shrinking away like Coutinho, Balotelli absorbs this pressure and Liverpool flourished due to this.
61mins: Emre Can and Lazar Markovic replace Joe Allen and Mario Balotelli for Liverpool #THFC 0-3 #LFC

— Liverpool FC (@LFC) August 31, 2014
Replaced on 61 minutes, this was a mixed debut by Balotelli.
However, it was a hugely surprising one in areas, and this aspect in particular is hugely encouraging as Rodgers' side forge on.
PHOTO: A great image of the captain and #LFC's latest new signing… pic.twitter.com/CtzhPoe006

— Liverpool FC (@LFC) August 31, 2014
Overall Analysis
Whilst Balotelli remains no angel—a theatrical reaction to an excellent, whole-hearted challenge by Eric Dier a testimony to this—the performance of the Italian striker against Spurs provided Rodgers with a lot to think about, most of which would have surprised most.
Previously Balotelli has been branded lazy and troublesome, but it couldn't have been further from the truth at White Hart Lane, where work-rate and build-up play became the Italian's main focus.
The striker will, naturally, need to work on his return in front of goal, but the foundations can be seen clearly—on his first showing, it seems like Balotelli will slot perfectly into Rodgers' high-tempo, high-pressing system.
Who knew the striker had this in his locker?
Balotelli Statistics
Minutes Played – 61
Shots – 5
Shots on Target – 1
Take Ons – 1
Passes – 16
Passing Accuracy – 50%
Overall performance rating: 6 out of 10.
Do you agree with Jack's analysis? Let us know in the comments below.