Liverpool return to Champions League action with their first away trip of the campaign in Switzerland on Wednesday night. Rory Fitzgerald takes a closer look at our opponents, FC Basel.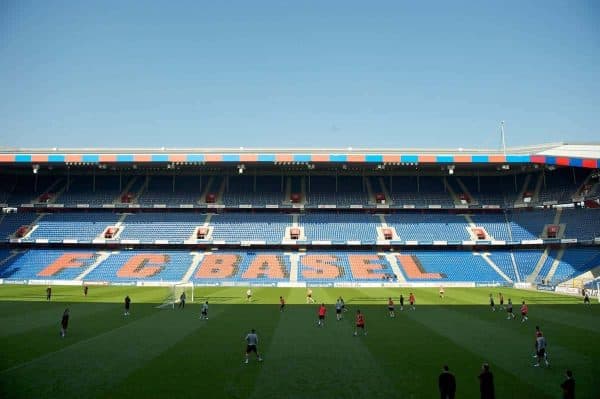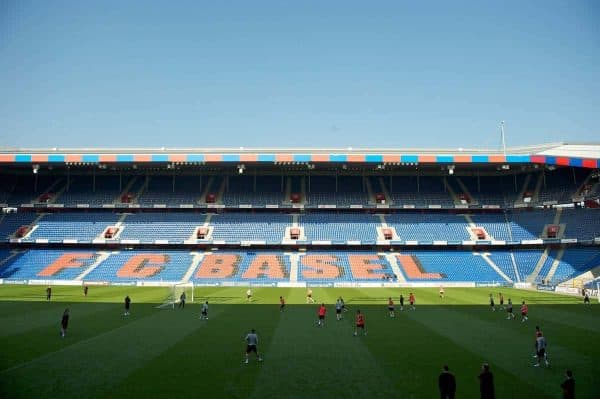 Overview
Former QPR, Swansea and Leicester boss Paulo Sousa took charge of the club in the summer.
Basel have recently lost their keeper, Yann Sommer, and striker, Valentina Stocker, along with Mohamed Salah in January.
New signings are Derlis Gonzalez, Marek Suchy, Shkelzen Gashi and Luca Zuffi.
Former Red Philipp Degen has been at the club since 2011.
Lost their opening group match 5-1 at Real Madrid
Results
In the league this season their record is played 9, won 6, drew 1, lost 2.
Goals have been abundant in games involving Basel this season, scored 22 and conceded 14 in 9 league games
They have been involved in three 3-1's, two 3-2's, a 4-1 and a 3-0
Last season they beat Valencia 3-0 at home in the QF of the EL but lost 2nd leg 3-0. Had 2 sent off in ET and conceded another 2 in ET to lose 5-3 on agg.
Basel beat Chelsea twice in 2013/14. Knocked out Zenit and Spurs in the EL in 2012/13.
In 2011/12 they had home wins against Man Utd and Bayern Munich.
Formation
They play with a back 3 and 1 out and out striker.
Their formation is more of a 3-4-2-1 / 3-4-1-2.
In general, 2 attacking midfielders support Streller with two central midfielders holding. However, given the nuances in formations, one of the attacking midfielder can play slightly deeper. Essentially, it can offer two options – (i) the deeper lying attacking midfielder can pick up the ball from the central midfielders and (ii) it can allow the other attacking midfielder try get ahead of Streller if the opponents push up too far and the defence hit the big man to flick on for someone like Gonzalez.
Here is their average position vs Real Madrid:

Wing backs always gives the midfield an outlet out wide and allow the two attacking midfielders play the inside channels. Below is their pass map vs Real Madrid.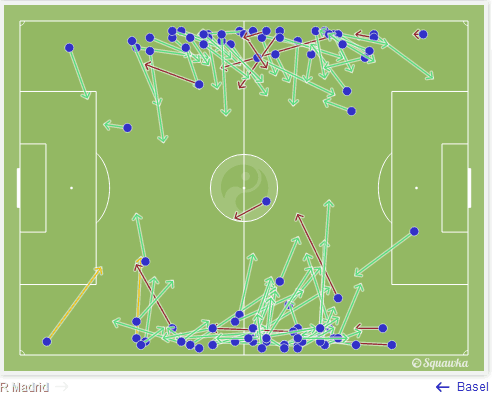 Defence
Xhaka plays in the defence in the league but played RWB vs Madrid. If Degen is missing, he could start there.
If Xhaka is right-wing-back, Walter Samuel could come in to partner Fabian Schar (young Swiss international) and new signing Marek Suchy (26yr old Czech international)
Fabian Schar is in the last year of his contract with Dortmund, Inter, Arsenal and Spurs interested in him. Could be one to keep an eye on. He has scored a few from set pieces and is quite comfortable on the ball. You might get sick of hearing the commentators tell you that he worked in a bank during his apprenticeship as a footballer.
LWB slot should be filled by 29-year-old Behrang Safari who made the Swedish Euro 2012 squad but has only played at a mid-tier level (Malmo, Basel, Anderlecht) though is not short of pace.

Midfield
One of the centre midfield spots should be filled by Fabian Frei (who missed out on a World Cup spot with Switzerland). The other could be filled by the young Egyptian international Mohamed Elneny who has played in the more difficult games but sacrificed by Sousa in games whereby Basel are likely to dominate their opponents.
This season, Sousa bought 20-year-old Paraguay international Gonzalez from Benfica. Gonzalez moved to Europe at 18 and was loaned out before moving to Basel. He is a very fast and direct player. Sousa has played him at right wing-back in 'easier' games when Basel have dominated but deployed his pace behind Streller in others.
The other attacking midfield spot could be taken by Luca Zuffi. He is a player that can play deeper but has the ability to contribute to the attack. It makes him a natural option in these games, he can drop deeper and work for the team whilst having the quality to contribute to the attack.
If Sousa is feeling bullish, he may drop Elneny, then play Zuffi deeper and look to play one of either Delgado or Gashi in the deeper role behind Streller. Look out for their stats below.
Below is their goal vs Madrid:

Attack
Marco Streller is 33-years-old and a huge 6'5. He was a Basel player between 2000 and 2004 but spend 2 years of that on loan. He moved to Schalke between 2004 and 2007 before returning to Basel. Since 2007 he has played almost 200 games with almost 90 goals. For Switzerland, he has 12 goals in 37 appearances.
Players
Top-scorer this season: Streller 5, Gashi 4, Zuffi 3
Top assist this season: Delgado 4, Gashi 3, Frei 2, Gonzalez 2, Zuffi 2.
Most yellows: Xhaka 3, Gonzalez 3.
Most subbed off: Gashi 7, Delgado 3
Most subbed on: Kakitani (4) – he's a 24yr old Japanese international with 5 goals in 14 appearances.
Weakness
Sousa identified the spaces between the lines as the downfall for his teams defeat at Madrid.
"When there is too much space between lines you must choose the best decisions because if you don't you are going to suffer. The gaps in our teams were too large sometimes and that made Madrid counter-attacks possible. The team mentality began to fail after the two first goals".
Overall
Basel are top of the league in Switzerland.
They have pedigree for beating some of Europe's top teams in the last few seasons.
They offer a threat from set pieces with Streller and Schar.
However, Sousa has identified this competition as an area where Basel have to improve after taking over this season.
After losing in Madrid by being (apparently) too open, they will see Liverpool as their direct opponent to get out of this, group. This game is likely to be the biggest in the group for them if they want to get out of it.
Given their record under Sousa, they are not a team to defend. Additionally, they have beaten some big teams at home.
With Basel needing a win and their propensity to attack, we need a team that can absorb their attack and then spring on the counter.
Liverpool Line-Up
With a draw being a solid result for Liverpool, Brendan Rodgers may go with a robust three in midfield but with Adam Lallana and Raheem Sterling out wide to support Marion Balotelli – given their work ethic, skill and ability going forward.
Possible Liverpool XI: Mignolet, Manquillo, Skrtel, Lovren, Moreno, Lucas, Gerrard, Henderson, Sterling, Balotelli. Lallana.