With another man-of-the-match performance under his belt for England, Raheem Sterling proved his ability to transcend a poor tactical layout, Jack Lusby writes.
We all know Roy Hodgson is a managerial philistine.
This is a manager who signed Joe Cole, Milan Jovanovic, Christian Poulsen and Paul Konchesky for Liverpool during a miserable 2010 summer transfer window.
This is a manager who oversaw a phenomenal drop in attendances during his tenure as Reds boss.
Anfield, Oct 2010 vs Blackburn: 43,400.
Anfield, Jan 1 2011 vs Bolton: 35,400.

It's not the opposition.

— Karl Matchett (@karlmatchett) September 4, 2014
Therefore, from a Liverpool fans' perspective, it is all the more risible to witness the England steward bemoan attendances, opposition quality and statistical evidence; all, ostensibly, Hodgson's reasoning behind the national team's poor showings of late.
Hodgson took umbrage when told his team had just two shots on target against Norway on Wednesday night, proffering "when we had that much possession, and you talk about two shots on target?"
The 67-year-old also claims England's upcoming European Championships qualifiers "won't excite" fans, due to the nature of the opposition—including World Cup surprise package Switzerland.
The reality is that no side managed by Hodgson will likely excite fans; Wembley will never be packed out under the former Fulham manager.
One shining light against Norway, despite all of this, was Liverpool's Raheem Sterling, a player who managed to defied the tactical ineptitude of the England boss in a malleable, persistent display.
It is in this display, for which Sterling was awarded man-of-the-match, that the 19-year-old once more displayed a growing maturity following a mixed set of performances at the World Cup.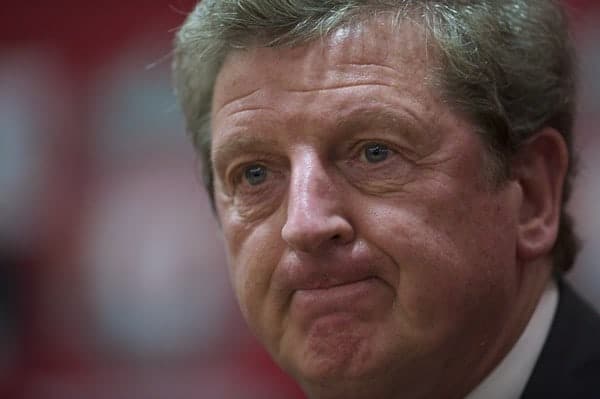 In a Mike Bassett-esque turn, Hodgson set out his England charges in a rigid 4-4-2 formation on Wednesday night, with Sterling and Alex Oxlade-Chamberlain the wide options, flanking Jordan Henderson and Jack Wilshere in the centre of midfield.
In Brazil over the summer, bolted out in a wide role, Sterling suffered; a muted performance against Uruguay underlining this.
However, at Wembley the Liverpool forward continued his fine start to the season with some excellent link-up play with Daniel Sturridge in particular.
https://twitter.com/MostarLFC/status/507245964764401664
Raheem Sterling and Daniel Sturridge very bright so far. Norway barely in England's half.

— Phil McNulty (@philmcnulty) September 3, 2014
This will come as no surprise, given the way the Reds pair have begun 2014/15 under Brendan Rodgers.
Sterling's willingness to come inside and aid England's attacking pair—brought down by the reductive Rooney, dropping deep into midfield at whim—seemed to defy the rigid tactics of Hodgson.
Oxlade-Chamberlain remained more of a traditional winger, but Sterling's tendency towards the central role was abundantly clear.
Reminder that Raheem Sterling is just 19 years of age and tonight against Norway was just his 6th England cap. pic.twitter.com/xoisu9E5Kc

— Squawka Football (@Squawka) September 3, 2014
This is despite Sterling's young years, a facet Liverpool fans have become to know all too well.
The forward was England's most creative outlet on the night, with a burst into the box enough to thwart the Norwegian defensive ranks and earn a penalty for the Three Lions.
Brilliantly taken penalty from Rooney that. No chance keeper despite going right way. Sterling too quick for the full back to win the pen!

— Neil Mellor (@NeilMellor33) September 3, 2014
Raheem Sterling: Created more chances (7) in tonight's game vs Norway than any England player managed at the 2014 World Cup

— WhoScored.com (@WhoScored) September 3, 2014
Rooney, captaining England for the first time since his bizarre official appointment by Hodgson—Henderson is a more durable, progressive candidate—despatched the spot-kick with professional class.
It was with the introduction of Fabian Delph, and Sterling's subsequent move into the No. 10 role and a transition to the midfield diamond for England, that Hodgson has earned his plaudits, albeit scant in their nature.
This should be of no surprise to, nor should it be a 'Plan B' for, the prehistoric Hodgson.
Sterling has been excelling in the central role under Rodgers at Liverpool since the latter stages of last season, during a phenomenal spell for all involved on Merseyside.
Following the game, a member of ITV's impossibly vapid panel of ex-pros offered the unique insight that Sterling has become "one of the key players" in the England squad.
No surprise there, right?
Writing for Bleacher Report, Sam Tighe astutely outlined how this move to the diamond allowed "Sterling a path centrally, balancing the formation out very well."
This could be attributed as a tactical masterstroke by Hodgson, but the fact that this occurred with just 20 minutes of play to go shows that this was more of an afterthought by the England manager.
"We enjoyed some positive moments, some good movement and good play. All the things I wanted I thought I saw for large periods of the game."

— Karl Matchett (@karlmatchett) September 4, 2014
Precisely, Mr. Hodgson. Precisely why you should not be in charge.

— Karl Matchett (@karlmatchett) September 4, 2014
Sterling's play throughout suggested this is the way forward for the Three Lions, yet it took Hodgson over an hour to realise this.
Delph, making his senior international debut, will never be described as one of a new 'golden generation,' and it has been argued of late that there is no crop of highly-talented, young English players coming through.
The new(est) Golden Generation. pic.twitter.com/eUiqsZ1970

— Squawka Football (@Squawka) September 3, 2014
If Hodgson continues to select players of the ilk of Delph, Danny Rose and Jack Colback—all important players for their club sides, it must be conceded—this can be debated.
The names James Ward-Prowse, Eric Dier and Saido Berahino mean nothing to the England manager at this point, clearly.
Sterling stands as the bastion of English youth at this juncture, and the performance of the 19-year-old, defying the disappointing yet unsurprising tactics of Hodgson throughout the majority of Wednesday night's victory, suggests that this will continue whilst the 67-year-old remains in charge.
Moving the Liverpool forward to the No. 10 role will see Hodgson receive adulation by some quarters but it is Sterling's performance prior to this that highlights a growing importance for both club and country.
Is Raheem Sterling being utilised to his full potential by Roy Hodgson? Let us know your thoughts in the comments below.