As Liverpool fans, what are we entitled to? What is this Liverpool football team entitled to? Why do some feel as though they're the most entitled bunch on the planet? Asks Lee Coates…

Liverpool FC
Last season was drunken, inebriated chaos. Nothing made sense. It was good. There was no plan. Just one foot after the next. Oh, it was good.
We're now suffering the hanging of all hangovers. Trying to put pieces together. Last season can never be recreated – mainly for the lack of one Uruguayan; so let's stop trying. We're not entitled to win. Winning is difficult. Winning is blocked by a persistent counterpart. For everyone that wants to win, there is always an opposing force. We can't continue to play in the hope that winning finds us. It's too slippery. Too lively. Only the cunning get the win.
We're not entitled to electricity. Electricity achieved so many points last season. Electricity surged through the legs of Raheem Sterling, Luis Suarez, Daniel Sturridge and Jordan Henderson. However, it can't just be switched on, despite the mechanics of the light switch trying to prove otherwise. Electricity needs work. It needs the groundwork put in. The conductors in place. The light at the end is beautiful, but its conception takes work.
Our players need to find their own solution, not a replica. They are part of a new collective that are looking to make new light. Mignolet is unsure, our defence is unsure, as is our midfield, our attack. They need to find their own certainties. Their own decisions as part of this new collective. They are strangers sleeping in the same house finding it difficult to absorb one another. Objectively, the solution is there. Mignolet needs to take control of his penalty box. Lovren needs to rule his defensive line like the row of red shirted figurines in table football. Our midfield and forwards to be a whirlwind of movement and creativity. Quite simply, they need to work. Work isn't an entitlement.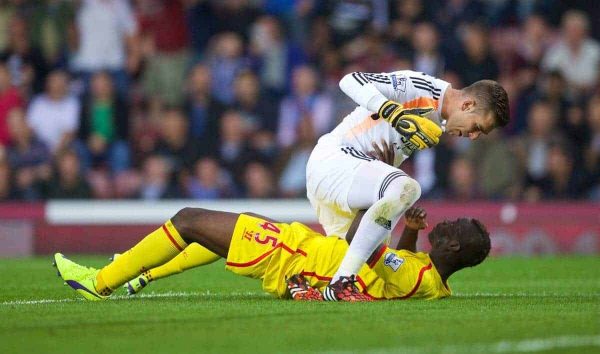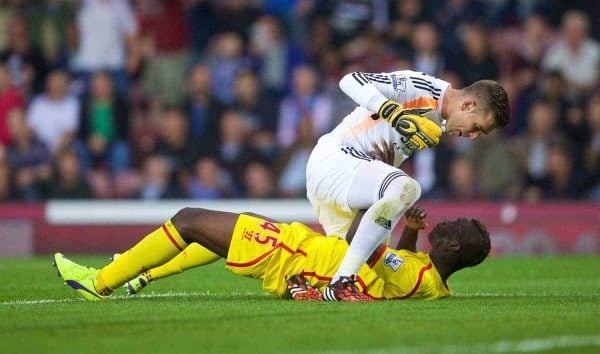 Mario Balotelli
How did Mario Balotelli demand such clamour? How did he demand a place in our attack? He's the antithesis of everything Liverpool FC fell in love with. Why is he entitled to a fixed position in the starting eleven?
This football club is urgently in need of something Balotelli currently lacks. Work rate. The hustle. The rush. The push. Balotelli needs to change. He's thrust himself into this Liverpool team  because he wants to change. He wants success. He wants Balotelli to be the best player in the world. This wasn't just another move for Balotelli, it was the move for Balotelli. A move that signalled change.
Brendan Rodgers takes pride in the changes he has been behind. The change in Raheem Sterling. The change in Daniel Sturridge. Next up, will be the change in Mario Balotelli. It's a personal quest for Rodgers to change Balotelli into a Liverpool player. A step up. Another mission. The seemingly impossible task.
Balotelli has shown the be slow in possession. He's shown to be lacking in any direct penetration. His number 45 frequently faces the goalkeeper whereas Sturridge bears down on the opposite number one with electrified beaming eyes. It's the make up of a good partnership, most definitely, but when Sturridge is out, we need more for Mario. We need him bearing down on nets. We need him causing havoc. We need so much more from him.

Football 'Supporters'
What are we, the supporters, entitled to? Not much, yet some act as the most entitled amongst the lot.
The following are a collection of tweets sent to Fabio Borini after the defeat against West Ham:
@borinifabio29 u were utter s***e!! I wouldn't have u in my Sunday league team!! Once Sturridge is back you'll be back in the reserves!
@borinifabio29 is a puss. Should have fukn mailed him to Sunderland for free!!!
@borinifabio29 you are a disgrace you work hard for what to let the team down by trying to be the hero try lookin up n passing ya p***k
This player made the decision to stay at Liverpool and fight for his place. A minimum, yet still something we rarely see, of what we expect from any player at the club. He believes he's good enough to play for us and wants to show it the only way he knows how. Through playing football.
Football fans treat football players this way regularly. They believe they are entitled to it. It's an argument that usually results in the statement – 'I've paid my money, I can stress my opinion'. This is where the transition of sport to consumer product is at its most complex.
If you buy a five-pack of doughnuts in Tesco and get home to find only four in the bag, you can return to the shop, you can audibly boo the bakery assistant, call them something derogatory, then be given that fifth jam filled treat you deserve, and then go home proud of yourself that you've paid for a product and received exactly what you expected. This is common consumer practice. Well, possibly.
Football, however, is not a product, it's a sport that's been distorted unevenly into a product.
A football fan's passion for football has been exploited. Just as love has been exploited by Valentine's Day and family has been exploited by Christmas. We are entitled to nothing other than sport. That is what we are given. Success isn't guaranteed. Sport cannot be booed for it doesn't do anything wrong. Sport cannot fail you in its presence.
A football player cannot be booed for playing sport. They are fortunate to be paid handsomely for playing football, yet they are subsequently unfortunate to then be a part of this product. A product that expects them to perform in a robotic sense. A product that asks them not to be human.

Football as Sport
Liverpool FC loved this sport. We sang our songs watching this sport. We expected nothing in return, yet we got everything. We got the wins. We got the trophies. It gave our singing merit. It gave our camaraderie a new purpose. It turned our songs into battle cries. It all became very serious, indeed.
This idea was sold to everyone. Buy into this idea. Support this club. Give money to this club and you can have it all again. If you don't get it, insult everyone in the path that is preventing it. Boo and hiss until the unlikely product of success is given to you.
Football is a beautiful sport. Being a Liverpool fan is a beautiful privilege. It comes free to me. I don't feel entitled to anything. I demand nothing from this football team. I'll enjoy them as they are. As a bunch of lads in red playing football.