The success of Brendan Rodgers' third season in charge will largely depend on how his nine signings this summer fit in at the club, writes Steven Harris.

How to tell if your club has a clear transfer policy; are they scrabbling around on transfer deadline day desperately trying to bring in Dutch wing-backs and paying crazy money to loan a long-term injury stricken striker for a year?
If the answer to this is 'yes' then the club does not have a clear transfer policy and is possibly flailing about hoping to settle fans' nerves with a big name signing or two. If the answer is 'no' then your club is likely to be building from a solid platform of intentions and playing philosophy.
In recent years transfer deadline day has not been a time I have enjoyed. Liverpool have been more in the flailing around camp than most of us would have preferred.
Two years into the reign of a manager with a clear philosophy both on and off the pitch the club have returned to the Champions League which has certainly made it easier to do transfer business swiftly as well as making it more probable that the targets the club has in mind will sign for Liverpool.

Once we were the club playing over-the-top fees for players. That mantle, in this transfer window at least, has been passed on to Manchester United – which is satisfying in itself. Angel Di Maria is a great player but the rebuild at that club is going to take more than one window, just as it did with Liverpool.
FSG have been in control of Liverpool for almost four years. From initial scepticism that American ownership had not gone very well for the club in the shape of Tom Hicks and George Gillett fans have seen John Henry and his company patiently build, make good on promises, and allow Brendan Rodgers to implement his policy in terms of playing style and transfer targets.
Which is why the signs are positive for the business done over the summer.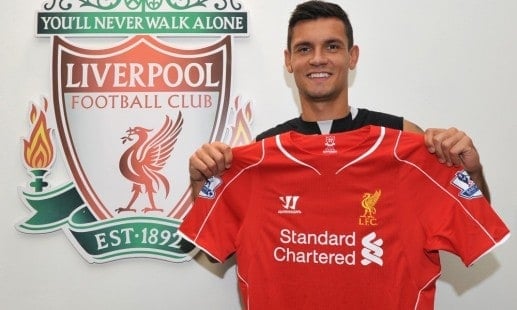 Dejan Lovren is the kind of communicative, commanding centre-back missing since the retirement of Jamie Carragher. New full-backs Alberto Moreno and Javier Manquillo show promise though both will probably need time to adjust to the pace of the Premier League. Adam Lallana was eagerly anticipated from the moment the rumours of him coming to Anfield began last season – once fit he should happily slot into the Rodgers' systems of play. Emre Can already looks a powerful player at the age of 20 and will hopefully only get better with age.
Then there are the forwards. Lazar Markovic was wanted by clubs across Europe so it's something of a coup to have secured his signature. Rickie Lambert may not excite some but he is a proven and natural goalscorer who adds strength in depth. And Mario Balotelli? I have reservations but there is no denying his talent.
Considering that Danny Welbeck has just left Old Trafford for Arsenal for the same fee Balotelli cost Liverpool, the Italian looks even more of a bargain. I'm also rather glad Fabio Borini's move to QPR did not happen. A fellow Italian in the camp must be a good thing for Balotelli and, as Fabio proved last year at Sunderland, he is a pacy striker with an eye for the spectacular on his day.
Strength in depth was the aim this window and I'd say that's exactly what Liverpool have managed. Add the fact that the rumours of Victor Valdes arriving as a free agent in the near future to increase competition on the keepers, and a case can be made for every area of the squad having been improved.

There are naysayers, of course. Mostly they point to the money spent by Spurs after the departure of Gareth Bale last summer. They too purchased a raft of players spread across the team yet the chemistry did not work and the team went backwards. Some fear that having lost our best player of 2013/14 and spread the £75m we received from him across nine players, Liverpool are in danger of going the same way.
I disagree. With all due respect to Andre Villas-Boas I was never convinced by his coaching methods or certain that he had an overarching playing philosophy. He was also the latest in a succession of quick-fix managers brought in to presumably bring instant success to Spurs, meaning the pressure on him to deliver was huge.
Brendan Rodgers is under pressure of course. This is the season he told the owners and the fans to judge the development of his team on. Last year was incredible but a season ahead of schedule. What Rodgers does have, however, is the support of the owners in a way Spurs managers of the past ten years can only envy.
Rodgers has a strategic plan concerning so many aspects of the progression of the club. His team selections and formations are adaptable and he is that rare beast in the modern era – a fine man manager.
Ten years ago we witnessed a Rafalution and new horizons beckoned. Benitez can hardly be said to have failed, but in the end the club stagnated while his hands were tied by the previous owners.
Under Rodgers there is a genuine sense of a revolution. He will indeed be judged by this season and by the impact his signings have. I predict a season of consolidation, of exhilarating football as ever, and of qualification for the Champion's League again. And if I'm wrong you can print this piece out in May and I'll happily eat my words.