Brendan Rodgers' use of Jordan Henderson tactically over the start to the season has been at odds with what we saw last season and what the manager says he wants. The West Brom game finally saw that change, for the better.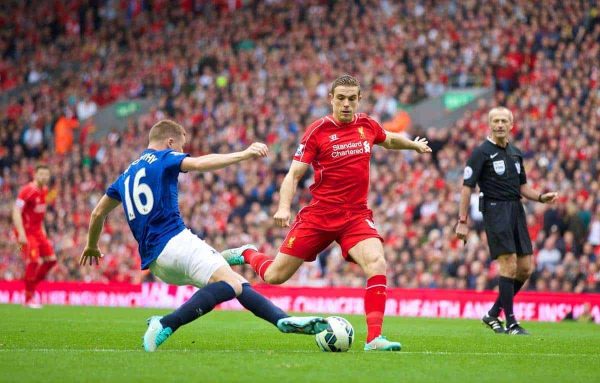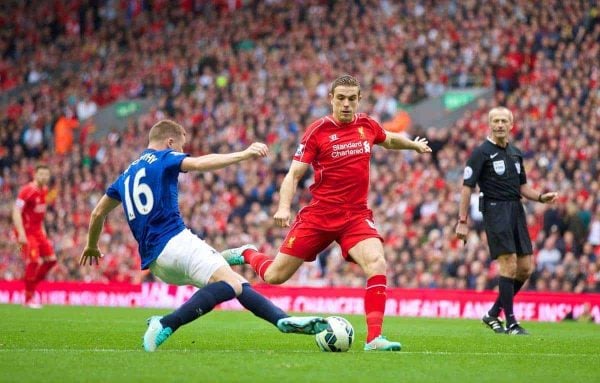 It was an eyebrow-raising signature when Liverpool spent a reported £20 million on Jordan Henderson back in the summer of 2011. That amount of money for a relatively unproven midfielder, who had yet to turn 21 years of age, meant Henderson's Liverpool career had begun with a proverbial monkey on his back. His age and the "English premium" meant the fee was perhaps inflated.
Nonetheless, Henderson was thrown into the side, actually making more appearances than any other outfield player for the club in his debut season – and predominantly in his less natural position on the right of midfield.
Upon his arrival at the club, Brendan Rodgers hadn't seen enough of what he liked from Hendo and seriously entertained an offer from Fulham to sign him on the eve of the 2012/13 season. Henderson, to his credit, turned down the move and wanted to stay on Merseyside and prove his worth. It turned out to be a good decision for both parties.
Last year, Henderson's midfield energy was more often than not a catalyst for Liverpool's surge to second position in the league. His numbers were small with respect to goals and assists (four and seven respectively), but Hendo was integral to much more of Liverpool's goal scoring movements last season. His harassment of opposing midfielders was an endearing characteristic to the faithful at Anfield, and this was typified in his bullying of Mesut Ozil in the 5-1 thrashing of Arsenal.
Off he went to the World Cup, an England regular but deployed alongside Steven Gerrard in a 4-2-3-1 rather than ahead of him as he had been used under Rodgers at Liverpool for the 2013/14 season. The two looked flat and Henderson's best asset, his pressing, was removed. Nice work Roy.
New Season
However, the hangover from last season's successes has hit home early during this campaign and bizarrely Rodgers has regularly repeated the mistake of Hodgson at the World Cup. Henderson has been less effective consequently.
In the summer, Rodgers outlined his objectives for Henderson this season and challenged him to score more goals. "This year we're asking him to get more into the box," the boss said.
So it was odd that Rodgers than began playing Henderson in a deeper role. Until the West Brom match on Saturday – where Henderson was actually deployed ahead of Philippe Coutinho a three-man midfield within a 4-3-3 shape. I'm unsure why Rodgers waited this long to play Hendo in a more advanced position?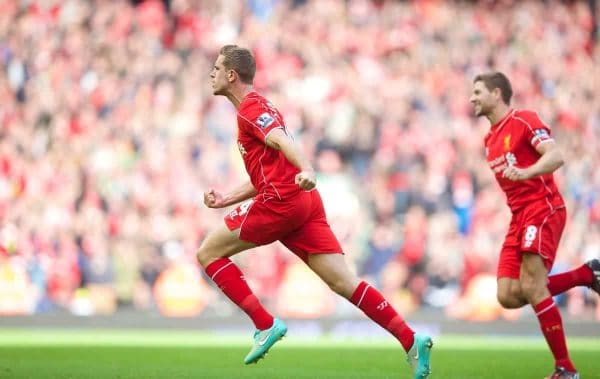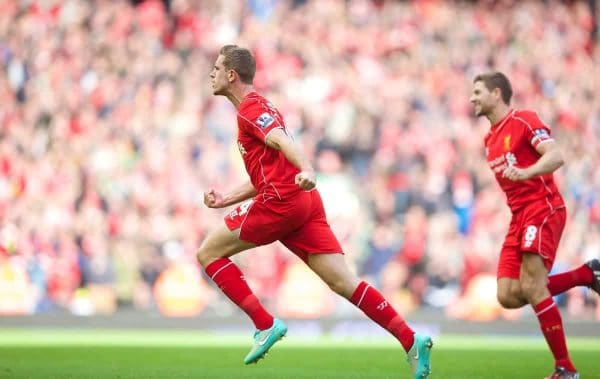 We saw the results of this attacking system change as a beautiful flick helped Adam Lallana score his first for the club, and his lovely side foot finish in the second half capped off the 24-year-old's man-of-the-match performance. We saw from the first whistle that Coutinho was operating deeper in midfield, which allowed Jordan to get in and around the box where he has the ability to make things happen.
A goal and an assist provided a healthy return to a more attacking position for Henderson.
The return to fitness after the international break of Daniel Sturridge will tempt Rodgers to revert back to a diamond midfield. This will more likely than not see Henderson operating on the left or right side of that diamond. I'm fine with this set-up, as it allows for the high energy pressing of Henderson and one other, likely Joe Allen once he returns too.
Goalscoring wise, Henderson has the ability to hit double figures for a season. Liverpool Football Club needs him to hit these numbers. So, it's simple, Brendan, stay true to your word and let Hendo get forward!
Marty Stewart