With the international break in full flow, Ben Twelves caught up with David Thompson this week, with the former Reds midfielder discussing his time at Anfield and the current Liverpool set-up.

Hi David, to kick us off, you played 56 times for Liverpool before leaving for Coventry City. Is there any game that sticks out in your memory as the best one?
The Sheffield Wednesday game by a mile was one of my best performances – one where I actually felt unrestricted on the field and was allowed to be myself which I felt wasn't the case in a lot of the other games under Gerard Houllier. He had an obsession with the opposition and team block. This game I just enjoyed myself and expressed my ability like it was a youth team game.
In those appearances you scored five times for the Reds. Which of the goals was your most memorable?
I did only score five times but the one that sticks out is the Sheffield Wednesday goal at Anfield. It was a great performance by myself as I had a hand in nearly all the goals, but my goal was at the end of a jinky run and bent beautifully with my left foot into the top corner past a very good goalkeeper.
I knew I'd arrived after that, and I also knew I had more goals in me but I found it difficult to get my tally up from the right hand side.
You played and scored the same day that Steven Gerrard scored his first for the club in a team that featured a lot of youngsters -Yourself, Gerrard, Michael Owen, Danny Murphy and Dominic Matteo. Was there an extra special feeling playing for the club at that time, with the amount of young and local lads involved?
In terms of playing in the same team as a lot of the other local lads it was great because we all bonded so well together. It was a really enjoyable time one that I wish I would have stayed around longer for – we were a good group!
I think playing for your local team especially Liverpool with its rich history and You'll Never Walk Alone anthem is an iconic moment; a dream really. Coming out onto the field in front of the Kop with that anthem is a moment I will treasure for my entire life.
Your Liverpool career came to an end after only four years around the first team set-up when Gerard Houllier allowed you to leave. Has there been a sense of frustration left that you didn't get to stay longer at Anfield, and how did you feel about leaving the club at the time?
It was a sad time for me to leave as I felt Gerard Houllier was hindering me as a player.
First of all he put me out on the right of midfield when I had been a central midfield player all my life and always one of the best performing at any level I played in that position.
Steve Heighway had educated me for that position my whole life and it felt like a backward step playing there – one that I got pigeon holed in for the rest of my career.
That day [of leaving the club] was the saddest day of my life. I did intend to say goodbye to all the players and staff that I'd spent my time with there from the age of nine but I only got to the secretary's office and she said she would miss me terribly. The tears fell down my face and wouldn't stop.
I ran to my car – I wasn't giving Houllier the satisfaction of seeing me in this way – and left without saying goodbye to my very good friends Carra, Stevie G, Robbie Fowler, Jamie Redknapp, Michael Owen, Dominic, Sami and everyone I loved from the grounds men to the canteen ladies.
I was very bitter towards that Frenchman who had completely misunderstood my passion and aggression to succeed.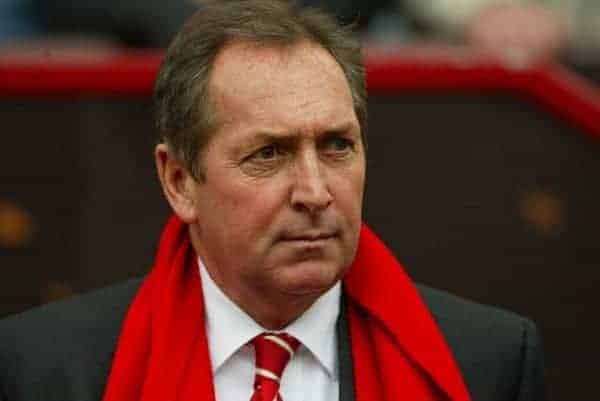 What have you made of Liverpool's turnaround under Brendan Rodgers?
I like what I see at Liverpool now. I love the manager and the pride he is reinstating back at the club, something that had been lost under the previous three managers. This club is huge, probably in the top four in the world I'm terms of history but today's youth don't see that.
What I like is that Brendan constantly reminds every one of the size and steep heritage that this club has. Also his ability to harness talent and progress them is exceptional – he's an amazing man manager and has a special talent for building confidence in good and bad periods along anyone's development; a very rare quality to have.

He's also learning from his mistakes from the past in terms of not persisting too much – if it's not working he changes it instantly. He's very courageous and flexible – a terrific modern quality. He stands well above Benitez in this area and he could possibly go on to be one of our best managers of all time at a crucial turning point for the clubs future.
Who of the nine new signings made this summer has impressed you most so far?

In terms of the new foreign players it's too early to judge and it wouldn't be fair on them or me to cast an opinion. But I do like Adam Lallana – his footwork is exceptional combined with his vision and ability to find space and link up but he needs to be slightly more aggressive when not in possession.
Mario Balotelli isn't cutting it for me. I just don't think he understands that he constantly needs to make angles and cannot just run in straight lines; someone show him an Ian Rush or Robbie fowler video for how to move!
To me he's a little bit of a football dyslexic; he doesn't understand where he should be or what he should do. Yes, he has the attributes – pace strength and skill and when allowed to he can also finish, but his goals and assists ratio is poor if you take out penalties.

Sometimes having all these attributes is useless if you don't have desire or the intelligence to show your true potential and get the best out of yourself. This is his last chance at a top club before he has to go back to a lesser league and he needs to grasp this chance now.
David Thompson is a former Liverpool midfielder and academy graduate who played 56 times for his boyhood club from 1996-2000 under Roy Evans and Gerard Houllier.
Thompson is now a television pundit on the game and you can follow him on Twitter:
Follow @77thomo