With less than a year left on his contract, could Glen Johnson turn his Liverpool career around? Brett Curtis discusses the possibility.

Glen Johnson has this week been linked with a move away from Liverpool next summer to Rafael Benitez's Napoli.
There were similar links to Juventus last month, and it seems increasingly likely the right-back's long-term future lies away from Anfield with less than a year left on his contract.
If he was to follow in Ashley Cole's footsteps in moving to Italy on a free next summer, or elsewhere, it would represent a poor financial return on a player that cost £18m in 2009.
But things can change so quickly in football.
Only in March, Brendan Rodgers was telling supporters that tying Johnson down to a longer contract was a "priority for us, especially if he continues in the form that he's in." However, after his recent comeback from injury against West Brom, the defender himself admitted that the situation is "very quiet."
Johnson, now 30, didn't exactly continue the form Rodgers referred to after the 6-3 win at Cardiff, with his performance in the calamitous 3-3 draw at Crystal Palace lambasted by Liverpool fans.
It led the England international to brand his critics "absolutely clueless", via Twitter, barely an hour after the full-time whistle had blown.
It felt as if the end was nigh for a player who, approaching the end of his fifth season at the club, had failed to truly recapture the form of his first.
But, given that he remains a Liverpool player, why doesn't everyone involved with the club attempt to turn an unstable situation into a positive one?
Why let yet another talented player's Liverpool career go stale?

Johnson has spoken this week of his desire "to take it week by week … to stay fit and [to] get back into the team and put in some good performances."
Rather than groaning at the ground or venting via social media every time he misplaces a pass or mistimes a tackle, perhaps it's time to encourage him in his cause. After all, there's many ways this situation could play out—and none of them particularly harm the club.
The best outcome would be the contract situation inspiring a resurgent Johnson (for all of Javi Manquillo and Jon Flanagan's qualities, the vast majority of sides would still benefit from him in-form) to boost the side and earn a sensible contract extension.
A decent outcome would be Johnson playing at a good level to take pressure off Manquillo, 20, and Flanagan, 21… before signing a pre-contract agreement with Lazio. (I did say most sides would like an in-form Johnson. Don't you listen?)
The worst outcome? There's no such thing as an in-form Johnson anymore; Manquillo and Flanagan continue to develop instead; we say goodbye next summer as Johnson, 31 by then, joins West Ham on a five-year deal on deadline day, prompting multiple Hammers fans to angrily throw sex toys at Sky Sports cameras.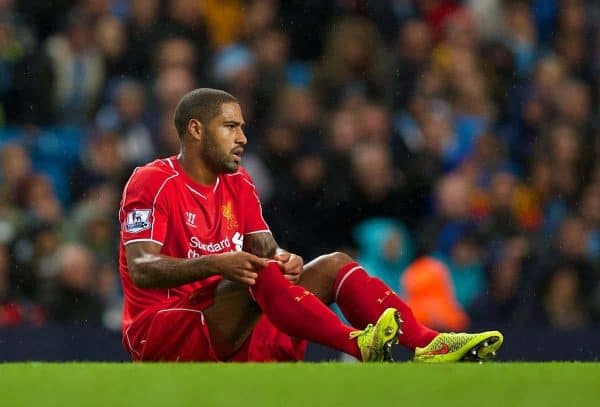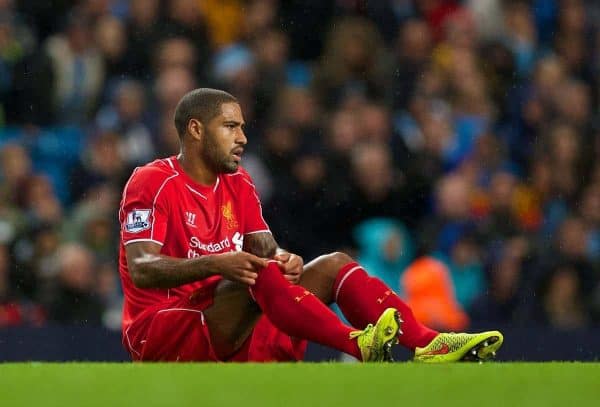 So what, exactly, then, is there for Liverpool fans to be angry about?
Are we really so sick of the sight of a talented player who stuck with the club in desperate times that we can't give him one last chance to help the team?
Let's not forget he was signed in 2009 after the side finished second in a failed title challenge. Between that year and 2012 — his peak? — he made 35 of his 54 England appearances, including two solid personal tournaments at World Cup 2010 and Euro 2012.
His vibrancy was there for all to see in his opening campaign, particularly on his Anfield debut against Stoke — the type of match he was signed for — but his injury-proneness was reflective of a stop-start season post-Alonso.
Indeed, it remains a real shame that, for three seasons, he played in sides largely ill-equipped to maximise his potent attacking talents.
But he has been below-par for at least 18 months now.
The 2-0 home defeat to West Brom in February 2013 seemed to mark a downturn in his performances. With the exception of the odd game, such as the 1-0 home win against Manchester United last season, sloppiness and hesitancy became a problematic pattern.
However, Johnson was clearly playing through injury after that win against Man Utd in order to help a side with only loanee Aly Cissokho and an unproven Flanagan as other available full-backs.
This was confirmed by Rodgers, who felt "taking him out in order for him to get back to that level" was necessary.
While 'that level' seems to have reduced from previous years, he remains an excellent middle-third player, with the difference between him and Manquillo in possession instantly evident when he was brought on for the Spaniard against West Brom.
[poll id="258″]
At times this season Manquillo has been given the freedom of the right-side by the opposition, but his crossing has regularly let his otherwise promising attributes down. Johnson comes with a bigger reputation—as well as a feared left-footed strike—and is thus rarely allowed such space.
When he is, however, such as in the World Cup against Uruguay when he excellently assisted Wayne Rooney's equaliser, he can still produce decisive moments of quality. That assist showed he should go on the outside more often, however.
Statistically, he has averaged ratings of 7.61, 7.23, 7.02, 7.26 and 7.14 in his five league campaigns at Liverpool with WhoScored.com. This compares well to his international team-mate Leighton Baines — twice named in the PFA Team of the Year during the same period—who has averaged 7.23, 7.20, 7.13, 7.42 and 7.25.
The difference between the two, of course, comes back to attacking output: Baines has more than three times Johnson's goals and assists in the period, although the left-back is heavily boosted by penalties and set-pieces.
If Johnson can rediscover his attacking touch from 2009, his Anfield career could come full circle.
Let's at least give it a chance: What is there to lose?
Brett Curtis