Liverpool midfielder Adam Lallana admits it would have been a long international break without a confidence-enhancing win over West Brom.
https://www.youtube.com/watch?v=QVi-42P_I8s
The £23million summer signing from Southampton opened his account for the Reds with a well-worked goal having combined with Jordan Henderson, who grabbed the winner after Saido Berahino had converted a second-half penalty.
It ended a run of three league matches without a win and Liverpool's first three points since August 31 against Tottenham – easily their best performance this season – sending the players away to play for their countries with a bit more of a spring in their step.
"It is huge because it is two weeks and if you get an indifferent result and are dwelling on it it can last forever," said the England international.
"We know it was a poor team result in Basle (where England lost 1-0 in their second Champions League outing) but three days later we got another game and we used that to our advantage, took it and got three points."
Lallana was a boyhood Everton fan but you would not have guessed it from the way he celebrated after drilling a low shot across Ben Foster just before half-time.
The 26-year-old has had a frustrating start to his Liverpool career after a knee injury in pre-season sidelined him for more than a month.
"I think a lot of my feelings were represented in my celebration," he told LFC TV.
"It was a proud moment with a bit of relief as it's always nice to get off the mark.
"I got nine in the league last season so it would be nice to get double figures, especially when Studge (Daniel Sturridge) is out injured we have to chip in and get goals.
"If we do that we will find ourselves winning a lot more games."
In his last couple of games, Lallana is starting to show the quick feet and quick-wittedness manager Brendan Rodgers believes will help knit together the midfield and forward line and make his side a more potent attacking force.
"I thought he was very good. His intensity and work-rate was exceptional and he showed his quality," said the Reds boss.
"I am delighted for him; he is a wonderfully technically gifted player and he scored a wonderful goal."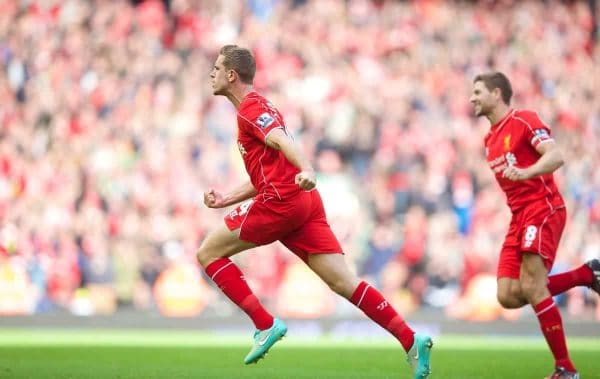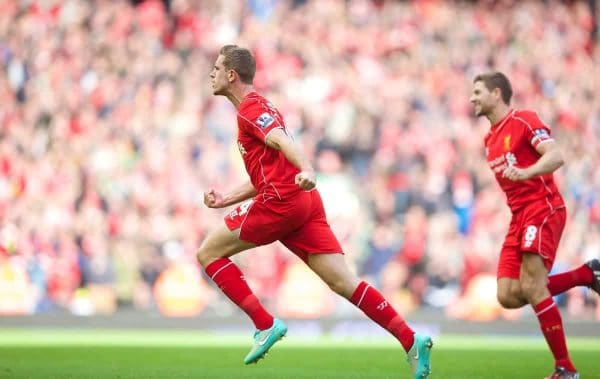 Rodgers also reserved praise for Henderson, whose second-half performance in particular not only showed how he has embraced the vice-captaincy but also the benefit of him being allowed to play further forward.
"We flipped the midfield triangle about, which gives Jordan more licence to go into the corridor," added Rodgers.
"He is one of the few players in the country who can really dominate without the ball with his running capacity and Saturday was about trying to get him forward that bit more and encourage him to go.
"That forward run allows him to offer the combination for Adam on the first goal and the second goal he arrives in the box and finishes really well.
"It was a big performance for him. His confidence level is very good.
"As a player has wonderful physical capacity and he has great running ability but he has lovely technique on the ball.
"He is playing in a structure where he understands his lines of pass and he knows his role is to create goals and score goals.
"I was delighted for him because it is something we have been encouraging him to do, arrive in the box more."
West Brom's stand-out performer was England Under-21 international Berahino, who kept the Liverpool defence busy all afternoon with his movement.
His penalty was his fourth goal in three matches but his manager believes once he can consistently finish better he will be even more of a handful.
"Everyone is talking about Saido at the moment and understandably so as he is a really talented young player but he is going to miss chances," said Baggies boss Alan Irvine.
"He still has plenty of things to work on, he knows that and he's level-headed, professional, and I have no doubt he will continue to improve.
"I thought he was a handful for Liverpool and he needs to be that little bit more clinical at times but he will get that as he works on his finishing after every session."
PA