BBC Sport's annual 'Price of Football' survey was released on Wednesday, looking at the rising cost of match tickets and following a football team. Liverpool season ticket holder Andy Yates provides his views.

Since the Premier League's inception in 1992, football as a sport has become a global brand and, with the help of BSkyB, the fortunes of football clubs have become astronomical. Not only are they a world renowned club, they are a business, and a business which churns out millions of pounds each year.
What this has brought with it is increased prices to watch football and disillusionment from the club that a fan has grown up with and loved since childhood.
The recent protest at on the Premier League HQ in London back in August by a number of supporter's branches and the Football Supporters Federation was an example of the frustrations of the common football fan. What started as the working class game has almost now severed its ties with the very reason it began in the first place.
If we look at one stat that a supporter told the cameras when marching down in London in August, he said that "the increase in the Premier League income from television alone this year could pay for every single ticket that was sold in every single Premier League game last season, and the clubs would be no worse off."
Let's get perspective here. I currently pay for the second most expensive season ticket at Anfield at £834. This includes 19 league games at Anfield a season and nothing else. This does not include Champions League games (£56 per ticket), League Cup games (£31 for Middlesbrough and £33 for Swansea for this season) or FA Cup games which start in January. If Liverpool were to draw a Manchester United or a Chelsea in the 3th round of the FA Cup in January then the price of that would be £56 per ticket.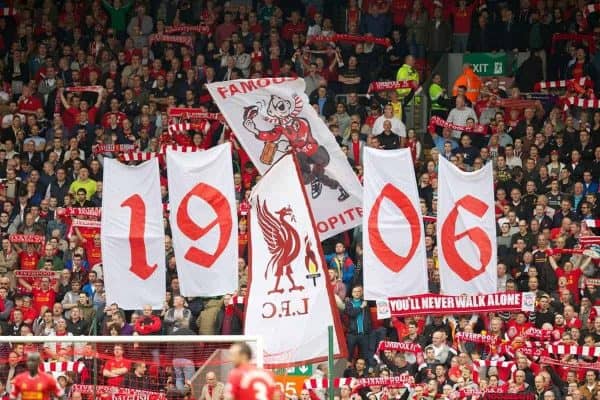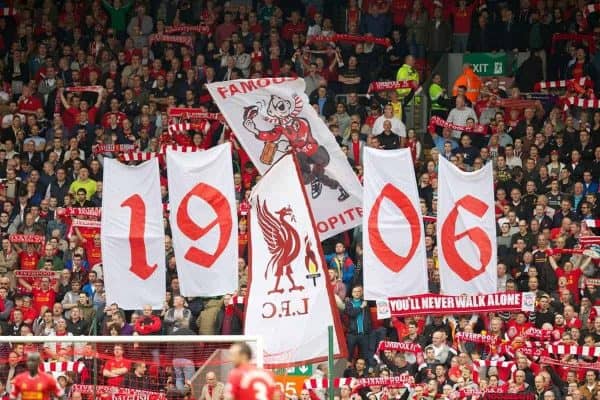 Let's say, for example, Liverpool were to reach the final of each domestic cup and the quarter final of the Champions League. That would be five home games in the European competition for £280 at £56 each. Should Liverpool play half of their home games during each cup run that would be equal to four games (two in the League Cup and two in the FA Cup, and this is before the Final down in London). This is also discounting the Semi-Final of the FA Cup which again, is in London.
Those four games in the domestic competitions would cost me £56 each at their most expensive, so £224 altogether. If we add this up it is comes to £1338. This is before any away games, any travel to and from the ground, any food or drink bought or a matchday programme. I did not include any semi-finals or finals, which can often include accommodation, travel and ticket which can cost upwards towards £70-£80.
£1338 for the moment is the basic amount of the average season for a Liverpool supporter who sits just outside the most expensive blocks at Anfield. Liverpool Football Club earned £99 million in TV revenue ALONE, last season. They went on their second tour of America in three years, and sandwiched in between those was a trip to Asia and Australia in summer 2013. They charge £45 for an adult t-shirt and sell millions worldwide each year in a sponsorship deal worth £150 million (£25 million per year) with Warrior Sports. They also receive money for finishing in their final league position, plus more money for entering the Champions League stages and then further payments for progressing to the last 16.
Liverpool has 25,000 season ticket holders at Anfield. If we used the £1338 that I have calculated, which you must remember is on the more expensive end of the scale when it comes to ticket prices for Liverpool and times it by the 25,000 that have their name on a seat at the famous old ground and what you get is £33,450,000.
Thirty three and a half million pounds.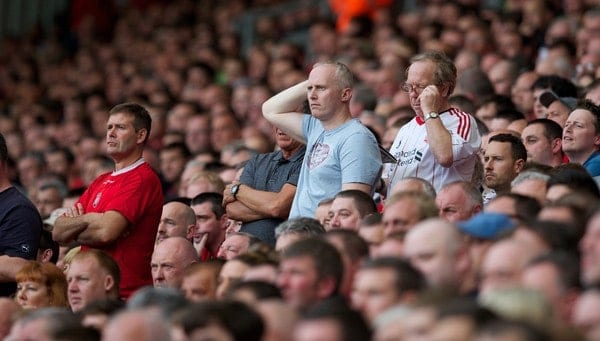 If Liverpool Football Club used just their TV revenue from just one season (2013/14), they could pay for every single season ticket holder to attend every single game of the season. Not once. Not twice. But THREE times over.
Just let that sink in for a second.
These stats may not be 100% correct and I'll admit I've used my personal experience as an example so as to construct this small piece, which aren't exactly flawless. What it does provide is an indication to scale of income that a top football club can make. Yet what is even more disturbing is how a club can make so much, and fail to carefully consider the fans.
What fans need now are answers. What they need is a clarity. A clarity from the Premier League and from the owners and chairmen which run these institutions. Yes football has become a business, yes it had to progress but what it cannot ever do is lose sight of why it is there in the first place. You lose the one factor which celebrates its very being and you lose the soul which lives and dies by it every single day of the week.
Again, I talk from experience here, but I believe I'm very much part of the generation that believed football was an occasional treat, not an every week ritual that defined a weekend. Luckily I have escaped the feeling of couch watcher and transferred my passions into the stands on a weekly basis, albeit at a cost.
The phrase 'saving football' may be a slight overreaction, but it does feel like it's nearing towards a cliff edge which could have catastrophic consequences. The people aren't happy. They are disillusioned and the idea of what football was unfortunately is lost through a mist overzealous owners and conglomerate television companies.
When tickets outweigh the cost of living for the average fan, the ears of the ones who are responsible for making that happen must ring. There has to be realisation that a line has been crossed and before it's too late, there has to be a sustainable plan for the future.
Whilst the future of football on the pitch is very much secure, the future of football in the stands remains to be seen.