Robbie Fowler made 369 appearances and scored 183 goals for Liverpool. Simon Collings recalls his favourite 10 Fowler goals – there were plenty to choose from!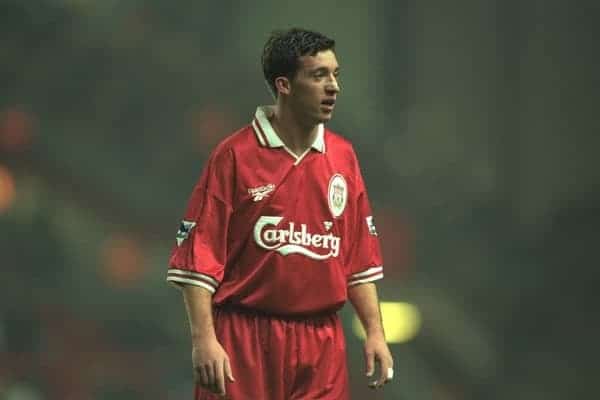 With all the hoopla surrounding Liverpool's misfiring start to the campaign, not so long ago a little anniversary crept by. 21 years ago on September 22nd 1993, Robert Bernard Fowler scored his first Liverpool goal. Fulham were the opponents in a first round league cup-tie. In the return leg at Anfield, he scored five – placing him in the history books. But with that first goal, Fowler began to pick up the mantle from Ian Rush and in 183 goals later, became a legend.
Not since Jimmy Greaves had English football seen such a predator in front of goal. Fowler was lethal, and he had it all: right foot, left foot, headers, volleys, and free kicks – even slalom runs. No angle was too tight, no distance too far. Such his genius in the box, his technique and intelligence as a whole was often overlooked.
He formed great partnerships with the likes of Ian Rush and Stan Collymore – providing many assists and creating space for others to flourish in. However, with a handsome 183 goals in 369 appearances, it's appropriate to celebrate him as one of our finest finishers.
A few have come and gone since his final departure in 2007: Fernando Torres and Luis Suarez to name a few. But Fowler remains closest to us. A local boy done good, who terrorised defences on a weekly basis.
It's difficult to select just ten of his greatest goals as there's so many – and everyone has their own favourites – but, in chronological order, here goes…
Man. United (Away) October 1st 1995, Premier League
https://www.youtube.com/watch?v=l8v08SP0Lnc
In a match that was to be Eric Cantona's comeback; Fowler stole the show with an exquisite double. His second – a cheeky chip over Peter Schmeichel, after out-muscling Gary Neville – was just as good, but his thunderous strike from the corner of the area silenced Old Trafford. Schmeichel, as well as the camera in the goal, didn't stand a chance!
Aston Villa (Home) March 3rd 1996, Premier League
Steve Staunton look away now! This fearsome strike from 25 yards out helped put Villa to the sword early on. With his back to goal, Fowler flicked the ball past Staunton and with in a few strides, unleashed a rocket past Mark Bosnich. Again, the keeper had no chance.
Aston Villa (Old Trafford) March 31st 1996, F.A. Cup semi-final
https://www.youtube.com/watch?v=ZGh-RcHDOtE
Fowler was back terrorising the Villains again and helped seal a place back at Wembley in the process. With five minutes to go, and from free kick, Fowler intelligently peeled away to the edge of the box in the hope of a loose ball. When it came, he chested it down and struck a sweet left foot volley into the corner. Simply world class!
Chelsea (Home) September 21st 1996, Premier League
https://www.youtube.com/watch?v=IaHQP59p-X0
More of a team effort here than a slice of individual brilliance. Fowler's opening header set the reds off on a 5-1 win over the blues. Stig Inge Bjornebye's inch-perfect cross was met by Fowler on the run – who didn't have to break stride. A textbook cross, finished with a powerfully headed goal.
Brann Bergen (Away) March 6th 1996, U.E.F.A. Cup-Winner's Cup
Perhaps his most outrageous Liverpool goal? Fowler showed off his confidence, as well as his skill and technique, as he back-heeled the ball over his, and the on-rushing defender's head, and hit a half volley into the back of the net. This was Fowler at his peak in a reds shirt.
Sheffield Weds. (Away) August 7th 1999, Premier League
At a time when injuries seemed more commonplace than goals, this rare gem on the opening day was a classic Fowler finish. Picking the ball on the edge of the box, Fowler steadied himself and curled a cute strike into the far corner. It was Bergkamp-esque but, due to lack of footage, we never got to see it in all its glory.
Man. United (Home) March 31st 2001, Premier League
Best remembered for Steven Gerrard's blistering strike, Fowler's calm finish was often overlooked during this satisfying win over Untied. With the ball coming over his shoulder, Fowler controlled it effortlessly under pressure from Gary Neville. With Fabien Barthez bearing down, he coolly rammed it home to give us a two-goal lead. Most enjoyable!
Birmingham City (Cardiff) February 25th 2001, League Cup Final
As captain in our first final in years, Fowler didn't let us down with this sweet strike. After a standard route-one ball, he took Emile Heskey's flick-on in his stride and, with minimum back lift, struck a dipping volley from 25 yards out. Big players rise to big occasions, and this was a fantastic goal to open the game up.
Charlton Athletic (Away) May 19th 2001, Premier League
In a game that would see us qualify for the Champions League for the first time, this cheeky overhead kick lob calmed a lot of nerves! Shortly after the break, Fowler opened the scoring after Charlton had battered us. From a corner, with his back to goal, he scooped the ball over his head and out of reach from the Charlton backline. Now how did he do that?
Leicester City (Away) October 20th 2001, Premier League
His third and best of an impressive hat trick at the old Filbert Street ground. With link up play involving Jari Litmanen and Vladimir Smicer, Fowler received the ball just inside the area at waist height, and effortlessly caressed a sweet volley into the back of the net. He made it look so simple as his technique was flawless. It was his last treble for the club.
More Fowler Magic
https://www.youtube.com/watch?v=GpbA7KO-Ejo
https://www.youtube.com/watch?v=A71l-NkleVE
What are your favourite Fowler goals? Let us know in the comments below.