Liverpool fans respectfully showed their appreciation for one of the world's best, despite his connections to arch rivals Man United. Simon Collings recalls some other memorable Anfield performances from the Europe's elite.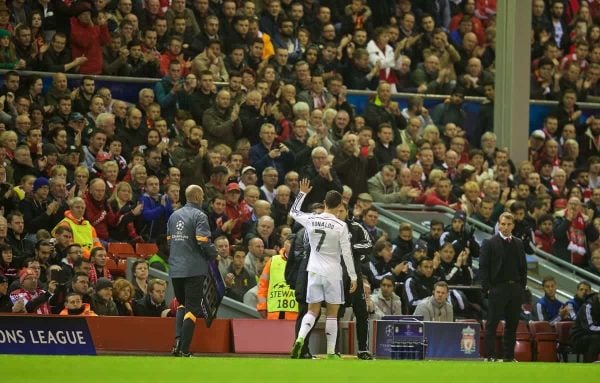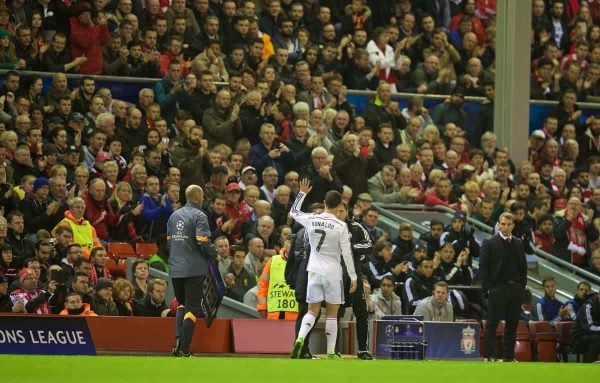 As Cristiano Ronaldo helped put Liverpool to the sword at Anfield on Wednesday night, it was clear to see that one of the world's greatest players was gracing our hallowed turf.
As much as we loathed him during his Manchester United days, we can't help but appreciate his ability on the pitch. The Portuguese attacker's skill, power and technique are phenomenal – right up there with some of the best ever to have played the game.
Such is our illustrious history in Europe, we've had the privilege of witnessing some of the world's most talented player's line up at Anfield. Back in 1966, a young Johan Cruyff hit a brace for his emerging Ajax side in a 2-2 draw, Franz Beckenbauer showed why he was a colossus in 1971 with Bayern Munich, and more recently, Lionel Messi showed glimpses of his genius in 2007.
Some haven't always impressed; Zlatan Ibrahimovic always seemed to have had shockers whenever he was in town (2005 for Juventus and 2008 for Inter Milan), and the great Raul and Iker Casillas didn't stand a chance for Madrid in 2009.
However, since the turn of the century, which stars have graced the Anfield stage and justified the price of a match day ticket? Let's take a look…
Rivaldo, Barcelona – 2001, UEFA Cup, semi-final
As the Brazilian star took to the field on this memorable night at Anfield, we all knew we were in for a treat. As a former world player of the year, the dynamic No.10 was a threat all night – unleashing a forty-yard strike only just tipped over by Sander Westerveld. Due to Ronaldo's injury at the time, Rivaldo was the vocal point of the Brazilian setup, and went on to play a vital role in their World Cup success a year later.
Gianluigi Buffon, Juventus – 2005, Champions League, quarterfinal
Still going strong at the age of 36, the Italian 'keeper is one of the all-time greats between the sticks. When Liverpool and Juve met on this emotional night, he was already considered the best in the world. The Old Lady paid a handsome £32million for his services in 2001 – a record for a 'keeper that still stands today.
Ronaldinho, Barcelona – 2007, Champions League, round of 16

Another Brazilian genius graced our presence here on a nervy night at Anfield. At the time, he had pretty much won everything in the game, and dazzled the world with his flicks, tricks, and goals. His run and effort that hit the post showed just what he was capable of but thankfully his gift for scoring outrageous goals never fully shone during his time in front of the kop.
Javier Zanetti, Inter Milan – 2008, Champions League, round of 16
In an Inter side that included an aging Luis Figo and Hernan Crespo, Javier Zanetti was the player many of us wanted to see. Despite going down 2-0, the Argentine legend kept his cool as all those around him seemed fazed by the atmosphere. As the record appearance holder for his country, Zanetti was a model professional and could play in a number of positions. A true football legend often overlooked.
Didier Drogba, Chelsea – 2005 to 2009, Champions League
Another star who we loved to hate. We got a taste of things to come when Drogba tormented us for Marseille in 2004. However, it was during the many occasions playing for the Chelsea between 2005 and 2009 that he was at the peak of his powers. He was one of the most feared forwards in the world: pace and power combined with a lethal scoring record. Jamie Carragher always maintained he, and Thierry Henry, were his most difficult opponents.
[poll id="262″]