The day after Liverpool and Real Madrid were drawn together in Champions League group B, former Reds' midfielder and fans favourite Xabi Alonso left Madrid for Bayern Munich.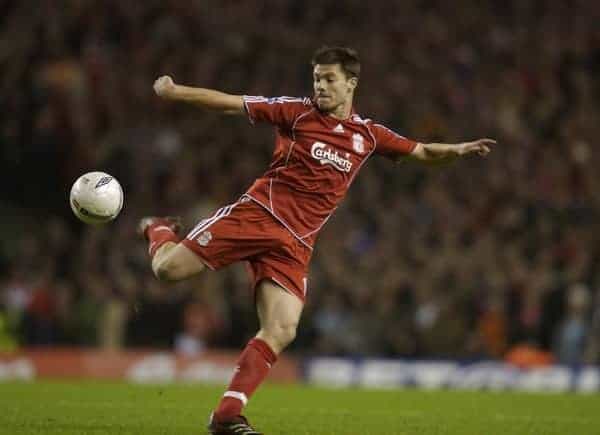 Alonso was in the Liverpool starting 11 that beat Madrid 4-0 at Anfield back in 2009, but left the club later that summer, joining the Spanish side for £30 million.
In those intervening years, Liverpool have only been in the Champions League for one season, meaning Alonso has yet to return to play against his former side.
He was joined in Madrid by full-back Alvaro Arbeloa, another who played in that memorable 4-0 win back in March 2009, and his Spanish team mate has explained how Alonso bemoaned his luck after the draw this August.
"I spoke to him after the draw and he was fuming, "How bad is my luck? I can't believe it" or words to that effect," explained Arbeloa in an interview with The Daily Mail.
"He was a marvellous player who won the European Cup with them. People loved him there and I think they would have paid him a wonderful tribute."
MORE – Arbeloa: "Champions League nights and big games like this one at Anfield are very special."
Arbeloa also recalled how close the Reds came to winning the league that year, "We would have won the league had it not been for [Federico] Macheda," he recalled. Liverpool fans still have nightmares about that goal against Villa now.
"We were so close. There were a lot of games where we kicked-off before Manchester United and we would board our flight home and they were losing and we would get off the plane to the news that they had staged a comeback."