Liverpool boss Brendan Rodgers provided a fitness update on his squad at his pre-match press conference ahead of the visit of Stoke City on Saturday, with Mario Balotelli again ruled out.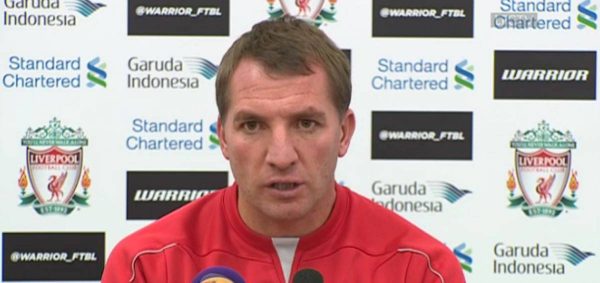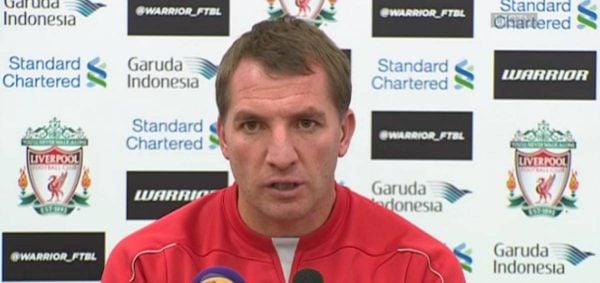 Rodgers explained that it would be the same squad as against Ludogorets, meaning no Balotelli or Mamadaou Sakho – who returned to training earlier this week.
Meanwhile, the boss was asked about the performance in Bulgaria and the form of goalkeeper Simon Mignolet.
On Ludogorets:
We were bitterly disappointed to draw against Ludogorets. But we went with an objective to put it down to the last game – and we did.
We're hoping our season really began the other night, but that will only count for something if we do something against Basel.
We've been dealt a different hand this season. We just need to focus on the now, not dwell on the bad results. We get to go again.
We were competitive the other night, worked well, and now we want to take this into the Premier League against Stoke.
A few months ago I was manager of the year, now I'm favourite to be sacked! It's part and parcel of football's short-termism.
We need the mental characteristics of the team to come out now, concentrate on the football and our performance level for results.
On Mignolet:
Simon Mignolet is fine, we've had a good chat today. We paid a lot for him, and he's saved before. We all need to be better collectively.
Criticism is part of the sport – all you can do is focus on being the best you can be in the next game. That's something he's done.
When you're a club like Liverpool, the focus on you is magnified because we're one of the world's leading clubs.
Simon is strong enough to deal with criticism. You have to at this level of football. It won't always go your way, so you fight harder.
On Stoke:
Every game at this level is very difficult. Stoke have gone away and had two good results against Man City and Tottenham.
Stoke will be coming here to get a result. We just want to return to the home form we improved after I came here.
On criticism in press from former players (specifically Bruce Grobbelaar):
I read very little of what is said or not. Everyone has an opinion, players, supporters. Some are paid to be critical.
But you don't forget the support that you get. I'm grateful for ex-players here for their support — Kenny, Fowler, Rush.
McManaman too — these legends see the difficult moments we're in. I focus on them, they're the real supporters of the club.
I'll take criticism on board, but I'm more focussed on my own job and improving what we need to succeed.
Liverpool vs Stoke is a 3pm kick-off at Anfield on Saturday.