Daniel Sturridge's return, whenever that finally is, and a return to the diamond shape in midfield will offer Brendan Rodgers the opportunity to repair the early season misery, writes Alex Saldanha.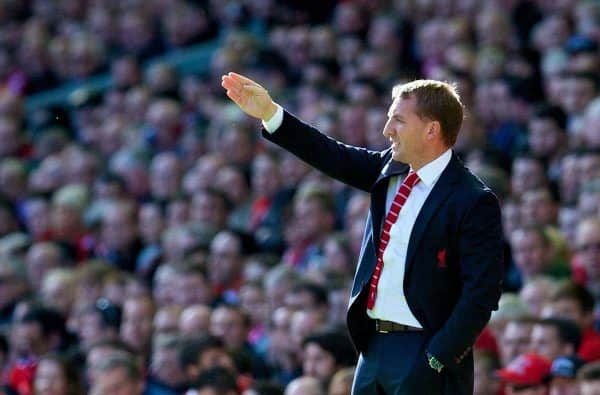 Ten games into the new season and Liverpool have accrued a miserly 14 points and sit in the lowly position of seventh in the table. Put into context, if Liverpool were to continue in this vain they would finish with only 53 points (31 points less than last season's tally of 84) a total that would have placed them in eighth position last season.
The Reds are currently experiencing problems all over the pitch: in the ten games so far they have conceded 13 goals, with only two clean sheets, showing little improvement on last season's patchy defensive efforts.
Going forwards Brendan Rodgers' men have only scored 13 goals and it is here where the major problem lies. Last season with the brilliant Luis Suarez – Daniel Sturridge partnership up front Liverpool were averaging 2.66 goals per game, scoring so many that the defence's deficiencies were irrelevant. Now Liverpool score on average less than half of that total: without these goals compensating for the defence's flaws Liverpool and dropping points at an alarming rate.
Sturridge Absence

It is for this reason that Sturridge must now be seen as key to the Reds' season: once he steps on to the pitch the Reds' attacking threat and goals tally will multiply. Due to the scintillating form of Suarez last year Sturridge's contribution went, somewhat, under the radar: not enough has been made of his excellent goals record for the club (after 50 games for the club, only George Allan can beat Sturridge's tally of 36 goals in Liverpool's history).
Now without Suarez, expect Sturridge to cement his position alongside Aguero (and now Costa) as the league's top striker.
However, Liverpool are currently without their talisman and could foreseeably, given his injury record since joining the club, be without him for other periods during the season. And it is in his absence that Rodgers must find a way to pick up consistent points.
It is fair to say that Rodgers' efforts so far have not been successful: in three games with Sturridge Liverpool have picked up six points compared to only eight in the seven games without.
During this period in Sturridge's absence Rodgers has (with the exception of West Ham away) favoured a 4-2-3-1 formation with Mario Balotelli being preferred as the lone man up top (with the exception of West Brom at home where Rickie Lambert was the lone striker).

What has been clear from these games is that Balotelli is not a lone striker. This is hardly a major revelation – the best games of his career have both been when playing with a strike partner (Aguero when scoring two against Manchester United at Old Trafford during City's 6-1 win and Cassano when scoring the two goals that knocked Germany out of the Euro 2012 semi finals) and he revealed as much in a recent interview.
What Mario needs is a partner to link up with and provide the intelligent movement (that he lacks) to create space for himself: it is no coincidence that his two goals for the club have so far been scored when partnered by Fabio Borini.
Formation
From this is drawn the conclusion that Rodgers should revert back to last season's formation of the 4-1-2-1-2 midfield diamond. Yes it was not successful against West Ham but it is hard to argue for that game being a valid reason to discredit the formation's benefits: the team were two goals down within seven minutes due to schoolboy defensive errors that could have happened under any system (one a set piece) and were, consequentially, up against it for the rest of the game.

The 4-1-2-1-2 would not only help Balotelli but should see improvements in the performances of numerous individuals.
Raheem Sterling's best performances for the club have arguably come in the central position behind the strikers. That is not to say he is incapable of playing out wide, he is excellent too in that position, but recently he has found himself isolated out wide, in a central position he should be able to find himself more pockets of space in which to pick up the ball and run at opposition defences.
Coutinho also should benefit: playing as one of the two midfielders he will see the number of players providing movement in front of him increasing providing him with more opportunities to play his killer passes. Gerrard could, similarly, benefit from the increased movement with his passing range whilst Henderson with his box to box pressing may as well have been born for this system.
It is arguable that this system will make Liverpool more vulnerable at the back, especially in wide areas but this may be a risk worth taking. All systems have their pros and cons and Liverpool's defence is not perfect as things stand.
Whilst it should be expected that the defence will improve as the season progresses and they have chance to gel (in Manquillo, Lovren and Moreno three new regulars have been introduced) for the time being the best option looks to be compensating for the defence's weakness by looking to score more goals than the opposition, a formula that Rodgers' found great success with last season.

And finally on the point of Sturridge's return: yes he is capable of being the lone front man in a 4-3-3 but he also fits perfectly into the 4-1-2-1-2. Liverpool's best performance of the season came with Sturridge playing in a 4-1-2-1-2 away at Tottenham Hotspur (a game which also provided hope that himself and Balotelli could strike up a good partnership) and statistics have shown that, even with Sturridge on the pitch, Liverpool average more goals per minute with two up top.
The other option would be to play 3-5-2, a formation that could help provide defensive solidity against top clubs but after the exploits under it last season the midfield diamond looks for the most part to be the best option.
Despite the underwhelming start to the season there is plenty of time for Rodgers to turn things around. Last season he proved just how adept he was at dealing with problems building a formation in which his players thrived, he now faces the same challenge this season and a previous solution could just be the answer he requires to kickstart The Reds' season.