Liverpool's progress is ahead of schedule. Although you wouldn't think it with all the doom and gloom around at the moment, writes Kopblog's Joseph Cousins.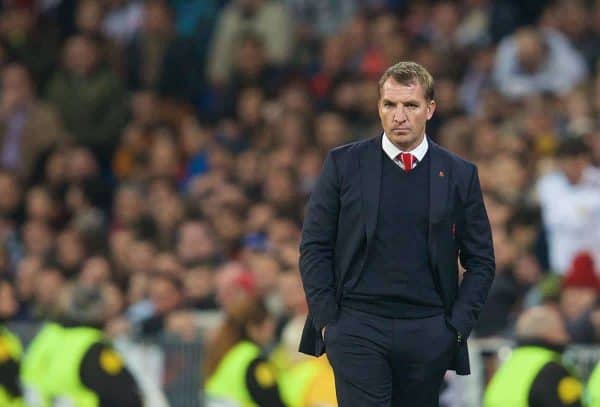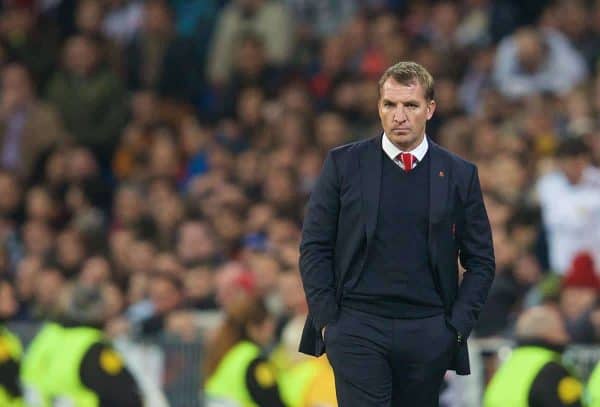 When Brendan Rodgers was given the job his objective was to take us from a team that had finished 7th, 6th and 8th in the 3 seasons previous to a team that would compete for Champions League qualification. It is widely suggested that he was expected to do this within his initial 3 year contract.
Separately, in one of John W. Henry's letters to Spirit of Shanky, I think back in 2011, he said it would take three years to see tangible progression from their ownership.
In two seasons Rodgers led the team to a second place finished. Automatic qualification secured and so as far as the manager and ownership is concerned the club's progress is ahead of schedule.
We're now in the third year of Brendan's tenure and after 10 games we're just three points behind the top four. It's not quite the crisis everyone believes it to be.
However, the perception is quite different and I think it's a large part to do with the fact we were so good last season – particularly the second half of last season, which is of course more fresh in our memories.
Imagine for a moment that we scraped 4th place last season, finishing above Everton on goal difference. Things wouldn't seem as bad this time around because the drop off wouldn't be as steep. Also the media attention in our results wouldn't be as high.
Some would say that going close to winning the league last season put us back on the map and gave the players belief. I'm not so sure about that. The belief looks to have drained out of the players alarmingly quickly and as for being back on the map it hasn't been reflected in the calibre of player we have been able to attract.
What last season's achievement has done more than anything else is increase all of our expectations. We expected to see a higher calibre of player recruited. Some of us expected to have a go at competing for the title. Neutrals expected us to at least maintain the reputation we built up as a high energy attacking team.

The club's aspirations before the start of the season were still very much focused on a top 4 finish though. There was no talk of the title at all. Brendan himself had this to say at the start of the season:
"I think people will look at Manchester City and Chelsea, with their squads. We probably arrived a year early to where we were but we will look to be up there challenging again this season.

"What happened last year counts for nothing, that's all gone now. The one thing that will carry on from that is the belief.

"Our aim is to be competitive. Like the top teams, we want to win a trophy. That would be an aim. In the league, it's about sustaining Champions League football.

"For that you want to arrive in fourth. Once you have consolidated that, you can look beyond that. That's certainly our aim this season."
The activity in the transfer could be categorised as more building a squad for the medium to long term rather than trying to immediately improve the first team and bridge the gap this season.
To be fair to the club there were approaches made to top players but for whatever reason we were just unable (or unwilling) to sign any.
Finances
My feeling is that financially we just aren't ready to compete with the elite yet. Last season's title challenge was not by design. We didn't build towards it like Man City or Chelsea did or even how Man Utd did in the early 90s. In fact the transfer windows during last season were poor.
Looking back, it seems the title challenge relied on metrics that were unsustainable.
1. We had the third best player in the world and the best strike partnership in Europe. Unfortunately for us, clubs who aren't among the elite or financially powerful don't get to keep elite players.
2. We scored the most set piece goals of any team since they have been recording the stat (2009/10). 24 goals. We've never gone close to scoring as many before and so far this season we've scored just 2 goals from set pieces which outs on target for just 8 set piece goals over the season.
3. With no European football and no cup run to speak of we were able to fully focus on the league without having to rotate. This also gave Brendan the required amount of coaching time in between games to get his ideas fully implemented.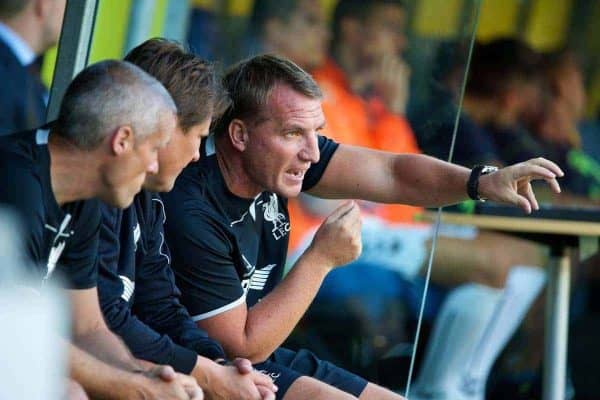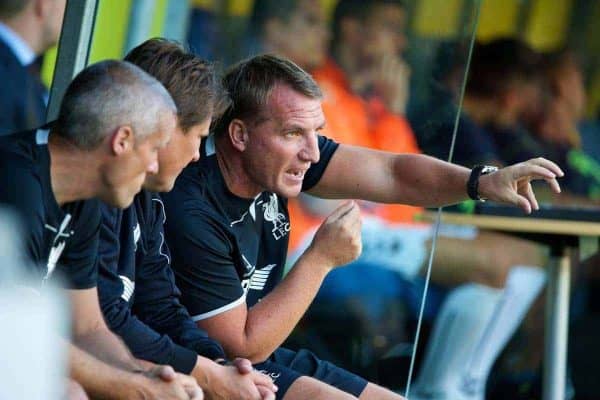 To build on the perfect storm of last season (rather than go backwards) we would have needed to keep Suarez and add three or four established quality players. Or sell Suarez and replace him with a world class player and add three or four established quality players.
The trouble is this would likely have cost approximately £90m net. We have never spent more than £45m net in any transfer window under FSG (or any other owner for that matter).
Tom Werner or Ian Arye have at times said that we can compete with the top clubs for players. This is positive spin, otherwise known as bullshit.
These days the top players will cost upwards of £30m – and we have only ever signed one player over £25m.
How we compare to our rivals in terms of transfers over £25m.
Chelsea
Costa £32m
Fabregas £30m
Willian £30m
Hazard £32m
Torres £50m
Shevchenko £30m
Man City
Mangala £32m
Fernandinho £30m
Jovetic £25.8m
Aguero £38m
Milner £26m
Dzeko £27m
Tevez £25.5m
Robinho £32.5m
Man Utd
DiMaria £59.7m
Mata £37.1m
Berbatov £30.75m
Ferdinand £30m
Shaw £30m
Herrera £29m
Veron £28.1m
Fellaini £27.5m
Rooney £27m
Arsenal
Ozil £42.5m
Sanchez £35m
Liverpool
Carroll £35m
Number of players each club has signed over £25m:
Man Utd 9
Man City 8
Chelsea 6
Arsenal 2
Liverpool 1
This isn't to necessarily compare FSG spending power with our rivals as a lot of those players above were signed well before FSG came to Liverpool. This is more to illustrate the ability to pay top dollar to bring in players.
Of course wages is also a key factor. If you can't compete on the wage front then forget getting the best players.
How do we compare with wages?
Top earners at the following clubs (these are probably approximates and different sources publish different figures – not sure if any public source has what could be considered 100% accurate information on players' wages).
Chelsea
Costa £200k
Fabregas £200k
Hazard £185k
Terry £175k
Cech £120k
Man City
Aguero £220k
Yaya £200k
Nasri £140k
Silva £135k
Kompany £120k
Man Utd
Rooney £300k
Falcao £280k
Van Persie £250k
DiMaria £150k
Mata £130k
Young £118k
Arsenal
Sanchez £140k
Ozil £140k
Giroud £100k
Walcott £100k
Cazorla £90k
Wilshere £90k
Liverpool
Sturridge £150k
Gerrard £140k
Sterling £100k (new contract not yet announced but widely reported it will be this)
Johnson £90k
Skrtel £90k
Total wages
Man City £233m
Man Utd £181m
Chelsea £179m
Arsenal £154m
Liverpool £132m
It is very difficult to win the big prizes while not able to afford the top players. So what the club have to do is increase its revenue streams. To be fair to FSG this exactly what they are doing. Several lucrative commercial deals have been signed over the last year and the stadium expansion (which will probably have a naming rights partner) looks like going ahead.
The increases in revenue should enable us to compete off the field in the long term but it is important we are able to compete on the field in the meantime.
The likes of Borussia Dortmund and Atletico Madrid have been able to win the league against super rich rivals by implementing a world class coaching staff and player recruitment team. I like to call this 'the football operation' (John Henry likes to use this term as well).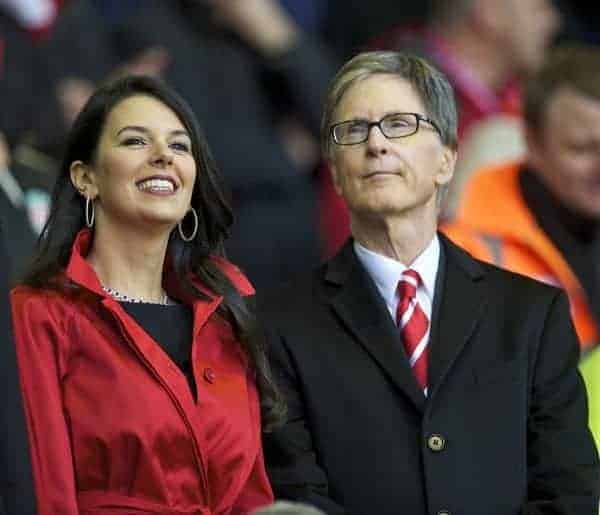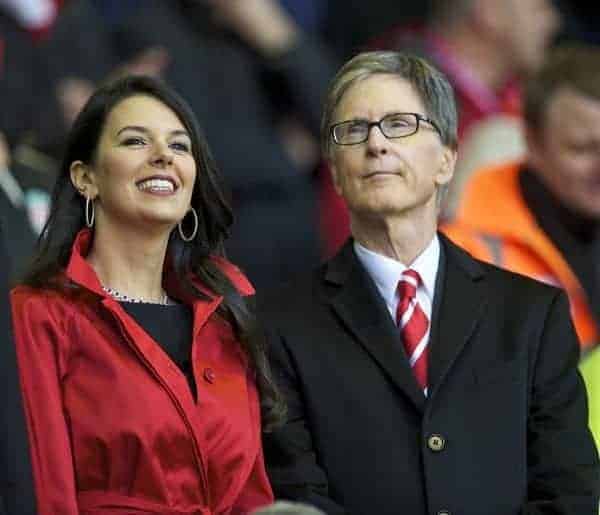 In January 2011 John Henry wrote a letter to Spirit of Shankly and the bit that stood out to me was this:
"We must have more than the right manager for the long?term – we must have the best football operation in the world. That cannot be based on any one person because if that person leaves, you must rebuild. LFC needs stability. LFC must have a philosophy that endures and is in the hands a group of people devoted to the Club who work together for something much larger than themselves."
We must have the best football operation in the world.
LFC needs stability.
LFC must have a philosophy that endures.
Let's see… Comolli was hired, promoted and then sacked. Kenny was hired as caretaker, given the job proper then sacked. Coaches Steve Keen and Steve Clarke hired and sacked.
Brendan was hired and he made sure the club's preferred model of having a sporting director was not going to happen. As a result the first transfer window was as Brendan put it "a debacle". It was so bad John Henry felt the need to write an open letter explaining the situation.
A few months after the debacle the transfer committee came together and made a promising start with the signings of Sturridge and Coutinho. Unfortunately though this is as good as it would get. No signing since has been a success yet.
Players Signed Under FSG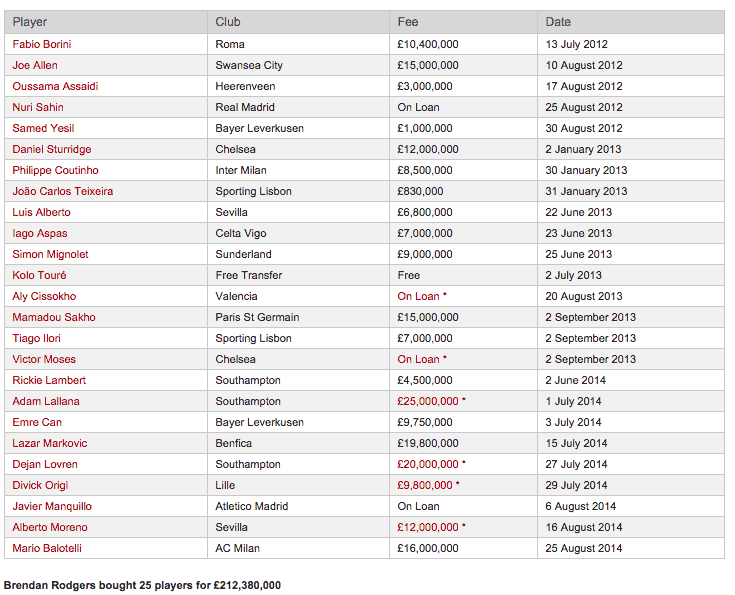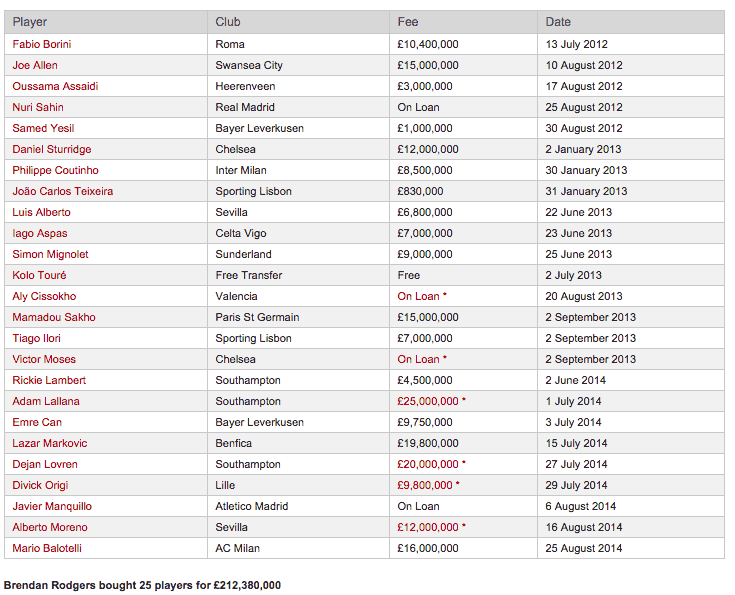 (via LFCHistory.net)
I appreciate it is a bit early to judge some of the players there but by my reckoning we've signed 37 players and only FOUR have been a success (Henderson, Suarez, Coutinho, Sturridge). We certainly aren't delivering on having the best football operation in world.
If we can't afford the best players then that's fair enough but there is no excuse for not implementing at least an efficient football operation and a world class coaching staff, where everyone is singing from the same hymn sheet.
Despite not playing very well there is no crisis yet. Fortunately for us there are quite a lot of rubbish teams in the Premier League at the moment. We've had our joint 3rd worse start to a season in 20 years and still sit only 3 points off the top 4. This is the only saving grace so far but we need to pull our finger out before that gap gets bigger. I think things will improve but there are no guarantees that it will. The second half of 2011/12 season is fresh in my memory. Everyone thought we would improve and we actually got worse. A lot worse. Resulting in a lot of sackings.
Sadly, I don't think Man Utd will be shit for that much longer. The combination of Class attacking players + top class manager + loads of money to spend usually equals good results. I expect United to buy top defenders in January with no messing around and then compete for a top 4 spot.
Southampton look worryingly good to me. I think that club reflects a world class football operation. Lose their chairman, manager and 5 first team players. Get a new chairman, new manager, rebuild the side and be better for it. Maybe we should have bought their scouting team. I bet they would have come cheaper than Lovren.
Arsenal finishing top four is as certain as night following day.
Getting worse before it gets better
The 3 point gap to fourth place probably increases this weekend because I just don't see us beating Chelsea. The way we are playing, the most likely result is a defeat.
I see it being a struggle to win league games when we have absolute must win Champions League games in between them.
I think our general play will improve when we are back to playing 1 game a week and can concentrate on the league. Our final Champions League group game is on December 9th with the knock out stage starting February 17th. (The knock out round of the Europa League starts February 19th).
This break in European competition is what saw Chelsea and Man City improve their league form last season. I expect us to improve over this period also, especially with Sturridge returning to match fitness (fingers crossed) and the club able to focus on the league.
Will we improve enough to get top 4 though? I'm not as confident as I was a few weeks ago.