After finally throwing away the negative approach on the pitch, Brendan Rodgers needs to stop talking like a man with a negative mindset after his "one defeat in eight games" declaration.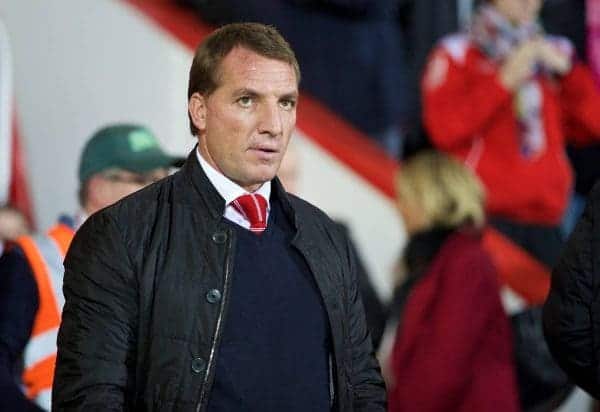 A year ago at Christmas Liverpool fans were enjoying the sight of their team sitting top of the tree that is the Premier League table.
12 months on and Brendan Rodgers' side sit bottom of the top half, in tenth place, with a goal difference of minus three.
As a sign of just how far The Reds have fallen, Rodgers proclaimed, following the 2-2 draw with Arsenal on Sunday, that "one defeat in eight shows that we're moving in the right direction after a difficult start."
It's a sign of the times that Rodgers is now counting defeats. Those eleven wins in a row from February to April earlier this year seem like an age ago.
"One defeat in eight" is selectivity of the highest order, a statistic that fails to mention that those eight games have seen just three wins (of which were against Stoke City, Leicester City and Bournemouth) and being knocked out of the Champions League.
Those two draws in Europe, against a team nobody had heard of six months ago (Ludogorets) and a side we HAD to beat in order to progress but still failed to get a shot on target in the first half, could have huge implications long-term. But as long as they weren't "defeats" eh. What a negative, Hodgson-esque mindset. Talk about lowered expectations.
Forget the failure to hit the target in the first half against Sunderland (for a second home game in a row) and end the game 0-0 having had 15 shots but only two on target, with no centre-forward on the bench.
Forget that the one defeat on this so-called resurgence was our biggest defeat at Old Trafford in six years – and that we went into that game with no recognised centre-forward in the starting 11 and Brad Jones in goal.
I could depress you further by telling you stats like how our most common scoreline this season is a 3-1 defeat, and that we've won just 22% of home games, but season of good will and all that…
Negative Approach

To even note one defeat in eight games is a negative mindset, one you'd expect from a relegation candidate (or Hodgson or David Moyes) – a manager with lowered expectations and who is happy to pick up draws.
For the record, I hate draws. Draws are what cost us the title in 2008/09. You might as well lose one and win the other two than draw three but avoid defeat (you achieve double the points and points win prizes not avoiding defeat).
Not settling for a point is what made Man United so successful under Alex Ferguson, throwing on a forward to win the game late on. It's something we just haven't seen enough this season.
Never mind losing our cutting edge when Luis Suarez left, Rodgers lost his own attacking, positive mindset. That's perhaps returning with the new 3412 formation, but why did he change from his values for so long before now? Instead opting for formations you'd expect more from the aforementioned Hodgson and Moyes (4411 and 4231).
Thankfully for Rodgers his side have a very favourable fixture list over the festive break, with Burnley, Swansea and Leicester (the last two at home) a stark contrast to last season's trips to Man City and Chelsea over the Christmas period.
It needs to be three wins in three games, then he can talk about how many wins are in the last eight, because that's what matter, not how many times you've avoided defeat.