Si Steers discusses how he thinks Brendan Rodgers and owners FSG have stopped taking risks, seemingly now fearing failure. Rodgers must bring in help to give them a competitive edge.

Sack the manager, get rid of the owners, sell half the team… it all becomes depressingly repetitive when you aren't winning football matches. When the inevitable noise eventually forces the hand of clubs and the manager goes, you start the cycle again. A manager may come in and have some success, but as soon as they hit a rut, the natives become restless and it starts again. It becomes a continual circle of negativity, with a few glimmers of hope thrown in every now and again.
At Liverpool, we had success with Rafa Benitez, and then became restless after punching well above our weight eventually caught up with us. The same noises are starting to build around Brendan Rodgers, who, like many said about Benitez in 2005, is a manager that supposedly lucked out last season. Funny how managers are geniuses when its going well and lucky when it isn't. From hero to zero with no acceptance that football isn't an exact science.
The cold, hard reality for Liverpool fans is that when we enjoy any kind of success, it is punching above our weight. We quite literally don't have the resources to expect sustainable success. Logic tells us that we are locked in an eternal battle for fourth place with Arsenal – who have built towards a sustainable model that is ahead of our own. And they are above us in the transfer pecking order as they have proven in recent windows, making our job even tougher.
It is nobody that is currently at Liverpool's fault we do not have as much money as Man City, Chelsea, Man United or Arsenal. In fact, the current regime have been desperately trying to play a game of catch up, and a much improved commercial operation and stadium redevelopment are helping to bridge a gap that was huge. But it's still not enough.
The only accusations you can throw at our current owners are that they are not benefactors; Liverpool isn't a toy to them, it's a business. The same as it would be if it was owned by supporters. It would operate in exactly the same way.
What do we have a right to expect?
Do we have a right to expect that a benefactor is going to come into the club and take us to the level we want to be at? That gravy train is becoming more difficult to board now, especially with Financial Fair Play starting to dictate that football clubs operate as sustainable businesses.
So, where does that leave us? The one thing that unites everybody at Liverpool is a collective ambition to try and be successful. People may argue that the owners are happy to accept mediocrity if it means a tidy profit, but the track record at the Red Sox and actions in Liverpool all point towards owners that want to win.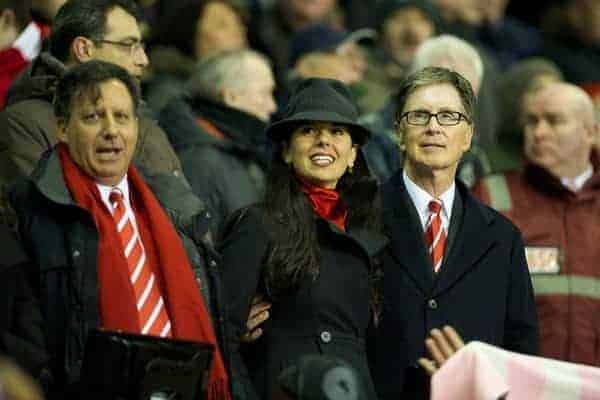 We operate in a very competitive game and there are lots of clubs that have plenty of money; we may have ambitions to bring the best players to Liverpool, but the factors that determine if they will come are outside of our sphere of influence. We literally can only do so much. If a richer club are interested, with more resources, or a player wants a particular move, there is nothing you can do to stack the deck in your favour.
It's easy to point the finger of blame at everyone. But how fair is it to lay the blame at somebody's door when they have done everything that is possible – and the outcome has been entirely out of the club's sphere of control.
There is always plenty of speculation about our transfer failures, and yes, we have likely made some mistakes. But nobody outside the club knows exactly what goes on, our transfer policy is shrouded in mystery, which actually puts everybody under more pressure, as accountability is clouded.
One of the things we should be able to expect is accountability. The committee is the right idea for crowdsourcing knowledge, but it does lack accountability.
Fear of failure
One of the good things about FSG has been that they have not been afraid of failing in the search for a formula for success. Hiring Brendan Rodgers was a huge gamble, but almost paid big dividends last season.
Last season, Rodgers was a man that was not afraid of failure. He had a belief in what he was doing and got the best out of everybody. There was a collective unity throughout the team and the club, and a confidence that money cannot buy, that all came from the manager. There was a swagger that came from Luis Suarez.

This season both Rodgers and the team look petrified of failure. The business this summer looked towards the safety of players that have operated in the Premier League, instead of taking a risk on those that have not.
We have quite literally become a club that has transformed from taking risks to becoming scared of taking them. Not signing Loic Remy was a risk based decision. Keeping Luis Suarez the season before was a risk (buying Suarez was a risk). There is light and day between the two decisions – with light and day results. You could argue that Mario Balotelli was a risk, but at £16m and with Premier League experience it was a very calculated one.
But, here's the trick. We are never going to be successful unless we take bigger risks – at every level. We can't afford to be afraid to fail – it's the only competitive edge that we have got against the backdrop of financial resources of others. Whether it's on the field or in the transfer market, we need to be brave and bold if we are to succeed.
That's what has been missing this season. That is what was missing from our transfer strategy in the summer. We have been too safe, we have tried to consolidate, and that has stripped away our identity. We have taken very few risks – and it has diluted what Rodgers was great at last season. He has gone with the safe option too many times this season, rather than trying to reinvent the system that almost won us the title.
What we need to do
If you do take risks in football it will mean that you will fail sometimes. That may be for a run of games, that maybe for a season. It's a price you have to pay, you aren't going to be successful every season – the competition is just too good. The years of one club dominance in any league are in reality a thing of the past over a sustained period of time.
What we need to do is start taking risks again. Whether or not that is attacking games, or taking a risk on signing a player, we have to accept that as part of our culture and identity. There are too many other teams building towards consolidation; we can't afford to become another Tottenham or Arsenal – against the riches of Chelsea, City and United it is the path to nowhere. We have to find a different way to do things – at least until we can punch our weight at the top table of financial powerhouses.

There are some changes that would benefit the club right now. A Sporting Director would help guide and challenge Rodgers, a young, dynamic coach like Carragher would help us become more organised defensively and be another voice. You don't innovate in isolation; you innovate with different people and different ideas. Rodgers needs more people around him to challenge him and to bounce ideas off.
If Rodgers rejects that help, then it is likely he isn't the right man for Liverpool, as Liverpool need to be innovative to be successful. They can't do it by looking at the status quo. Last season Rodgers looked to Dr. Peters for a competitive edge, which shows he listens to others. He has to keep an open mind to how he can continually improve – this season, he seems to have lost both confidence in his own ideas and has become averse to taking risks. And we are a team playing without any real identity as a result.
What does success look like?
The bottom line is that success for Liverpool looks like last season. It looks like competing for a title we have no real right to win. It looks like competing in the cup competitions, and forcing our way back into Champions League regulars.

There is no hiding from the fact that we have taken a massive step backwards this season, we simply have to stop spending money poorly and find a recruitment structure that can look past risk factors – either in value parameters, or a failed medical to make the better decisions on who we sign to improve us in the here and now.
I think our strategy and signings for the future will reap rewards in the long term. But, we are struggling to find any 'gems' – or we have been too afraid to spend a big proportion of our budget on one superstar. We have to get better at buying players.
Success for Liverpool probably looks the same as success for Dortmund or Atletico Madrid. It is pockets of success squeezed between periods of trying to find a formula for success. That is the only way, and if you have a manager who is not afraid to take risks, you are going to have to take the rough with the smooth. That man might still be Rodgers, it might not.
The biggest frustration this season is that we are failing with a whimper, if we are going to fail, let's do it by failing in flames. You never know what you might stumble upon.
Over to you, Brendan and John.