With reports linking Liverpool and Lazio with a swap deal for Fabio Borini and midfielder Ogenyi Onazi in January, Jack Lusby believes this is a fair trade.

As January approaches, reports linking Liverpool with players far and wide are set to materialise daily, with incomings and outgoings likely. A recent report from the Express includes both.
Anthony Chapman claims that "Liverpool have offered Fabio Borini to Lazio in exchange for powerful midfielder Ogenyi Onazi."
It is clear that Borini's time at Anfield hasn't been the most successful, but the striker turned down moves to Sunderland and Queens Park Rangers in the summer in favour of a battle for his place at the Merseyside club.
Manager Brendan Rodgers could well look to shift the Italian striker once more in January, and with the Reds currently short in the middle of the park, this deal seems like good business.
Chapman continues: "Liverpool are looking to take advantage of Lazio's long-term interest in Borini by offering the former Chelsea and Roma forward plus £8million for Onazi's services."
If Liverpool want Onazi, and Lazio want Borini, this deal surely makes sense for both parties.
Fabio Borini

Borini's ill-fated summer decision may well have cost Liverpool a great deal in transfer fees, with the club likely to receive a fee of £14 million from either Sunderland or QPR at the end of the summer transfer window.
Since then, however, Borini's stock has fallen considerably.
The 23-year-old has made just six Premier League appearances as we hit the half-season mark, totalling just 172 minutes on the pitch, according to WhoScored.
Naturally, given the paltry time Borini has spent on the pitch—at just over 28 minutes per game on average—the striker has failed to score or assist in those six games.
Behind first-choice Daniel Sturridge, as well as summer signings Mario Balotelli and Rickie Lambert in the pecking order, Borini's chances have been few and far between.

What's more, despite injuries to Sturridge and Balotelli this season, and Lambert's flagging fitness during a sustained recent run in the first team, Borini has often failed to even make the substitutes' bench.
With Rodgers recently utilising Raheem Sterling as a lone striker, and talking up his long-term prospects, this only further underlines Borini's position at Liverpool.
Links with January moves for the likes of Saido Berahino, Charlie Austin and Danny Ings, tentative as they may be, add fuel to this fire.
Borini's last appearance for the club, as a late substitute in Liverpool's 2-2 draw with Arsenal, saw the striker receive a red card for what he deemed an expression of passion.
https://twitter.com/borinifabio29/status/546770225073758208
While this may be an endearing feature of Borini's game, this may serve as a death knell.
Iago Aspas made a similarly dismal contribution to Liverpool's last festive run, and Borini is sure to follow the now-Sevilla man out of Liverpool in due course.
Ogenyi Onazi
Buon Natale a tutti i tifosi della Lazio e un augurio speciale ad @OnaziOgenyi Onazi che oggi spegne 21 candeline! pic.twitter.com/wW5s67tufM

— S.S.Lazio (@OfficialSSLazio) December 25, 2013
For Liverpool, with Lazio reportedly interested in the striker, this stands as the perfect opportunity to offload a player Rodgers clearly no longer holds in his plans.
To broker Onazi as part of the deal would suit Liverpool even more.
A 22-year-old defensive midfielder, Onazi has made eight appearances for Lazio in Serie A so far this season.
Onazi was also an impressive feature in Nigeria's World Cup midfield, helping the Super Eagles to a Round of 16 clash with France; although the side eventually lost that tie 2-0, Onazi shone.
What was most outstanding in that display was Onazi's ability to break up play, continue possession and a fearlessness when dribbling the ball into the opposition's half.
This season, Onazi has averaged 1.4 tackles and 1.4 interceptions per Serie A game, according to WhoScored.
He has also averaged 0.3 dribbles and 0.5 key passes per game.
Furthermore, Onazi is rarely dispossessed, losing the ball just 0.6 times per game on average this season.
Compared to Liverpool's current, regular defensive midfield options, Steven Gerrard and Lucas Leiva, in these areas, Onazi represents a welcome middle ground.



With Gerrard an ageing midfield presence a 34, and Lucas, although impressive in bursts, never quite able to hold a sustained role in the first team, Onazi may have an opportunity as Liverpool's defensive midfielder.
As Chapman writes, however, "Rodgers attempted to land the midfield enforcer during the summer transfer window, but instead opted to move for Bayer Leverkusen's Emre Can."
Can stands as Liverpool's most well-rounded central midfielder, and with Rodgers' recent comments that Can "likes to be in that sitting role where he can play and dictate the game as well as be physical in the challenge and duels," this suggests the German can be Gerrard's long-term successor.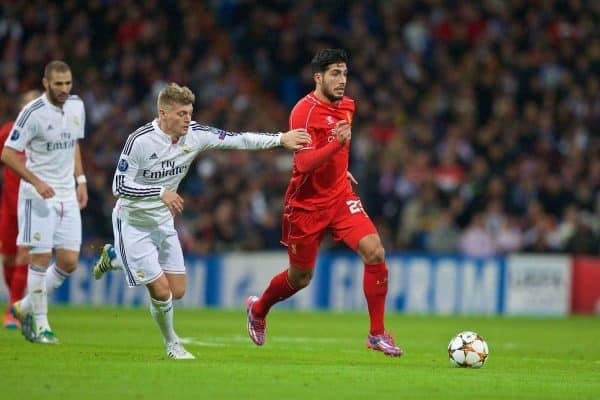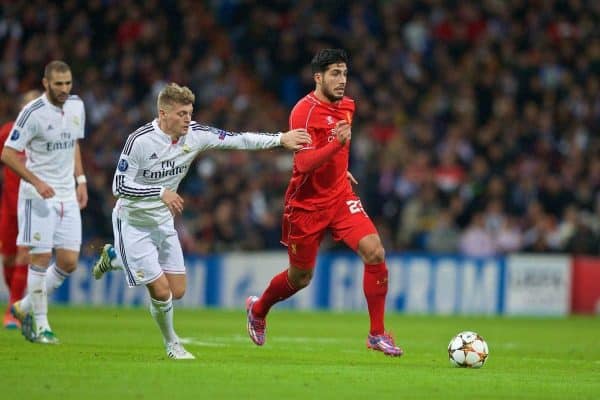 However, there is room at Liverpool for more than one accomplished defensive midfielder.
In truth, acquiring another, as well as seeing Can shift into a regular role in favour of Gerrard in the new year, could go a fair way to solving Liverpool's persistent defensive issues.
Dejan Lovren was recently reported to have claimed "he is not receiving enough protection from midfield."
Lovren thrived at Southampton due to the protection of a dual-defensive combination of Morgan Schneiderlin and Victor Wanyama, and every top centre-back requires this protection to an extent.
Onazi could join Can as a formidable, mobile defensive duo—as well as Liverpool's other current options in Gerrard, Lucas, Joe Allen and Jordan Henderson—and create a stability at Anfield.
If Rodgers can shift Fabio Borini as part of the deal—all the better.
Should Liverpool push for a deal for Lazio's Ogenyi Onazi this January? Let us know in the comments below.