Steven Harris looks at how the similarities between this campaign and the last two times Liverpool finished second, in 2002 and 2009, are growing by the game.

Can it really be a little over half a year since fans, pundits, players and Uncle Tom Cobley and all believed Liverpool's twenty-four year wait to win the league title could finally be over? Was it a mass hallucination? Were we all dreaming (we did insist they made us dream after all)?
No, it actually did (almost) happen. But for Jose parking the Chelsea bus at Anfield and Steven Gerrard, of all people, showing signs of fatigue in the final straight, Liverpool probably would have been champions. Fast forward to the tail end of the year and they have so far performed so abysmally this season that they are unrecognisable from the team who ended 2013-14 as runners-up to Manchester City.
Last season's success was built on a high octane style of play in which pressing and pace frequently blew opposing teams apart within the opening twenty minutes of a match. The three main cornerstones of this devastating application of agility and speed were Luis Suarez, Raheem Sterling and Daniel Sturridge. This season only the youngest and least complete of that trio has been regularly available for selection.
Surely nobody begrudges Suarez his dream move to Spain? He almost went in the summer of 2013, to Arsenal. He was persuaded to sign a new contract and stay another year. It seems clear that both men knew it would only be another year. Plenty of players have moved on in the past and while the other two who also headed for Spain in recent memory, left under a cloud, Suarez honoured his agreement with Rodgers, Rodgers honoured that agreement in return when Barcelona came in for the player, and Liverpool ended up making almost fifty million pound profit on a man they had purchased for £23m in January of 2011. McManaman and Owen technically were not sources of fiscal loss either, having both come through the club's Academy. The manner of their departures enraged many supporters, however.

Sturridge has been unavailable due to injury which must be as frustrating for him as for the fans as 2013-14 saw him at last consistently produce the goods he had shown glimpses of with his previous clubs. Which leaves Sterling to bear the brunt of a lot of nonsense abuse. You can always tell when a team's season is going badly as the club's own fans pour out their bile online in search of scapegoats. The treatment of Sterling by some who were singing his praises a few months back is appalling and is perhaps indicative of the way in which the digital era has created a culture of more fickle fans who want quick fix solutions to every problem. It may be a sign of the times but just because lots of people might be doing it, it does not make it right.
The latest defeat, a 3-0 humiliation at the hands of a resurgent Manchester United at the weekend, did at least see the side attempt to return to the pacey, attack-minded play that was so successful last year. Yet it also saw a starting line-up which contained not a single recognisable striker. Yes it was an away game and yes Rodgers is not unaware of the capability of a so-called 'false-nine' formation to confound opponents. There is a case for saying that going forward it was one of the better performances of the season but the problems at the back are all-too obvious.

Defensive frailty is not new to this side, however. Last year was no different: Liverpool conceded so many goals in the league that if it had not been for the unstoppable goalscoring form of Suarez and Sturridge, the top four would again have been a distant dream. Sadly, the reasons why the team's defensive frailties are so much harder to accept this year are not just down to the lack of goals scored.
The Suarez money was invested not in two or three big name players who could have readily slotted into the existing side and adapted to the manager's philosophy. It was spread out across a variety of youngsters and one-season wonders. Tottenham Hotspur had tried the same tactic of bulk buying when Gareth Bale headed for Spain last summer.
The result? Their manager had been sacked by this stage of the following season due to poor performances and a loss of cohesion within the team. They are still struggling to recover a year and a half on. After Liverpool smashed Spurs 5-0 a year ago, Rodgers went on record as saying how difficult it must be to replace one shining star with a gaggle of new arrivals. Wise words.
So why did Rodgers do exactly that when his own golden goose flew the nest? Hands tied by the ownership's preferred model of developing young talent into profitable assets? Managerial naivety? A lack of the sort of tactical vision possessed by a Mourinho or a Pelligrini? A fractured dressing room? I do not have the answer but these are some of the possible causes being thrown around in the media at the moment.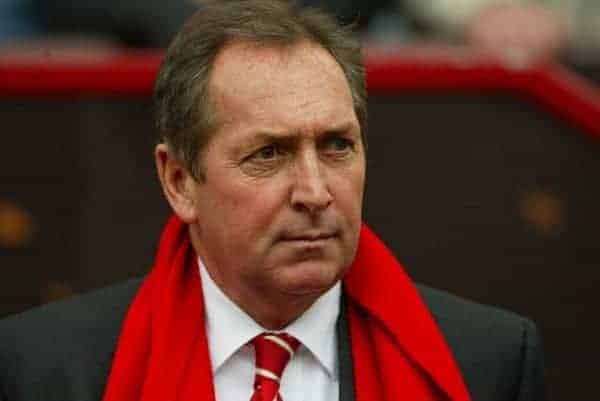 We have been here before. Under Gerard Houllier Liverpool finished second in the league and seemed ready to mount an even more serious title charge the following season. Instead they bought badly over the summer and finished in fifth, nineteen points behind the champions.
In 2008-09 the club again came close, finishing second just four points behind the champions, having only lost twice all campaign. Instead of moving on from there the club sold the influential Xabi Alonso in favour of a perpetually injured Alberto Aquilani and slumped to seventh, twenty-three points behind the title winners.
History hangs heavily on a club like Liverpool yet that was once argued of Manchester United until they eventually found the right combination of manager and players to enable them to go that one step further than the occasional second place and win the title again. They waited twenty-six years which is now the minimum length of time Liverpool fans will be waiting to see the title come back to Anfield as this current season's Premier League is already out of the club's reach.
History repeats itself, first as tragedy, then as farce. When Rafa failed to improve the club in 2009-10 it seemed a tragically lost opportunity. It also cost him his job despite taking the team to two Champion's League finals in his six year tenure. The failure of Rodgers to capitalise on last year's near-thing truly does seem farcical right now.
Will the ownership wait until the end of the season to decide he may not be the right man to revitalise the club after all or will they take a leaf out of Tottenham's book from last year and sack him sooner? Never has a manager's future appeared to rest so conclusively on the outcome and quite probably the performance style of a League Cup quarter-final.