Lucas Leiva put in another good shift as Liverpool's defensive midfield against Leicester on Tuesday night, enjoying his return to the first team, but is the long-term solution to the role?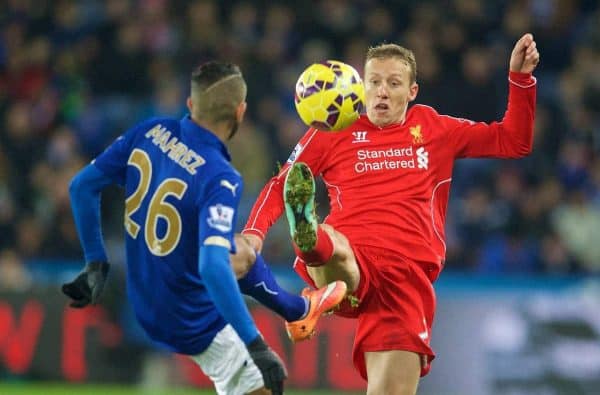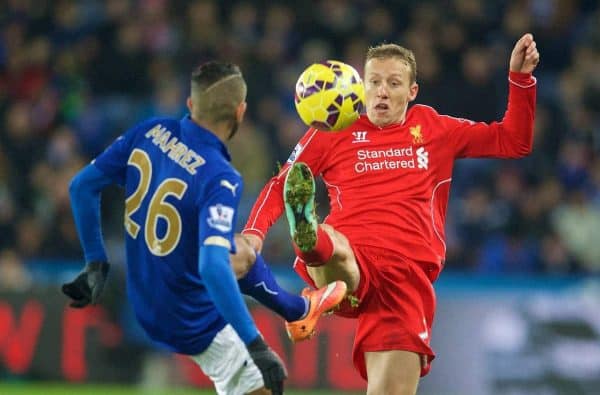 Ups and Downs
Lucas Leiva's seven-year Liverpool career could be separated into three acts so far.
Having joined for £5 million from Brazilian side Gremio in the summer of 2007, he quickly became a maligned figure as he struggled to get to grips with life in England and the Premier League, especially with a change in position from where he had been used in his homeland.
Having struggled to find his feet, the Brazilian then started to come of age. He became an extremely important player towards the end of Rafa Benitez's reign, during Roy Hodgson's short stay and almost a year of Kenny Dalglish's second stint as Reds manager, before disaster struck.
In late 2011, Lucas picked up a serious knee injury against Chelsea, missing the rest of the 2011/12 season in the process, and he has struggled with injuries ever since.
He became a bit-part player under Brendan Rodgers, and there were many who felt that, despite still only being 27, his days were numbered at Anfield – heavily linked with a move away last summer. That is until the last couple of weeks, however. Is this his second resurrection at Anfield?
Influential return
https://twitter.com/complain23/status/539902761111158784
With Liverpool alarmingly poor defensively and Rodgers ending the days of Steven Gerrard as the deepest midfielder following the miserable defeat to Crystal Palace, Lucas has returned to the side for the last three games against Ludogorets, Stoke and Leicester.
He was arguably the Reds' standout player against Stoke, marshalling the defence expertly and bringing a far more solid look to the side.
Having been retained for Tuesday's 3-1 victory over Leicester City, Lucas once again shone. Despite Gerrard's cliched man of the match vote – he was good, but not Liverpool's star man – it was Lucas who again stood out.
According to Squawka, he made 13 defensive actions, which included 61.5% clearances, 30.8% interceptions and 7.7% blocks.
Stats man Andrew Beasley explains that the top tacklers in Europe's big five leagues average around 5 tackles per game – Lucas made 8 vs Leicester.
The stat below also shows just how influential Lucas has been for Liverpool this season. It is an amazing contrast depending on whether he plays or not, and is sure to surprise many. Like many players of the Brazilian's ilk, their value to the team isn't always fully appreciated.
Liverpool this season in all comps:
with Lucas: WWLWWLWDWW (7W, 1D, 2L)
without Lucas: LWLDLWLDLLL (2W, 2D, 7L)
(via @LumixGoals)

— Artur Petrosyan (@arturpetrosyan) December 2, 2014
Of course, that is mitigated by the quality of opposition faced when Lucas has played so far this season.
Long-term solution?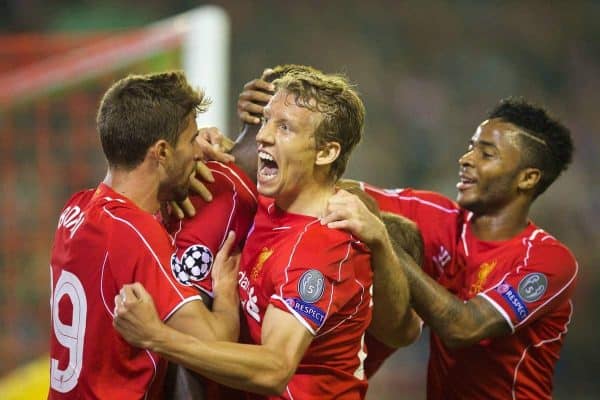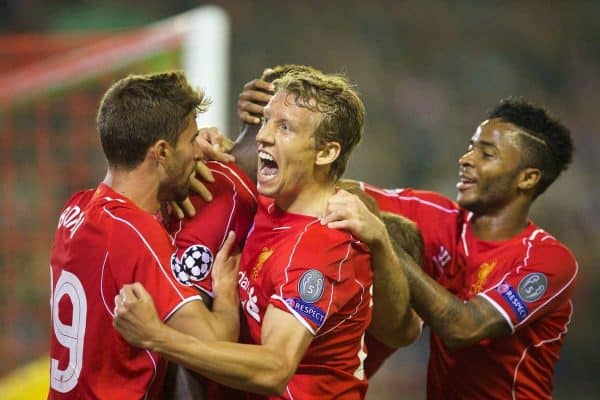 As it stands, Lucas simply has to be a fixture in the Liverpool side for the foreseeable future. He has more than justified his place, and there is a much better balance to Rodgers' team with him included.
Gerrard needs to be rotated more and surely won't be returning to his deep-lying role any time soon, while Jordan Henderson and Joe Allen are more effective slightly further forward.
Whether or not the 24-time capped Brazil international is the long-term answer in that defensive midfield role is questionable though.
His injury problems have resulted in him losing a significant yard of pace and although he makes up for it with positional sense, against speedy, top-class opponents his flaws can be exposed.
His use of the ball is also lacking. While he's very good at keeping things neat and tidy, sometimes more incisive passing is needed from that position. He doesn't possess anywhere close to the vision and technique of someone like Nemanja Matic or Morgan Schneiderlin, for example.
The 27-year-old also commits too many fouls, which can be detrimental. He gave away four relatively needless and clumsy free-kicks in dangerous areas against Leicester, whereas the almost equally defence-minded Esteban Cambiasso gave away none.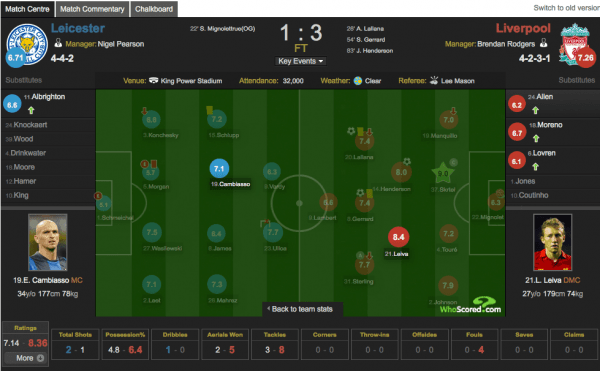 Conclusion

Rodgers' decision to recall Lucas is proving a good one and it has paid dividends in the last two matches. He's made the Reds look less fragile defensively, and it has allowed Gerrard to push up into a position he looks far happier in.
Whether Lucas has the fitness and all-round quality to be Liverpool's long-term midfield hatchet man remains questionable, however.
There are better players out there who could come in and do a more effective job, and the real test will come when he starts against one of the Premier League heavyweights in the coming weeks.
Having suffered so much as a youngster at Anfield, before blossoming into a key man then suffered horribly with injuries, this fourth, and probably final, act in Lucas Leiva's Liverpool career is hard to predict.
[poll id="289″]