17-year-old forward Sheyi Ojo has travelled as part of Liverpool's squad to face Leicester City tonight – could he be the next to make his first-team debut? PJ Vaughan gives us the lowdown on the pacey attacker.

Already this season the two Jordans, Rossiter and Williams, have experienced first team football. Last season Jordon Ibe, Brad Smith and Jaoa Carlos-Teixeria all got to experience first team football. Someone I believe that will be the next young player to get an opportunity is Sheyi Ojo.
Steady progress
Some players improve gradually, others can look ordinary at one stage of their development, yet extra-ordinary a short time later. This was very much the case with Ojo. Last season he made the step up to the Under-18s.
While his dribbling and first touch were good, he was frustrating to watch. He would pass when he should shoot, he would shoot when he should pass, and he would dribble past a defender when he should lay the ball off. Decision making is something that young players are still leaning. He was also one of the youngest under-18 players so it was understandable he would make mistakes.
Accelerated development
This season has seen a different Ojo. He's now very much a team player. He is stronger than last year, in fact I would go as far to say he is very strong for his age.
His hold up play is now excellent. He chases back and does the defensive duties that any wide player needs to do in the modern game. He knows when to dribble, he knows now when to pass and he know when to shoot. Which is especially good as he can fire of a rocket of a shot like he did in the U21 game against West Ham early this season. Not only has he established himself for the under-21s but he has also impressed in the UEFA Youth League.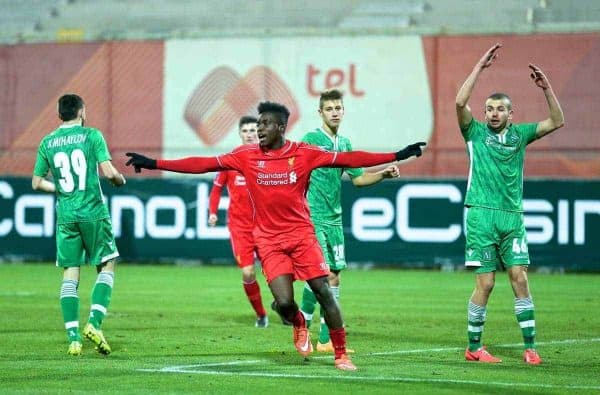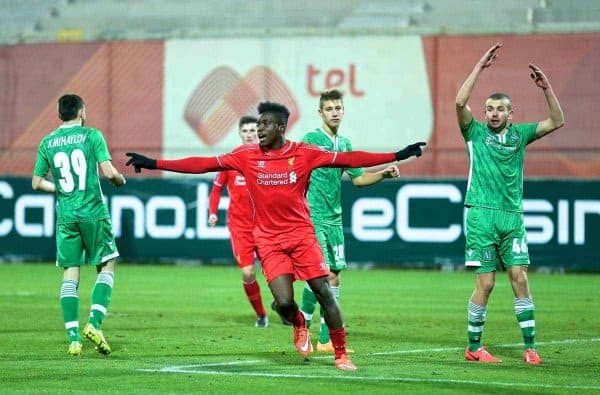 Promising young players
It's not easy for a young player to make an impact with the first team. While we have seen Raheem Sterling become a first team regular and an established international. Lots of other have showed promise but ultimately failed. David Amoo, Ray Putterill, Alex Kacaniklic, Thomas Ince, Paul Anderson and Adam Hammill are just some of the exiting young wide players that showed real promise for the U18s and U21s but didn't establish themselves in the Liverpool first team.
Predecessor
A couple of years ago I watched Jordan Ibe for the U18s and U21s. Ibe is a lot like Ojo they play in a similar position and possess similar physically attributes. Ibe has had a few fleeting appearances for the first team and is now doing well on loan for Derby County in the Championship.
However, it's abundantly clear Ojo has more to his game now as Ibe did at the same age. Ibe's first touch was often poor, his positioning and movement was also something that could frustrate. I must add he had immense power and was a great worker for the team and a very powerful shot. A loan move is vital for a young player like Ibe in order to help improve the weaker parts of their game and build his confidence.
Making an impact
I feel it is only a matter of time before Ojo gets a chance with the first team. I would not be surprised if it happened in the next couple of weeks or months. Whether this will end up be a fleeting appearance or leads to a loan move is unknown.
https://twitter.com/sheyi_ojo/status/539443664624578560
I believe he can make an impact as he has all the raw materials. If he can keep improving at the rate he has improved in the last year, he will be a certain first team squad player at the very least in the near future. However if he is to cement his place in the first team squad he will need to do something extra-ordinary.
Who will follow?
Ojo isn't the only young player impressing for the U18, U19 and U21s. They are lots of young players that have a spark, you have the likes of Ryan Kent and Harry Wilson who are tricky wingers with an eye for goal but both need to develop physically first.
Jerome Sinclair has also returned to form, he is the joint top scorer in the UEFA Youth League currently with 5 goals. He is a very stylish striker that scores all sorts of goals but has had numerous bad injuries that have halted his development many have compared him to Daniel Sturridge.
Sergi Canos is another player that has progressed a lot this season. He is also an excellent creator of goals mainly through excellent crossing. Pedro Chirevalla has also started impressing he has great football intelligence and dictates play from midfield. I have sung the praises of Philips for a long time and believe that he will be a future star, while Rossiter will surely get another chance soon too for the first team.
Ojo Factfile
Born: June 19, 1997
Birthplace: Hemel Hempstead, England
Positions: Left Wing, Centre Forward
This season
UEFA Youth League: 4 apps, 2 goals
U21 Premier League: 4 apps, 2 goals, 2 assists