With news of Steven Gerrard's decision to leave Liverpool, former players have been praising the inspirational captain – with many suggesting he's LFC's greatest ever player.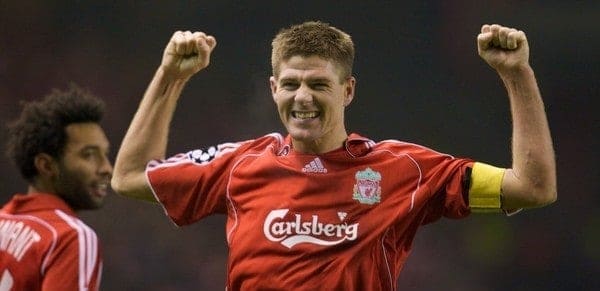 Former midfielder Terry McDermott, writing on twitter, is in no doubt that Gerrard is the club's greatest ever player:
Mark my words Gerrard is the greatest player to have played for #lfc sad sad day for everyone connected with the club

— Terry McDermott (@TerryMac777) January 1, 2015
John Aldridge is also of the same opinion:
The day we all dreaded for years.LFCs best player of all time in my opinion.Hopefully win a trophy to go out on.ynwa pic.twitter.com/varuBJe53p

— John Aldridge (@Realaldo474) January 2, 2015
Former striker Peter Crouch says Gerrard is "easily" the best he's ever played with:
I've been fortunate to have played with some top players in my time but Stevie g is easily the best I have played with . #gerrard #LFC

— Peter Crouch (@petercrouch) January 1, 2015
Martin Kelly said he was lucky to have played alongside Gerrard:
lucky to have played with this guy, so level headed for someone with special talent, evry football fan will miss him pic.twitter.com/qzn6q3gxhS

— Martin Kelly (@MartinKelly1990) January 2, 2015
Didi Hamann, speaking like a fan, thanked Gerrard for the memories he's provided:
An era comes to the end with SG leaving LFC. I think he made the right call. What a career,what a player.Thx for the many wonderful moments.

— Didi Hamann (@DietmarHamann) January 2, 2015
Meanwhile, former midfielder Jamie Redknapp, writing in his Daily Mail column, somewhat bizarrely suggests his dad, Harry Redknapp, would welcome Gerrard back to England on loan after his likely MLS move.
Redknapp admits that he would have loved to had Gerrard's career: "If there is one player I would have liked to have been it is Steven Gerrard. I feel very proud and honoured to have been on the same pitch as him."
On whether Gerrard is Liverpool's greatest ever player, Redknapp writes:
"When you talk about Liverpool's greatest players, you think about Kenny Dalglish and Graeme Souness; but they were surrounded by other fantastic players."
Steven Gerrard has carried Liverpool. He has been the captain, leader and inspiration for some poor teams."