By Mark Pearson's reckoning, FSG's transfer spending has a 91.2% failure rate at Liverpool – and it's about time they looked at their own results.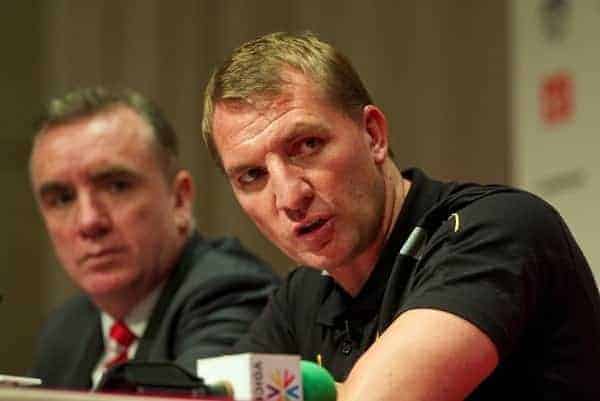 "However beautiful the strategy, you should occasionally look at the results". – Winston Churchill
Strategy
45 Players purchased in 4 years.
£352 million spent to acquire those 45 players.
Forgive me, I have positioned these numbers at the top because I want you to stop reading and go back to these stats whenever you may start to get furious with what I am writing, then if you still disagree with me feel free to let me know, I'm sure you might.
When FSG took control of Liverpool FC we were in a pickle off the pitch. No question that in their time here FSG have not only stopped the rot but begun to drag the club out of the 1980s and into the world we all live in every day. Debt is down. Wage bills are down. Revenue is up. Commercial investment is up. Ground expansion is beginning. The half time sausage rolls are better. It's all good; I'm not saying it isn't. Anything that makes my beloved Liverpool FC enhanced gets a nod of approval from me.
Where FSG and I fallout with each other is the prolonged and continued disaster in the transfer market and transfer windows, which, in my unassuming opinion, titles and league positions are decided.
FSG have a dream, the dream is that Liverpool should procure the brightest young talent from around the globe and coach them to become the new Cristiano Ronaldo's, Gareth Bales, Matts Hummels' or fill in the blank as to who you identify as a player with pedigree that makes a difference on a football pitch. If we coach these bright young talents into superstars and they get snapped up by the Madrid's, Barcelona's and Munich's of the world then we trade them on for huge profit, pluck the next bright young thing, repeat the process.
Sounds great from a high-level like that, so great you wonder why other clubs don't obsess about it and follow the same blueprint for success…
Reality
I feel at this point if you haven't already scrolled back up to the top I should repeat here.
45 players purchased in 4 years.
£352 million spent to acquire those 45 players.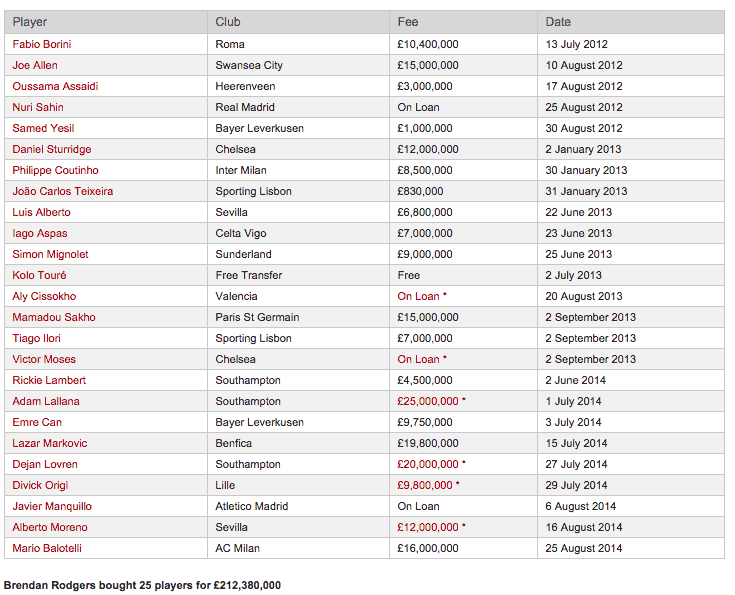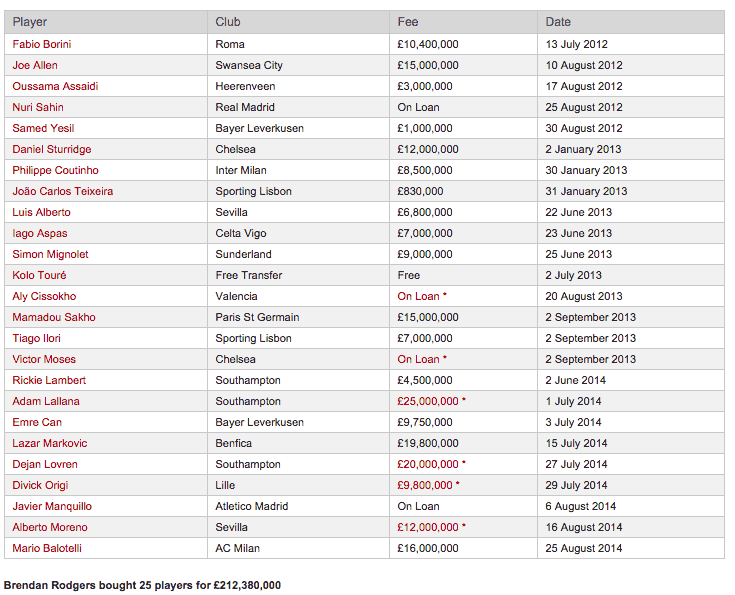 Of those 45 signed players how many have become superstars, world beaters, or sold for £millions of profit? Being generous I can think of 2. Suarez and Sturridge. Both a snip, both able to change a game on a regular basis and the former being flogged at a healthy profit. People may come up with further names than me, players they feel are worthy signings, but ask yourself who really wins games for Liverpool match after match that we have procured in the last 4 years like the names I have specified or in the terms of FSG's "Transfer Strategy".
If you can find 2 more it's pretty slim pickings out of 45 players right? That would make a transfer success rate of 8.8%, or another way of looking at it a 91.2% failure rate. Maybe somebody within the transfer committee or board of Directors should look at that and assess those results.
Looking at things from a great height taking our overall spends against the number of players signed it works out to be an average of £7.8 million outlay per player during FSGs tenure. That falls quite neatly into the cost of the following players who were all purchased for around that figure: Sebastian Coates, Charlie Adam, Iago Aspas, Tiago Ilori, Luis Alberto, Jose Enrique, Fabio Borini, Emre Can – there are more, but you get the picture. No standout players there, no match winners, no huge profit to be made.
Taking this summer alone, £117 million spent on 10 players, that's an average of £11.7 million per player. Any of this summer's recruits bucking the trend from the above? Not so far.
Change

We were led to believe that we couldn't attract the top players because we had no Champions League to offer. This summer we did. So how come the transfer strategy didn't change? Who would have rather Liverpool spent £117 million on 3 or 4 world beaters than on 10 with potential? Look down the road at Old Trafford and see what pushing the boat out on top draw players does for a team.
This beautiful strategy isn't, hasn't, and won't work. Some will blame Rodgers for wasting money, others Dalglish before him, I'm sure the next manager would get the same bashing. The common denominator here is the owners and there preconceived ideas of what players we should be buying. Make no mistake, Rodgers has a remit, a strategy to follow in transfers and wage structure and it's failing.
Chelsea pay big wages, Man City, Man Utd, Real Madrid, Barcelona, Bayern Munich all follow suit, and guess what, they win things as a result. They qualify for the Champions League year after year, and guess what, that Champions League money is used to offset the big wages, most still make a profit too (success and profit tend to go hand in hand in the business world).
So this January I am not expecting anything different. The result of which will no doubt leave us once more outside of the top four come May. Then we will be back to the story of no Champions League to attract the top players.
This summer Liverpool had a chance to look at the beautiful strategy, and the results, and to change the path, to grow the club on the field like they have off it. They refused, the chance has gone.