A reported bust-up between Jordan Henderson and Chelsea striker Diego Costa is far from advocated, but Jack Lusby sees a crucial show of leadership in this.

Ahead of Tuesday night's 1-1 League Cup draw at home to Chelsea there was one certainty: if Diego Costa was to start for the Blues, he would set to rile up Liverpool's players from kick-off.
The striker did so, harrying and jabbing at the likes of Martin Skrtel, Mamadou Sakho and Philippe Coutinho throughout the game.
Jordan Henderson, Liverpool's captain of the night and an outstanding performer from central midfield, was a particularly frequent target for the bolshy Spaniard, and didn't take kindly to this particular attention.
The pair were reportedly involved in a fierce tunnel bust-up after the game, with Andy Hunter of The Guardian reporting that Henderson "had to be separated from the Chelsea striker by a member of his club's backroom staff after the pair squared up."
Was this an act of unwanted petulance or a display of sheer commitment and leadership?
The Context
Firstly, the context of this situation is crucial to consider.
Barring perhaps the final game against FC Basel in the Champions League at the end of 2014, this was the most important game of Liverpool's season so far: a direct route to silverware, and perhaps the side's best chance at doing so.
Within this, Costa proved himself a notoriously difficult striker to deal with, both in terms of ability and in his temperament—like Luis Suarez, who was so effective at Liverpool, the Chelsea man will look to gain a psychological advantage over his opponent.
This involves all manner of kicks, jabs and verbal attacks that go under the nose of the referee.

Liverpool supporters so idolised Suarez for having this advantage over the opposition—who hated to play against the Uruguayan, as Swansea City's Ashley Williams testified in 2012:
"The manner in which he approached the game, with utter contempt for us all, means that he's streets ahead of any player I've truly disliked since we've been in the Premier League."
Williams continued: "Suarez has that aura about him that says, "I'm untouchable", and his manner and behaviour made me want to knock him out."
While a physical approach is exactly what these sorts of players are looking for—if Henderson had accosted the striker on the pitch, he would have likely have been punished—not showing respect to this "aura" is important.
Henderson showed no respect to Costa on Tuesday, a hardened quality which has served his soon-to-be predecessor over the years.
Steven Gerrard's Mantle

Steven Gerrard is set to depart Liverpool in the summer for MLS' LA Galaxy and, in doing so, relinquishes the Reds' captaincy.
Gerrard has been an important influence on Liverpool since taking the armband and, when asked last year which attributes make a good captain, he claimed:
"I think, first and foremost, you have got to be unselfish. You have got to think of other people, you have got to put other players before yourself, and you have got to help other players…the key to being a good captain is to do things right yourself—be a good role model. If you do things right, more often than not, players will follow suit."
Winning these psychological battles on the pitch is very much a part of that.
Take last season, when Gerrard aimed a flying elbow at Manchester United midfielder Marouane Fellaini—another notorious firebrand—as he rose above him and Raheem Sterling to win an aerial duel in March's 3-0 win.
The diminutive Sterling was made a target in that game, but Gerrard asserted his presence, winning this psychological battle.
A month previous, the ever-petulant Jack Wilshere had confronted the on-loan Aly Cissokho and left a nasty late challenge in on the Liverpool skipper in Reds' 5-1 victory at Anfield.
Later in the game, Gerrard left a shoulder in on the England midfielder as he attempted to challenge the left-back in possession.
Gerrard vs Wilshere http://t.co/grmroWghpP

— JustLFC (@JustLFC_) November 22, 2014
These challenges may not be favoured by the Premier League's officials, but they serve as an important part of a captain's role on the pitch.
Gerrard looks after his teammates, and so does Henderson.
Liverpool's Next Captain

In his pre-Bolton press conference, Brendan Rodgers praised Henderson's leadership qualities, with reference to his run-in with Costa on Tuesday.
The manager claimed that "the [recruitment] team that brought Henderson to Liverpool knew he was a good person and strong character. He will protect his team and colleagues."
Without Gerrard, and at times alongside him, this season Henderson has offered his teammates protection both on and off the field.
Against Chelsea on Tuesday this was evident, and this is a vital part of Henderson's prospective role as the Reds' next captain.
Rodgers continued that "it's not automatic [that] Jordan becomes the captain when Steven goes. But he's vice-captain at moment and when Steven isn't playing he steps in."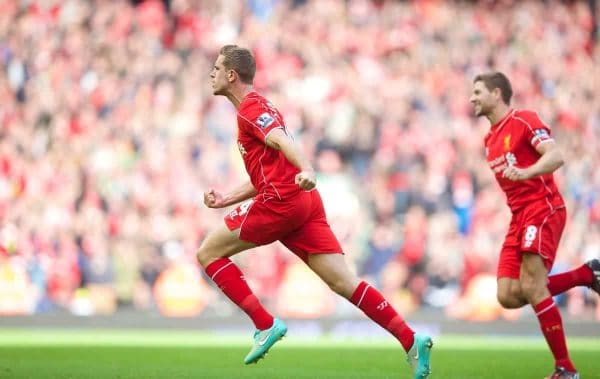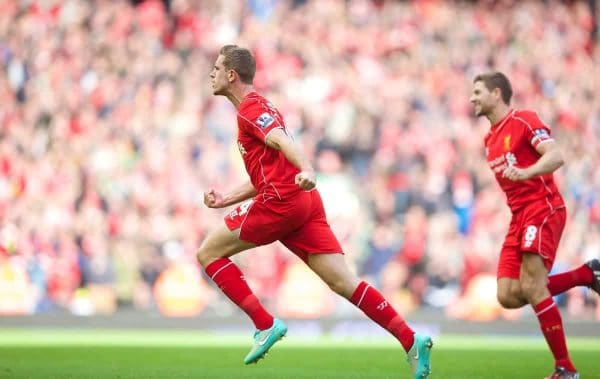 At this point in time there are no obvious candidates to truly challenge Henderson for the armband next season, with the midfielder's importance to the team, his articulacy and intelligence and his embodiment of the club's ideals second to none as a composite.
Rodgers concluded by describing Henderson as a player who "can carry the mantra of the club."
A tunnel bust-up is perhaps not the most way of advertising it, but Henderson clearly has a passion and commitment that leads him, positively, into these situations.
These are all qualities that Liverpool need, and were built on, and should stand Jordan Henderson in good stead as Liverpool's next captain.
Is Jordan Henderson the leader Liverpool need? Let us know in the comments below.