Adam Griffies takes a look at last night's gripping draw with Chelsea.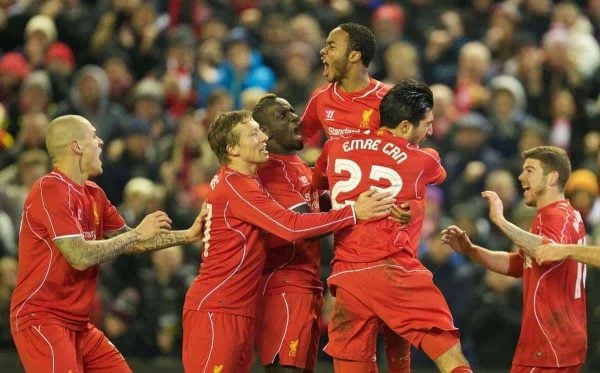 Alright that wasn't it?
People say the Capital One Cup doesn't matter. A lot of Evertonians and Mancunians are of that opinion at the moment, funnily enough. Maybe it doesn't matter.
But what does matter, always, is Liverpool versus Chelsea.
So many titanic battles over the decade-plus. But could we do it this time? Could we trade blows with a Mourinho side sitting five points clear at the top of the Premier League while we languish in eighth?
Okay, recent performances have been encouraging but amidst that resurgence we have yet to come up against a genuinely sophisticated, strong outfit. A Chelsea.
The questions were justified.
And the Reds' answer was emphatic. An emphatic 'yes'. Yes, we can compete with the best. We made a statement.
From the outset we were vibrant. A vibrant, proactive, cohesive unit. As we have been for the last few games, in fact. The rigid, contrived hesitancy of a few months ago seems very much forgotten.
The change of system, to 3-4-2-1, has been the driving force behind our recent upturn. I think we'd agree unanimously there. Credit must go to Rodgers for that change. Although, having said that, we don't know who came up with it. Pascoe is capable of a masterstroke like that, isn't he? Nobody knows. Marsh? I have to admit, I doubt it. Personally I'm going for Emre Can. "3-4-2-1", he softly crooned, in between puffs of his cigar. "Play me right centre-back."

I mention Can primarily because I'm falling in love with the guy. Penalty incident aside, he was terrific last night. Strong, assured and possessing a ridiculous swagger on the ball. I gather that Jamie Carragher had a bit of a go at his first half performance on Sky at half-time. That's why I don't bother listening to pundits most of the time. Honestly, it's so futile. Just leave the room and make a cup of tea. To criticise Can, who's just turned 21, for a single error of judgment against one of the best players on the planet at the moment was hopelessly unnecessary. Defenders' mistakes are going to stand out simply because of their close proximity to the goal they're defending. The fact that that was his first noticeable error in a Liverpool shirt shows what a prodigious prospect Emre Can is.
Can isn't the only player who simply looks a better footballer since our change of shape. The German's two defensive partners, Sakho and Skrtel, look as comfortable as anything in the 3-4-2-1. The former's game looks tailor-made for playing on the left of a three. He has the pace and power to cover ground in the channel, and the composure and intelligence to step forward with and without the ball when required.
I'm still convinced that Wayne Rooney's opening goal at Old Trafford a little while back was caused by Dejan Lovren's failure to engage Antonio Valencia in the channel as soon as he had passed Allen and Lallana. Lovren was positioned as if he was part of a central two, when in reality he was playing on the left of a three. Forget Brad Jones falling over, Lovren was way out of position.
Further forward, Leiva and Henderson look revitalised in the 3-4-2-1. The wing-backs are having fun, as they should. And I feel like there is even more to come from them in an attacking sense.

The front three, or the two and the one, looked dangerous last night. As they have done for the last few weeks. Again, the system is to thank for that. Philippe Coutinho, who looks to have decided to start taking the piss out of the opposition again, was everywhere. Steven Gerrard buzzed around, oozing class, and was unlucky to not get a goal. Raheem Sterling, positioned most like a striker of any of the Reds' 11 players, but still with the freedom to roam, was typically dynamic. The only criticism I would have of his performance, is I don't think he ran directly at Terry and Cahill enough, preying on their vulnerability to oncoming, pacey runners.
Basically, I wish he'd have done more of what he did for his goal. Which isn't much of a criticism, as he did do it for his goal. It did happen. And what a goal it was. I said after his goal at Bournemouth, that his acceleration, composure and finish was reminiscent of a young Thierry Henry. Last night was like that, but better. If he can make a habit of doing things like Thierry Henry, I'm willing to go with that.
The atmosphere from then on was a sight to behold. A sound to behold. If Gerrard's shot goes in off the post shortly after our equaliser, the roof comes off of Anfield.
As I mention Gerrard, I should probably say something about the sub. I liked it. And I was over the moon Brendan had the balls to do it. Not to boast, in fact, absolutely to boast, I did turn to my mate as the second half began and say "Lallana for Gerrard 70 minutes." Not because Steven Gerrard isn't a good footballer, or wasn't playing well. Not at all. But because it was vital that we retained our intensity right through to 90. It's natural for a 34-year-old's levels to wain slightly in a game as breathless as that.

Stevie went off. Got a huge round of applause. And Adam Lallana came within inches of making it 2-1. Happy days. Good sub, Brendan.
Before last night's game, I just wanted us to be going to Stamford Bridge still in the tie. We're doing that. Repeat that performance, perhaps with a bit more cutting edge and luck (refereeing decisions), and we've got a real chance. I'm strangely confident.
Sturridge winner off the bench, anyone?
Adam Griffies (@whatahitsonlfc)