Liverpool hit form in Saturday's 2-0 win at home to West Ham United, with Daniel Sturridge arriving at the right time, writes Jack Lusby.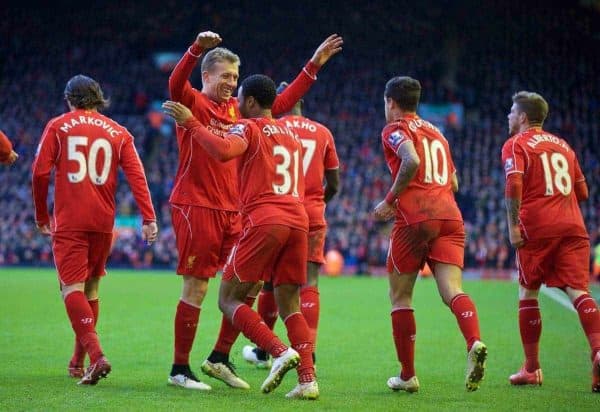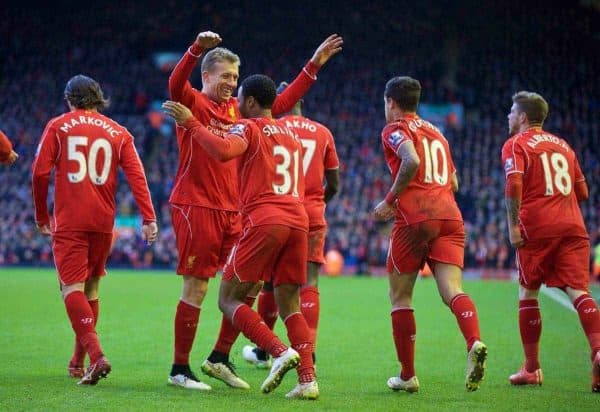 Welcoming West Ham United to Anfield on the back of the League Cup exit at the hands of Chelsea, Liverpool returned to winning ways in inspired fashion with a 2-0 victory over Sam Allardyce's side.
Brendan Rodgers kept his successful 3-4-2-1 formation, with Adam Lallana replacing Steven Gerrard as one of the Reds' No. 10s behind lone striker Raheem Sterling.
Sterling scored shortly after half time, before a returning Daniel Sturridge sealed the three points with a clinical strike.
Resolute Defence

Much was made prior to the tie of Andy Carroll's return to Anfield as a Hammers striker, and the former £35 million man made himself a Merseyside villain after some disgraceful pre-match media work.
The focal point of Allardyce's attack was always going to be Carroll.
Continuing their physical approach to the game, balls were angled high and Carroll was charged with winning aerial duels, with his faithful deputy Kevin Nolan deployed in the No. 10 role in order to latch onto any knock-downs.
Carroll made his presence felt early on with an elbow into the face of right centre-back Emre Can, and the Reds' back line would have been expected to shrink against such a bold, direct approach.
Happily however, Can, Martin Skrtel and Mamadou Sakho responded with a resolute physicality, with the latter pair in shining through in particular, while goalkeeper Simon Mignolet continued his rise in form with a confident aerial dominance.
Emre Can, Martin Skrtel & Mamadou Sakho made 32 clearances between them today v #WHUFC.

That's one way to deal with a direct approach. #LFC

— Jack Lusby (@jacklusby_) January 31, 2015
Sakho, after a poor showing against Chelsea on Tuesday night, was back to his bullish best, and kept Carroll under wraps for the majority of the game while also helping to marginalise a particularly off-colour Enner Valencia.
Mamadou Sakho completed 100% of his passes and won 100% of his tackles in the first half for Liverpool. pic.twitter.com/6U6JYKQ3Nq

— Squawka Football (@Squawka) January 31, 2015
Furthermore Sakho's passing proved, once again, the foundation to Liverpool's build-up in creative areas, as he fed the likes of Philippe Coutinho on the left flank.
Majestic Attack

Rodgers has enjoyed success recently with a fluid front line of Sterling, Coutinho and Lallana supported by wing-backs Alberto Moreno and Lazar Markovic, and its restoration against West Ham continued this run.
With the Hammers only generally threatening with direct play and set-pieces, much of Liverpool's attacking play came on the counter.
West Ham stand-in right-back Joey O'Brien truly struggled with the occasion, and Liverpool duly overloaded their left flank.
Leading the charge was Coutinho, who operated just to the left of Sterling at centre-forward.
Two years on from his £8.5 million signing, Coutinho is finding remarkable consistency in a central role for Liverpool, and this continued at Anfield on Saturday.
https://twitter.com/MostarLFC/status/561545840980791296
Confident collecting the ball and direct in running at West Ham's shaky defence, Coutinho made everything happen for Liverpool.
Coutinho made three dribbles and three key passes, including a pair of assists, and made a great claim for man of the match.
Sterling, however, arguably topped this performance in another mature display.
The 20-year-old's predilection for dropping deep and drifting wide can often be to the detriment of Liverpool's attack when he is utilised as a centre-forward, but against West Ham Sterling married this ghostly quality with persistence in the 18-yard-box.
Raheem Sterling's game by numbers:

91% pass accuracy
7 take-ons
3 shots
3 chances created
1 goal

Great display. pic.twitter.com/22pxHkks2x

— Squawka Football (@Squawka) January 31, 2015
Sterling's goal was the result of sheer persistence from both the striker and Coutinho, and Liverpool were sailing before the introduction of Sturridge lifted Rodgers' side to a higher plateau.
The Return of Daniel Sturridge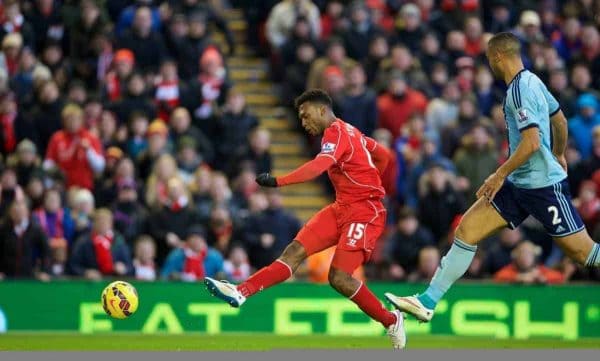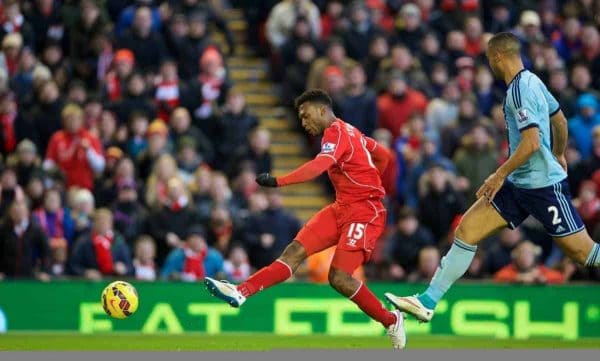 With Coutinho and Sterling flying and the support of Moreno and Markovic as effective as ever, Rodgers could hardly have envisaged a better opportunity to bring Sturridge, who has been on the sidelines for such a long time, back into the fold.
The England man has been lauded by most as the final piece to the Liverpool attacking puzzle during his absence, and expectations could have been damaging if the Reds were behind.
Instead Sturridge slotted in perfectly, replacing Markovic on 68 minutes.

Looking lively from the off, Sturridge was immediately fouled by a lazy Alex Song after some good work holding the ball up—an underrated quality of the striker's, Sturridge can bring an added stature and physicality to the Liverpool attack that Sterling could not provide.
With Sterling dropping into the No. 10 role behind Sturridge, Liverpool's attacking focus shifted to the right flank—now Coutinho cut in from the left-hand side to supply and Lallana, now playing right wing-back, could drift in with supporting decoy runs.
This worked to devastating effect as Coutinho fed Sturridge for his goal on 80 minutes.
https://twitter.com/LFC_Squad/status/561583674366230528
Sturridge had consigned West Ham to defeat within 12 minutes of his introduction, and Liverpool look to be back to their best.
Rodgers can now plan for a testing league run against Everton, Tottenham Hotspur, Southampton and Manchester City in the next month to come, and now has a wealth of attacking options.
Returning with such effect, Sturridge has underlined his intention to make up for lost time.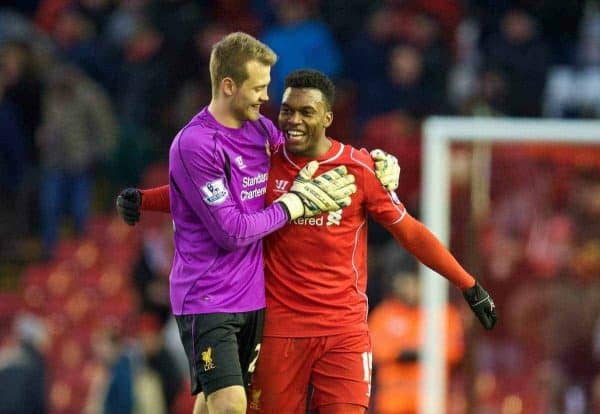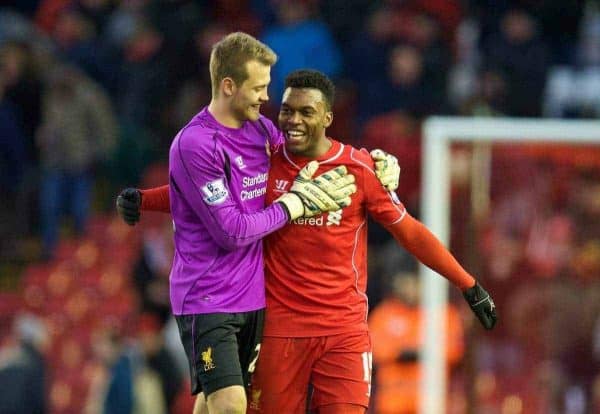 Supporting him, the majestic Coutinho, Sterling, Moreno and Markovic should provide an overwhelming attacking might.
Furthermore in Jordon Ibe, who replaced Coutinho on 81 minutes, Rodgers has recalled a ready-made direct attacking option capable of stretching defences in the closing stages of games.
We all hoped it would unfold this way, and the return of Daniel Sturridge in a Liverpool shirt on Saturday now represents a timely injection of quality just as Brendan Rodgers finds his side hitting incisive attacking form.
Statistics via WhoScored.
Should Daniel Sturridge start Liverpool's next game, or continue a substitutes' role? Let us know in the comments below.