Liverpool manager Brendan Rodgers insists he does not want to lose any more senior players in the summer and remains hopeful out-of-contract defender Glen Johnson will sign a new deal.

With captain Steven Gerrard joining Los Angeles Galaxy at the end of the season the Reds boss admits he cannot afford to lose the diminishing number of experienced players in his youthful squad.
That means midfielder Lucas Leiva, who has been linked with several moves this season but has subsequently become a key part of the side's revival, is also likely to be retained.
Negotiations with right-back Johnson, who will be 31 at the start of next season, stalled at the beginning of the campaign as the club wanted to extend his stay on reduced terms due to his age.
That was not accepted by the England international and, despite there being no progress since, Rodgers hopes an upturn in the team's fortunes plus the attraction of staying at one of Europe's biggest clubs will persuade the player to remain.

"We can't have three or four leaving next season," said Rodgers.
"The intention will be to keep everyone, partly because of the mix in the group.
"Steven will obviously be a loss, when you are losing someone of that calibre of man and player it would be a loss to any club, but you move on.
"For the younger players to develop their potential they are going to need that seniority around them. You can't just have a whole group of young players.
"Glen Johnson we want to keep, Lucas we want to keep.
"I know the club and his (Johnson's) agents spoke towards the beginning of the season but I am hopeful he will stay and we can find a solution so he can be here.
"Obviously, like every player, you want that security and it sorted earlier than it is now.
"But when he looks at it he realises he is at one of the biggest clubs in the world with a team which is developing and growing that he would want to be a part of.
"I think he will try to find a solutoin with the club to stay here. He loves being here, he enjoys working with the way we are playing.
"His game will adapt over the next couple of years. He is not the maurading full-back of six or seven years ago but he is still a quality player and he has a lot to offer with his experience and football.
"He is one we would look to keep."
Rodgers believes his squad are now starting a slow build-up to be title challenges again next season after running Manchester City a close second in May.
But in order for that to happen he needs squad stability and he those players who have not seen much first-team action that they must remain patient and play a supporting role.
"Players have to understand it is about the team," he added.
"If you are going to have success you have to be unselfish – the manager will pick the team to win the game.
"Players have to realise sometimes they will play and sometimes they will be out of the team and they have to respect that is the manager's decision for the ethos of the team.
"It is difficult for players when they don't play. I speak a lot with those who aren't playing but I have shown I will view (things) in training and lots of players here who were maybe not playing, by showing their level and commitment, have played their way into the team and Lucas is a prime example of that."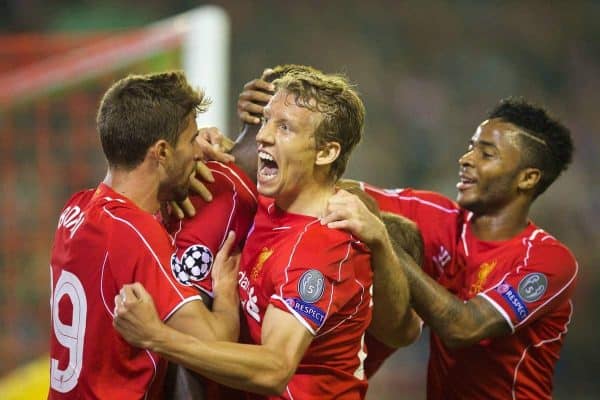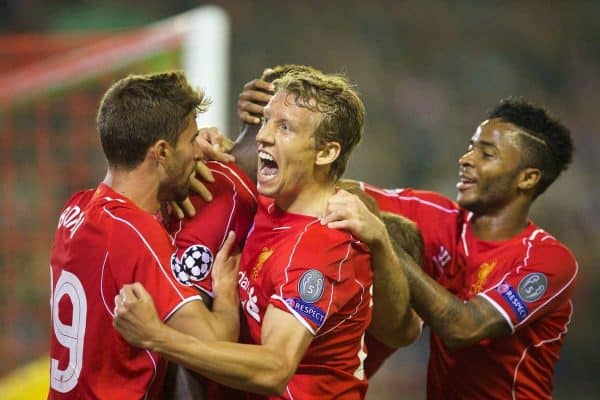 The Brazil international looked to be heading out of Anfield last summer after playing second fiddle to Gerrard in the defensive midfield role.
When his absence continued in the current campaign it seemed certain he would depart in January but a change of formation has seen him reintegrated.
Since his return to the starting line-up in late November Liverpool have lost just once in 15 matches – their only defeat coming at Manchester United when he was dropped.
"He was out of the team last year because of the nature of the set-up with Steven in that co-ordinating role," explained Rodgers.
"I'm not one who likes to play with two holding players. If you play with two holding midfielders sometimes they get in the way of each other.
"Now we have flipped it as we play with two in there but one of them is as defensive one and he has done that very well." PA