With Lucas Leiva linked with an exit, and Fabian Delph reportedly a Liverpool target, Jack Lusby compares the two as defensive midfielders.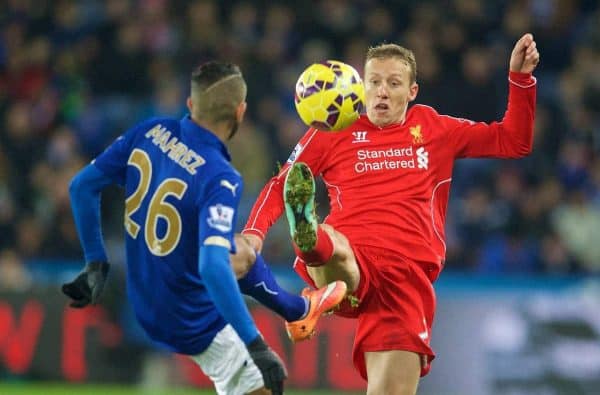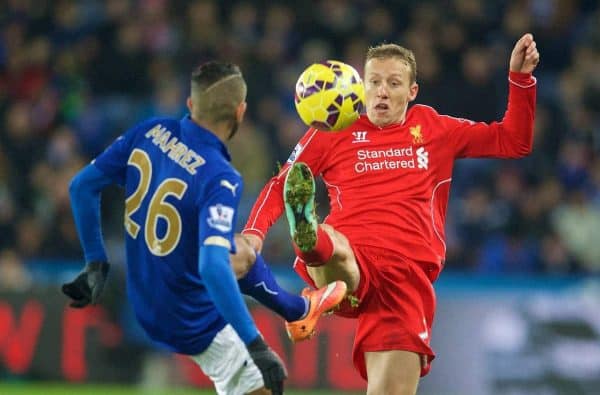 Is Lucas Leiva set for a January exit from Liverpool, and is Fabian Delph the right man to replace the Brazilian?
According to reports on Saturday, "Inter Milan are ready to offer £7million to prise Lucas away from Liverpool."
"While Lucas, 28, has become a regular starter at Anfield again, the Reds will consider the offer."
The Liverpool Echo's James Pearce reported on Sunday that "the Reds have yet to receive a bid from Inter" – signs point towards a January exit for the midfielder.
Rodgers says "there'll be no loan deal" on Lucas to Inter Milan "we'd love to keep him". Doesn't rule out sale.

— This Is Anfield (@thisisanfield) January 10, 2015
Brendan Rodgers conceded that Lucas wouldn't leave the club on loan, but failed to rule out a permanent move, then a post-match tweet from the midfielder himself seemed to indicate an impending close to a long-running spell on Merseyside.
Grande vitória, obrigado por tudo !!!
Great win , thanks for everything !!!

— Lucas Leiva (@LucasLeiva87) January 10, 2015
And with Aston Villa midfielder Delph linked with a move to Merseyside, it would suggest that, if Lucas were to leave, the 25-year-old would serve as his replacement.
Delph has been a long-reported target for Liverpool but, given Lucas' recent resurgence and Delph's stop-start 2014/15 season so far, perhaps it is sensible to consider whether he is a true upgrade.
Lucas' Role
Lucas has helped Liverpool spur into life as we enter the second half of the season after a personal resurrection under Rodgers in recent weeks.
Lucas has now played 11 Premier League games for the Reds this season, establishing a regular spot as Liverpool's midfield anchor.
Since his introduction to the side for November's 1-0 victory at home to Stoke City, Lucas has started in all but one of Liverpool's league games, completing the full 90 in six out of eight appearances.
Liverpool's form in the Premier League this season:

When Lucas Leiva has played: WLWWWDDWWDW

When Lucas Leiva hasn't played: LWLDWDLLLL

— Squawka Football (@Squawka) January 10, 2015
Remarkably, during that run Liverpool have not lost a game, with Lucas helping the side to five wins and three draws.
Further underlining his influence, the one game Lucas did sit out of in that run Liverpool lost—in December's 3-0 defeat to Manchester United.
A simple, but crucial, job, Lucas' deployment in midfield provides stability and assurance.
A stand-out performance in Saturday's 1-0 victory away to Sunderland is the perfect crystallisation:
Typically situated in a deep-lying role, Lucas broke up play with efficiency and physicality, making six tackles and two interceptions.
Furthermore, Lucas was a diligent outlet in possession, keeping things simple when required, but also showcasing an attacking impetus, with a 90.2 per cent passing accuracy and one key pass.
While most of Lucas' play was in Liverpool's half, the midfielder did aid the his side's pressing play in Sunderland territory, helping to defend from the front:
Lucas' duty in midfield is clear, and his effect on the side's overall performance can be starkly underlined in terms of goals conceded with and without the midfielder.
Liverpool with @LucasLeiva87 14/15: 11 PL games, 11 goals conceded.
Liverpool without @LucasLeiva87 14/15: 10 PL games, 16 goals conceded.

— Jack Lusby (@jacklusby_) January 11, 2015
This season, Lucas has been a consistent player for the Reds, making 3.8 tackles and 2.1 interceptions on average per game, while 0.5 key passes showcases his rare adventurous element.
While it can be argued that there is an ultimate upgrade on Lucas for Liverpool, with fantasies of Morgan Schneiderlin perhaps wide of the mark given Southampton's continued excellence this season, whether or not the player in question can be Delph is another matter entirely.
Fabian Delph
Impacted by injury this season, Delph's 2014/15 has seen the midfielder make 11 appearances in the Premier League, allowing for the perfect comparison with Lucas.
Delph is an all-action, box-to-box midfielder, as evidenced by an outstanding display as part of Roy Hodgson's midfield in England's 2-0 September victory over Switzerland.
As evidenced by the data presented below, Delph is a significantly less prolific defensive charge—although this may well be due to his being fielded in a different position to Lucas, which is another glaring issue in itself.

Delph does top Lucas in the attacking sector, but that is not the job he would be required to do in replacing him at Liverpool.
Far from it is Delph a poor player, and if moving to Liverpool in January or summer, the midfielder would fit in well with Rodgers' hard-working squad.
But replacing Lucas, Liverpool's only specialist defensive midfielder, with Delph would be an oversight by the manager.
The player Delph more closely resembles is the ghostly Joe Allen (currently sidelined through injury) who boasts a similar work rate and eagerness to move play forward on the ball.

If Lucas does say farewell to the club after a long stay this January, Allen would be equally as capable of filling his role as Delph would — but neither are an upgrade on Lucas' sheer defensive diligence.
By all means, Liverpool should sign Delph, but replacing Lucas with the Villa man would fail to recognise the Brazilian's influence; and this ignore other factors, such as his experience and dressing room presence.
As comparison shows, Delph would not be able to produce the same defensive quality as Lucas does under Rodgers at Liverpool; if the midfielder leaves in January, a specialist defensive midfielder must be signed in his place.
Statistics via WhoScored.com.
Should Liverpool replace Lucas Leiva with Fabian Delph? Let us know in the comments below.