Martin Skrtel is one of the players benefiting most from Liverpool's recent tactical switch, as part of Brendan Rodgers' back three, writes Jack Lusby.

While Martin Skrtel has been regularly, and often rightly, criticised for his performances this season, manager Brendan Rodgers' recent switch to a back three has seen the defender improve.
Rodgers' 3-4-2-1 system, which he described as "the way we want to work," has reintroduced a potency to Liverpool's attack, but also a stability to their defence.
Skrtel has played all but one game since this tactical switch, and that due to suspension, and his form has picked up arguably as a result.
So how has Skrtel improved since Rodgers introduced a back three, and how much of this is due to a change in personnel?
Skrtel's Strengths

When Skrtel donned a protective headband and scored a late equaliser in Liverpool's 2-2 draw with Arsenal this season, descriptions of the defender as "brave" were derided, but there is a merit to this.
The 30-year-old is very much from football's old school, and there is little nuance to his game.
Skrtel's priority, first and foremost, is to stop the ball reaching the goal, and to clear from danger whenever possible.
Clearances are perhaps the most succinct way to analyse Skrtel's game of 'if in doubt, get it out,' and he has made an average of 10.39 per game this season, more than any other Liverpool player.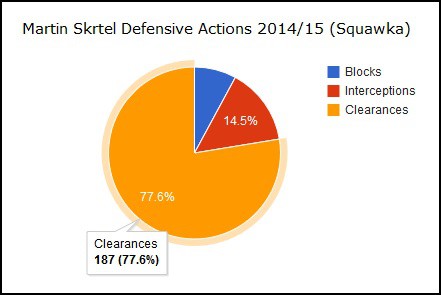 This may not be the most attractive style, and should not be the style Rodgers' side should look to purport in the long-term, but there is a benefit to this approach.
At times, however, this style has come under criticism, most notably when fielded in a central defensive partnership with summer signing Dejan Lovren.
Skrtel & Lovren

It has been a hugely disappointing season for Lovren so far, and at this January crossroads the former Southampton man has reached the stage where it is difficult to identify where he can force his way back into Rodgers' plans.
By and large, this disappointment has stemmed from a calamitous partnership with Skrtel this season, and as a tandem the pair helped foster nervousness in Rodgers' defence.
When paired together, in 13 games, Skrtel and Lovren have kept just two clean sheets.
In those 13 games, Liverpool have conceded 21 goals.
Adopting Rodgers' defensive mantra of building from the back, Lovren and Skrtel have respective passing accuracies of 88 and 92 per cent this season.
Errors Made in 2014/15
Skrtel – 4
Lovren – 6
However, with 10 defensive errors between them when played together, this is not necessarily a positive.
Too often the pair found themselves under pressure due to their uninspired short passing at the back—resulting in their high passing accuracies—and that is where these errors typically stem from.
Together, Skrtel and Lovren have proven to be a frustrating partnership, but with the former moving into a back three of late under Rodgers, with the latter injured, a significant improvement has been registered.
Mamadou Sakho and Emre Can

In recent weeks, Rodgers' back line has morphed from a Glen Johnson-Skrtel-Lovren back three, to a flirtation with Kolo Toure as right- centre-back due to Johnson's injury, to the now-settled line-up of Emre Can, Skrtel and Mamadou Sakho.
As a result, Liverpool's performances have markedly improved, and so have Skrtel's individual displays.
Since the start of their involvement in Liverpool's back three, in the Boxing Day victory over Burnley, Can and Sakho have made 48 and 57 passes on average per game respectively.

Can's passing accuracy has averaged at 86 per cent, while Sakho's is at 90 per cent.
Most importantly, however, during that time both have averaged at a key pass every other game. Lovren has averaged 0.06 per game, and Skrtel 0.17.
Mamadou Sakho doing passing. https://t.co/7ckr08Msob

— James Nalton (@JDNalton) January 5, 2015
The prowess of Can and Sakho in creating from deep, and providing a certain impetus that Lovren failed to inject, has allowed Skrtel to focus on his natural duties.
That Skrtel's average number of clearances per game has fallen to 7.67 from the season's average of 10.39 in this recent period, too, perhaps underlines the calming influence of Can and Sakho.
Furthermore, since the introduction of Can and Sakho at his flanks, Skrtel has made no defensive errors—arguably due to this instilling of calm.
Finally, in their three games as a trio, Liverpool have kept two clean sheets and conceded just one goal.

Skrtel's improved statistical output is indicative of his comfort in a back three that includes Can and Sakho deployed at his defensive flanks—the no-nonsense style can thrive while the cultured pair focus on more progressive business.
Skrtel can now focus on the fundamental defensive work he has proven to thrive at: tackles, blocks and,when required, clearances.
When in possession, Skrtel can now search for either Can or Sakho with a simple pass, and they can continue play.
Usually you get Skrtel and Lovren passing it between them 45 times. Now you get Skrtel and Toure giving it to Sakho to make a pass.

— Dan Shepherd (@TheCarteI) December 21, 2014
This has instilled a stability in Liverpool's defence that the Skrtel-Lovren partnership failed to provide—watching the pair dally with the ball at the back this season, supporters grew audibly restless, and the poor distributional outlet of Simon Mignolet only exacerbated issues.
Now in back three, with the support of Emre Can and Mamadou Sakho, the raw defensive abilities of Martin Skrtel are allowed to blossom.
Statistics via Squawka.
Is Martin Skrtel at his best in back three with Emre Can and Mamadou Sakho? Let us know in the comments below.