A debut piece by William May takes an interesting look at the form of Liverpool players over the last 20 games – using player ratings and statistics to rank the best and worst performers.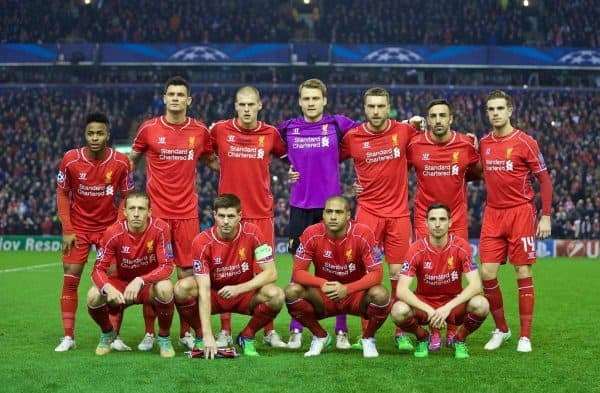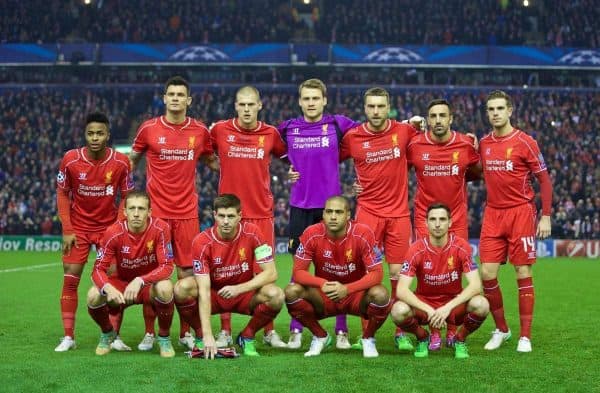 After a shaky start to the season, Liverpool have experienced something of a revival in recent weeks.
The Reds have won 8, drawn 7 and lost just 1 of their last sixteen games in all competitions, with Brendan Rodgers' adoption of a 3-4-2-1 formation key to this recent success.
The two games in which the new system has impressed against superior opposition were the draws against Arsenal and Chelsea – in both games Liverpool completely dominated their opposition and were hugely unlucky to leave the pitch with just a point.
Arsenal were limited to just 36.5% possession (their lowest ever in the Premier League) as Liverpool racked up 27 shots to their opponents 7 and they went on to produce an even better performance against Chelsea, registering 19 shots compared to Chelsea's 2. In both of these games Liverpool started without a recognised striker in their line-up, and this clearly cost them the edge when it came to clinical efficiency.
However, the imminent return of Daniel Sturridge should sort this problem out and help Liverpool return to the same sort of standards they were setting last season. As Sturridge's return approaches, it feels as good a time as any to appraise the performance of the other players in his absence.
To successfully analyse the performance of the team I have compiled two very different sets of performance analysis statistics – fan ratings of player performance from thisisanfield.com, and statistical player ratings from whoscored.com.
Combining a qualitative measure (This Is Anfield) with a quantitative measure (WhoScored) will hopefully compensate for the failures of both analytical approaches – fans are renowned for their bias towards certain players, whilst WhoScored ratings are wholly computer-generated and as such do not give due credit to the aspects of football that are more difficult to quantify, such as positioning, movement and leadership.
I drew the ratings from Liverpool's last 20 competitive fixtures and made sure to only use ratings of players who actually started the match – this was done to eliminate bias against players who were substituted on late in the game. I then worked out the average fan and statistical rating for each player, before simply taking the average of these two averages to get a total index rating for each player. Here are the results: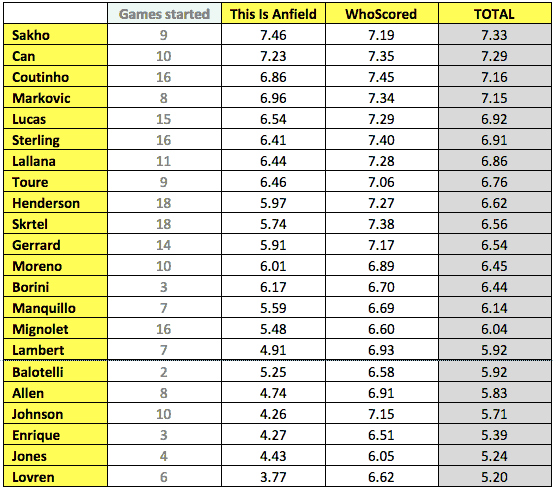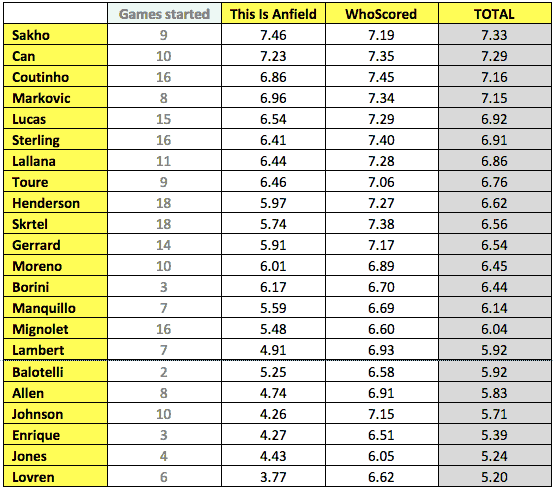 Although these results do make for interesting reading, it must be noted that the WhoScored ratings are far less spread out than the This Is Anfield fan ratings and this places unfair emphasis on the latter set.
To compensate for this I have also included a table in which each player is ranked within each subset and the average of their two rankings is calculated – this gives the statistical ratings and the fan ratings equal weighting, as well as enabling direct comparison. Here is the rankings table: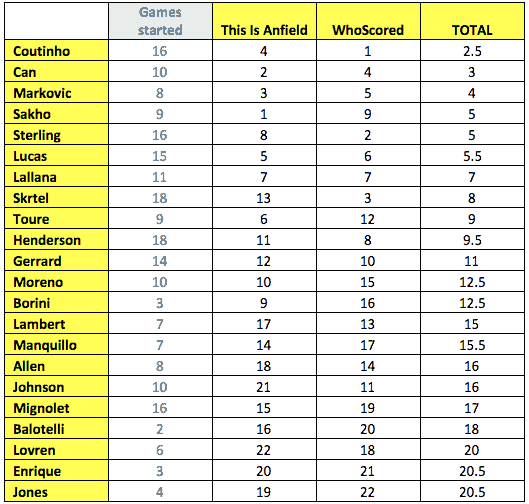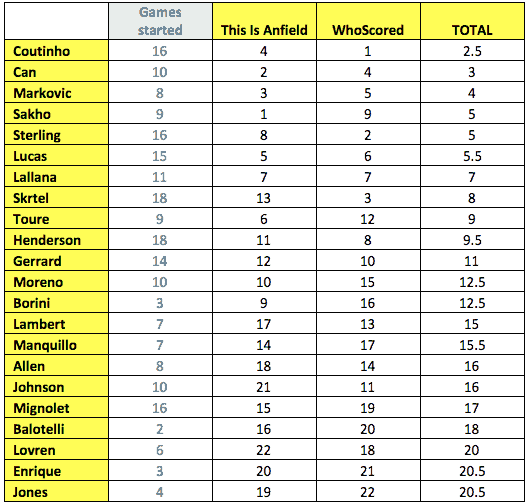 What these results show is what anybody who has watched Liverpool recently will already know – Coutinho has been our brightest spark, whilst Emre Can, Lazar Markovic, Mamadou Sakho, Raheem Sterling and Lucas Leiva have all been in excellent form.
The results raise a few talking points, particularly in midfield. Although Jordan Henderson's form has picked up somewhat in recent games (he has managed a total index rating of 7.01 over the last 10 games) his overall form this season is a far cry from what we saw last season. Henderson is something of an enigma as a footballer but every now and then he will produce flashes of technique to remind you of his real potential.
However, his greatest strengths plainly do not lie in the smoothness of his touch or the quality of his strike. The reason for his dip in form this season is simple – without Suarez and Sturridge in the team to stretch defences, he has far less space in which to operate and for a physical, high-energy player like Henderson, space is essential. David Silva he is not.

However, Henderson's form (or lack of it) must be taken with a pinch of salt. Thanks to the loss of the SAS striking partnership Liverpool are a far less dangerous prospect this season, and this has empowered their opposition to seize the initiative and even dominate on occasion.
Playing on the back foot has exposed a fundamental flaw in deploying Gerrard at the base of midfield – last season he was the playmaker-in-chief, orchestrating wave after wave of attack and helping to lay siege to the opposition's goal, but this season his failings in positioning and self-discipline have become painfully obvious.
Because of Gerrard's struggles, Henderson has often been forced to quell his attacking instincts in an attempt to "carry" his captain. To exemplify this, in the last 20 games Henderson has started just 5 without Gerrard in the team and in those games he averaged an index rating of 6.97 (up 0.35 on his overall average of 6.62) and even more impressively ranked 1st amongst all Liverpool players according to WhoScored with an average rating of 7.50.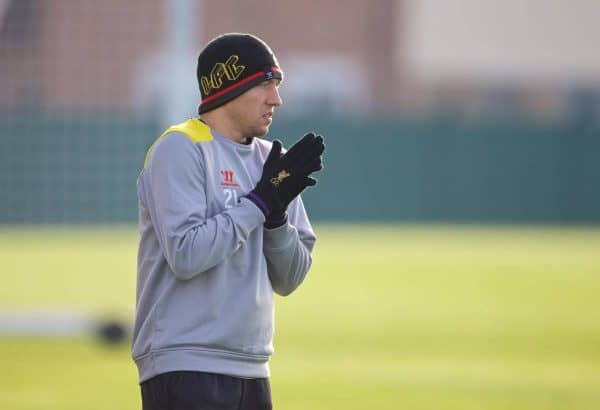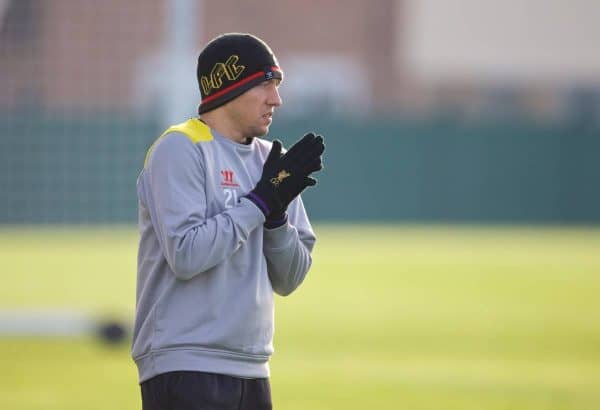 Elsewhere in midfield, Lucas has improved massively and is now one of the first names on the teamsheet. Last season his role in the team was neutered by the form of Gerrard and Henderson and he only started 20 games in the Premier League.
However, with the attack-minded pair of Alberto Moreno and Lazar Markovic as the first-choice wing-backs and only three players at the back, Lucas' break-up play has become an integral part of Liverpool's game-plan. Remarkably, Liverpool have drawn 1 and lost 4 of their last 5 games in which Lucas didn't start, and this statistic really speaks for itself.
Joe Allen's form has been poor again this season – making one question the actual meaning of form in the first place. If form is how a player is performing relative to how that player can perform, then perhaps Allen hasn't been in such bad form this season after all. Perhaps he just isn't a particularly good player – perhaps he's been in the form of his life, but nobody's noticed.
His above-average ball control has never been able to hide weaknesses in other areas of his game and I think it's about time Liverpool cut their losses and sold him. The tendency with Allen is to pine for him whenever he doesn't play, only for him to make a disappointing return and remind you why you never rated him in the first place.
The prevailing perspective of Allen is as a sort of metaphysical concept, a divine embodiment of this glorious ideal of tiki-taka football. He passes the ball ten metres to the side and we marvel, having caught but a furtive glimpse of the fabled "Barca style of play". But he is never going to be Xavi. Making a living as a professional footballer whose sole skill is short-range passing is nigh-on impossible, and yet that is all Allen has ever offered – he has no pace, he can't shoot, he can't head the ball and he's too scared to take players on.
What conclusions do you think can be drawn from William's findings? Let us know in the comments below.