With Wilfried Bony reportedly set to move to Manchester City this month, Jack Lusby believes Liverpool should move for Stevan Jovetic.

The biggest transfer window this January is likely to be Manchester City's reported £28 million move for Swansea City striker Wilfried Bony, and Liverpool should follow this with a move for current City's Stevan Jovetic.
This would leave Manuel Pellegrini with a bloated strike force of Bony, Jovetic, Sergio Aguero and Edin Dzeko—all players whose quality demands regular first-team football.
With City more often than not fielding a lone-striker formation, there is cause to believe Jovetic—City's least-favoured strike option—could leave the club on Bony's arrival.
Liverpool are in need of a striker this January, and Jovetic fits the bill.
The Reds have missed out on summer target Bony, now they must go all-out to sign Jovetic this transfer window – a player we've targeted more than once in the past.
A Failed Bony Pursuit, and the Failures of Mario Balotelli

City's interest in Bony notoriously succeeds that of Liverpool in the summer, with Rodgers clearly a big fan of the forward who has revitalised Swansea after a dip in fortunes amid the furore of former manager Michael Laudrup's departure.
£19 million was reportedly quoted to the club in the summer, but Liverpool seemingly pulled out of the deal due after failing to agree personal terms.
Instead, Liverpool turned to £16 million Mario Balotelli, but the maverick Italian's spell on Merseyside so far has proved a miserable one.

This is compounded by Rodgers' belief that "Mario was a calculated risk and that is something I have to make work for the team."
Rodgers continued in December that the required "level of intensity and pressing isn't a part of his game."
If Balotelli doesn't fit Rodgers' perceived vision of football at Liverpool, the manager must turn to a player that does, and that man can be Montenegrin Jovetic.
Stevan Jovetic: A Brendan Rodgers Striker

Jovetic signed for City in a £22 million deal in the summer of 2013, joining with an enhanced reputation following a 2012/13 season with previous club Fiorentina, which heralded 13 goals and two assists in 33 Serie A games.
The striker later revealed that he had turned down La Liga giants Real Madrid to move to City.
Last season with City Jovetic struggled with an injury-hit, bit-part role, scoring just three goals in 13 Premier League games—although only two of these appearances came as a starter.
This season has been much the same, with Aguero shining in a regular role as centre-forward, but nevertheless Jovetic has netted five times in 12 games, with a further two assists to his name.
Labelled, predictably, the Montenegrin Messi, Jovetic is a multi-faceted attacking player.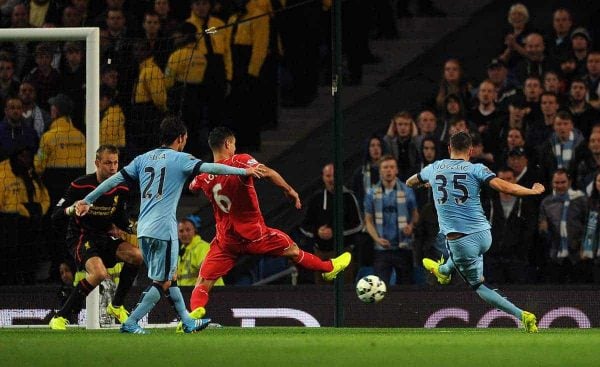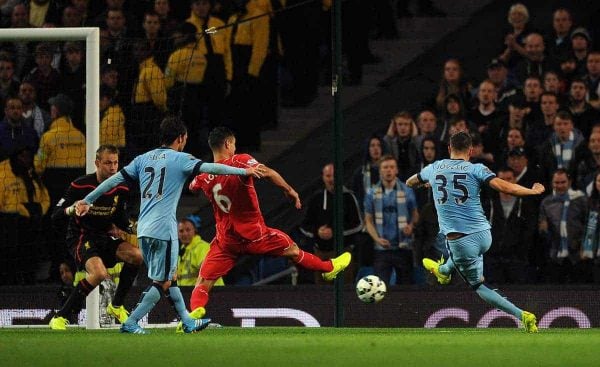 On his 2013 Premier League move, Sheridan Bird of the Mirror outlined how Jovetic "has the skill to light up the Premier League, and the resilience to cope with the physicality of English football."
A pacey, skilful strike option, Jovetic is a "sinuous dribbler, despite being a shade over six feet tall."
This underlines Bird's assertion: Jovetic is strong enough to keep up with the Premier League pack, but also intelligent enough to bamboozle it.
With an average of 1.3 dribbles per game, Jovetic would be Liverpool's fifth most-prolific dribbler, and his direct attacking style lends itself to Rodgers' system.
Furthermore, with a tactical versatility which has seen him play in three different starting positions already this season, Jovetic can lend himself to Rodgers' flexible tactical outline and give the manager option.
That Jovetic is clearly effective when utilised just behind the striker suggests a bold partnership with star forward Daniel Sturridge could be fostered.
https://www.youtube.com/watch?v=aBwdAY4S_kA
What's more, and perhaps most important, Jovetic can be a devastating finisher when in form, as his two-goal haul in City's 3-1 victory over Liverpool in August proved.
Overall, if Liverpool were to sign Jovetic in January, they would be acquiring a player with many talents, who is capable of slotting into Rodgers' system with ease.
However, there are some negatives the club must consider in any potential deal for the striker.
Pitfalls of the Move
CITY TODAY: Jovetic back in training, Pellegrini on Arsenal & exclusive academy series part 4: http://t.co/b1fVsdief0 pic.twitter.com/o5uk9Tmq4U

— Manchester City (@ManCity) December 13, 2013
The biggest pitfall with a move for Jovetic in January is the striker's injury record.
As the Manchester Evening News detailed, Jovetic has suffered "with a number of muscular issues" since his move to the Premier League.
This is an issue Liverpool supporters know all too well, given Sturridge's miserable fitness record.
However, on these problems Jovetic claimed: "I don't think I have a big problem. I would say that I have just been unlucky."
"The City fans have not seen the best of me…I just want to stay healthy now. If I can do that then I can promise them that I am a much better player than they have seen so far."

Furthermore, with an average of just 0.6 tackles and 0.7 interceptions per game, this suggests that work must be done if Jovetic is to suit a high pressing game; although Sturridge's average of 0.3 tackles and 0.1 interceptions perhaps belies this notion.
Nevertheless, just as City has proven a miserable ground for Jovetic's development after a phenomenal spell with Fiorentina, Liverpool could offer the backdrop for a revival for the striker.
At just 25 years old, and possessing the talents that demanded a £22 million transfer last summer, Jovetic should be a prime candidate for Rodgers this January.
When Bony moves to Manchester City this month, Liverpool must target Jovetic to add quality in attack.
Should Liverpool target Stevan Jovetic in January? Let us know in the comments below.