Jose Mourinho says Tuesday's result has turned a two-leg semi-final into a single-game semi-final. Simon Collings takes a look back at other two-leg matches in our history and the importance of being at home second.

After Tuesday's brilliant performance against Chelsea it seems we're gaining our swagger back. Heading into the game, the league leaders were strong favourites and most of us were fearing the worst – particularly when they took the lead.
However, with our second half performance – and Raheem Sterling's goal – we go into the second leg at Stamford Bridge full of confidence with the tie firmly in the balance.
Before the game, most of us would have taken 1-1. But such as it turned out, it seems like a missed opportunity. Chelsea are still favourites to progress thanks to their away goal – although that only counts after extra time (should it go to it) in the League Cup.
Home or Away?
When the draw was made, I didn't care who we'd get – just as long as we were away first. The suggestion being that playing the return leg in front of your own fans gives you an edge. If you come away from home still in the tie then running out under the lights in the second leg, with the atmosphere in your favour, gives you an advantage.
Of course, if a team loses 8-0 away in the first leg, having the crowd behind you won't make the slightest bit of difference. But having a life-line of an away goal – or even a clean sheet – to fall back on sets everything up perfectly for the home clash.
It's almost like a last-chance saloon to reach the next round – all or nothing. You know what you have to do and you go out and do it. In having your supporters behind you (acting like a twelfth man), this can work wonders as we saw back in 76-77 when David Fairclough became a cult-hero against St. Etienne, and again with Luis Garcia in 04-05 against Chelsea.
Ideally, a side would love to win three, or four nil away in the first leg – get the job done and rest one or two for the return tie. Very rarely does this happen, particularly nowadays as teams are more cautious. Liverpool did have the privilege of this experience though in an important Champions League quarter-final against PSV Eindhoven in 06/07. We hammered them 3-0 in the Philips Stadion, then were able to rest a few stars for the second leg, won 1-0, and progressed with minimum fuss. Perfect!
Avoiding Half-time Deflation
Okay, so it was only PSV – a second-tier side in Europe back then – but we all knew (as unprofessional as it sounds) that the job was done despite it being only half-time. If it were a Barcelona or Bayern Munich however, then only a fool would believe we were certain to go through.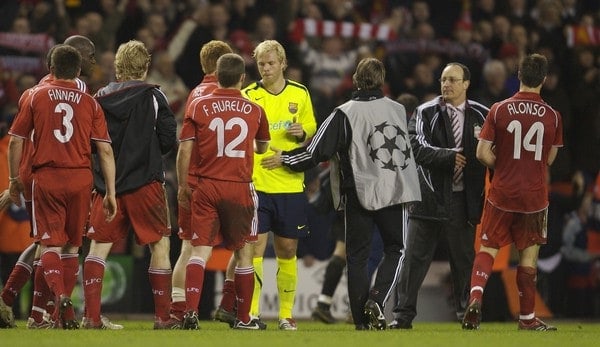 We've had it done to us too – and it certainly isn't nice. Chelsea inflicted a 3-1 defeat on us at Anfield in the 08-09 Champion League quarter-final. We fought bravely in an epic 4-4 encounter at The Bridge, but we knew the damage had already been done.
The one that hurt the most though, was when John Arne Riise put through his own net in stoppage time in 07-08. Chelsea were again the opponents and taking a slight 1-0 lead down to London would have suited us just fine. Yet when Riise had his Sandy Brown moment at the Kop end the pendulum swung massively in Chelsea's favour – and everyone knew it. Again, we fought bravely in the second leg but they progressed once more.
Extra Home Pressure
I believe playing at home in the first leg adds the pressure on immensely. Away goals are so valuable it's as though home managers are scared to attack sometimes in fear of leaking goals on the break. Sometimes this even results in dour, 0-0 encounters (which the away team would welcome) – as if the game is being played out simply to pass it by.
As a home supporter in a first leg tie, you're tenser – with everything to lose, which can affect the atmosphere and therefore the team.
However, if you're the away side you can sit back (if you're defensively sound enough) and be happy to hit them the break or from a set-piece. Also, if you find yourself 2-0 down and playing terribly, notching a cheeky away goal against the run of play can act as a get-out-of-jail card. You can re-group, and go again knowing exactly what you need to do to go through.
A perfect example of this was back in 00-01 against Crystal Palace in a League Cup semi-final. We'd lost the first leg 2-1 at Selhurst Park – Michael Owen missed a hatful of chances and things just weren't going for us. Luckily, Vladimir Smicer notched, setting us up perfectly for the return leg. With nothing to lose we went out a destroyed Palace 5-0.
Going For It
I believe that when a team knows what they have to do in a second leg, playing at home makes it a lot easier. If a side's only one or two goals behind, they then know an attacking approach will have to be the order of the day. The supporters will know it – creating a great atmosphere – and the opposition will know they'll be in for a tough game – possibly affecting their performance.

Thinking back to 04-05. The league table stated Chelsea were miles ahead of us, but coming away with a solid 0-0 draw at The Bridge gave us all a clear belief of a simple victory would see us through. We all knew what we needed to do. Rafael Benitez knew what he needed to do, and the atmosphere was set up perfectly for us to make history. And we did.
Had it all been the other way around: 0-0 at Anfield first, that second leg wouldn't have been as straightforward – it would have been more difficult to participate in, and also , the atmosphere down there wouldn't have come close!
Don't be Naive
Clearly, I'm not suggesting a team can go out and play blind in the first tie and then simply hope they'll somehow get through at home in the second, of course not.
It's just that if our backs are ever against the wall, I'll rather it be lined with Kopites to see Liverpool trough!