Liverpool have 12 crucial Premier League games remaining this season, as they look to qualify for next year's Champions League. We select the five matches in that period that could define the Reds' season.

It certainly promises to be a thrilling final three months of the season, as Brendan Rodgers' side attempt an all-important top-four finish.
Having seemingly been dead and buried in December, following the 3-0 defeat to Manchester United, they have roared back, remaining undefeated in the league and keeping five away clean sheets in succession.
The Reds currently lie in sixth place, one point adrift of Southampton, two behind United and three away from Arsenal. There will be many twists and turns in the coming weeks.
If current momentum is anything to go by, Liverpool will come either third or fourth. It doesn't always work like that, however, and United have shown that you can be a distinctly average football team and still be in a strong position.
Between now and the final day on 24th May there will be games that define the Reds' season, whether it be against fellow rivals or teams scrapping to avoid relegation.
Here are the five games that may well decide whether Liverpool finish in the top four or agonisingly miss out.
Note: Manchester City at home and Chelsea away are not included.
Swansea vs Liverpool- Monday 16th March

This fixture may not jump out in the way some of the Reds' other remaining games do, but there are reasons for its selection.
First and foremost, the Liberty Stadium can be a very tough place to go for any side, with Arsenal and United both succumbing to the Welsh side this season.
Something that will add significance to the game is that it's a Monday night game. All of Liverpool's top-four rivals will have already played, and all on eyes will be on how they fare.
This will put an added pressure on Rodgers' men, and it will be a giant hurdle leaped if they can head back to England with three points in the bag.
Liverpool vs Manchester United- Sunday 22nd March

Clashes against United are always big, perhaps even the biggest league game every season, but this definitely has the feel of being particularly pivotal.
In the recent past, the two great rivals have often not been in direct competition in terms of their league position, but this time it is very different.
Chances are they will still be within touching distance of each when they convene at Anfield in late March, and defeat for either side could be critical.
When it comes to form there is no comparison between the two, and all things should point towards a Liverpool win, but Louis van Gaal's side have been picking up points despite their poor performances.
They have ground out countless wins and draws this season, when defeat was more than deserved, and Rodgers must be ruthless and not allow United to nick what would be a damaging win for the Merseysiders.
Arsenal vs Liverpool- Saturday 4th April

Not a lot has been said about it, but Martin Skrtel's last-gasp equaliser against Arsenal just before Christmas was absolutely vital. It kept Liverpool in touch of the Gunners, rather than falling eight points adrift.
The clash at the Emirates at the start of April promises to be another cracker between the two most in-form sides in the Premier League right now. Matches between the pair are always entertaining, and this should be no different.
This will be a huge test of Liverpool's mettle though, and although Arsenal are often criticised for having no backbone, they always seem to finish the season well. With Alexis Sanchez unstoppable at times and Mesut Ozil returning to his best, the north London side look strong.
Their know-how of finishing in the top four has to be respected, and it is a game in which Rodgers would probably be happy to come away with a draw.
Arsene Wenger's side are far from unbeatable, however, and if Liverpool can frustrate the famously impatient Emirates crowd early on, they could push on and pick up a crucial victory.
West Brom vs Liverpool- Saturday 25th April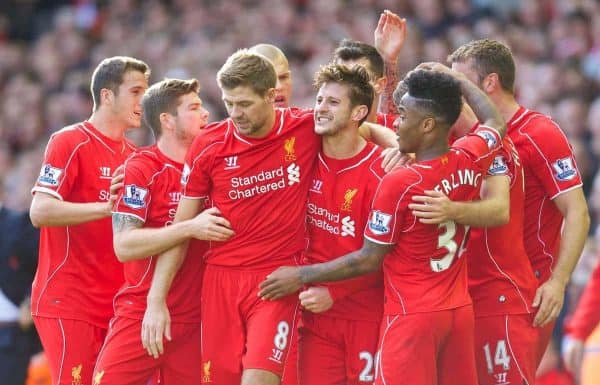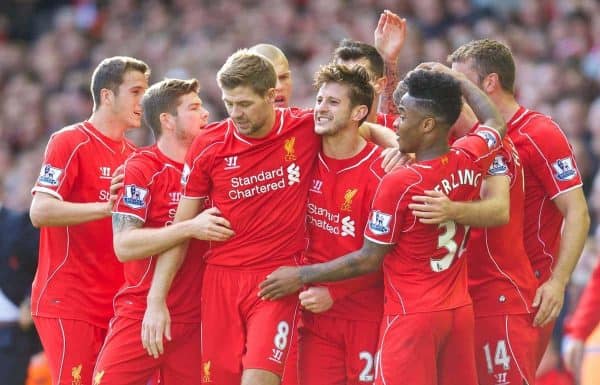 The season will really be reaching its business end by the time Liverpool visit West Brom at the Hawthorns in late April, and it promises to be a tricky afternoon for the Reds.
Tony Pulis, so often a thorn in our sides in the past, whether it be at Stoke or Crystal Palace, seems to revel taking on the top sides, and his teams are always extremely well-drilled and physical. This isn't something Liverpool always enjoy facing.
The Baggies will likely still be fighting to avoid relegation at this point, making it a vitally important game for them too, so Liverpool will have their work cut out.
With the quality Rodgers' team have there is no reason why they shouldn't prevail on the day, but it has the feel of one of those very tough afternoons about it.
Stoke vs Liverpool- Sunday 24th May

Stoke away is a fixture that has struck fear into many teams since they were promoted to the Premier League in 2008, and it is, quite frankly, a horrible way for Liverpool to end the season.
The Potters may not be quite the same beast they were when Pulis was in charge, but Mark Hughes has created an effective team of his own, and the Britannia Stadium is a very intimidating place to go.
It's impossible to predict the future, but Liverpool may well have to win this game to qualify for the Champions League, and the pressure would be enormous.
This is a game where experienced heads like Steven Gerrard and Lucas Leiva simply must come to the fore, helping the young players get through what would be one of the most important games of their short careers to date.
Liverpool must also avoid the distraction of this being Gerrard's final Premier League game for the club and potentially having a Europa League and/or FA Cup final within the next week.
The physical and aerial threat Stoke pose is there for all to see, from Ryan Shawcross to Peter Crouch, and if Liverpool managed to see off the hosts it would be the perfect way to end a thrilling season.
[poll id="318″]