Liverpool's gutsy 2-0 victory away to Southampton on Sunday was spurred by the introduction of Spanish left-back Alberto Moreno, as Jack Lusby investigates.

In one of the most important games in Liverpool's top-four challenge this season, Brendan Rodgers produced a tactical one-up on Southampton counterpart Ronald Koeman by introducing Alberto Moreno after half-time.
A resilient Liverpool trudged to victory on Sunday, with goals from Philippe Coutinho and Raheem Sterling ensuring a 2-0 win.
Mamadou Sakho and Daniel Sturridge missing out on starting roles was the big talking point before the game, but the absence of Moreno was brushed over, arguably due to the presence of Lazar Markovic and Jordon Ibe at wing-back.
Replacing Markovic at half-time, however, Moreno's introduction proved the turning point for Liverpool.
Lazar Markovic at LWB
Moreno was rested from kick-off at St. Mary's, and understandably so, given the amount of football he has played recently—taking his place, Markovic had sat out of Liverpool's midweek win over Besiktas due to suspension.
Unfortunately, with Southampton emphasising their prowess in wide areas in the first half, Markovic struggled in what is an unnatural role at left wing-back.
Nathaniel Clyne, so regularly a key player for Koeman's side this season, also had Emre Can ahead of him in an unfamiliar left centre-back role.
The combination of Clyne and the bright Filip Djuricic gave Markovic problems on the left flank, and his performance was muted throughout the first half—he was not capable of balancing his defensive and attacking duties.
Lazar Markovic attempted four tackles before his substitution yesterday, completing just one & making one foul. #LFC pic.twitter.com/LMgGfahMDx

— Jack Lusby (@jacklusby_) February 23, 2015
When Markovic did contribute in the defensive sector, his output was poor, completing just one tackle of his attempted four, and giving away a free kick in a dangerous area for a foul on Djuricic.
Furthermore, in the first half Clyne took to pushing high up the pitch, completing one of two of his attempted take ons, which resulted in a cross in a dangerous area.
Markovic attempted three take-ons before his substitution, completing just one. #LFC pic.twitter.com/jPsFfqXyjJ

— Jack Lusby (@jacklusby_) February 23, 2015
In terms of attacking work, Markovic was limp and indecisive, as evidenced by his completion of just one attempt to take the ball past an opponent from three, with Clyne steely at right-back.
Of course, Markovic did supply the pass for Coutinho's superb goal on three minutes, but it is difficult to give him credit for assisting what was a strike of pure individual inspiration.
Alberto Moreno: Defending

Few were surprised when, with Moreno emerging from the St. Mary's tunnel kitted up, Markovic was substituted at the interval—Liverpool were being exploited on that left flank, and Can was struggling as a result.
Koeman withdrew Steven Davis at the same time, replacing him with Morgan Schneiderlin, and 10 minutes later Sadio Mane replaced James Ward-Prowse, and Southampton's tactical approach altered significantly.
Djuricic switched into a central role, with Mane ostensibly taking up the right wing position.
Southampton av. positions vs. #LFC. RW Mane taking up more central role, isolating Clyne & allowing Moreno to thrive. pic.twitter.com/QLedioot43

— Jack Lusby (@jacklusby_) February 23, 2015
Instead however, Mane's attacking tendency drew him to a more central role, effectively doubling up with Djuricic—and later his replacement, Dusan Tadic—to clog the 'D' area, where Martin Skrtel, Joe Allen and Jordan Henderson were already dominant.
This left Clyne up against both Moreno and Can, and the right-back noticeably shrank in the second half.
Compared to his two attempted take ons in the first half, Clyne made no attempts to take the ball past his opponent in the second half.
Both of Moreno's attempted tackles (50% success) were in central areas. Shows the decline of Clyne after break. #LFC pic.twitter.com/oQGcKZL5YA

— Jack Lusby (@jacklusby_) February 23, 2015
Both Moreno's attempted tackles, of which he completed one and committed a foul with the other, were in a central area, combatting Mane's attacks.
Clyne paled after the withdrawal of Markovic and, while Moreno's defensive duties were lessened as a result, the Liverpool left-backs attacking prowess played a big part in this.
Alberto Moreno: Attacking

With Moreno more accustomed to this left-sided wing-back role than Markovic, the positions that he was taking up after his second-half introduction allowed a more blossoming Liverpool attack as a whole.
With Southampton ignoring their flanks and opting for a more central focus after Ward-Prowse's withdrawal, Moreno was allowed to cut inside.
Liverpool av. positions vs. Southampton. Moreno slightly more central than Markovic. Allowed link with Coutinho. #LFC pic.twitter.com/orT6ru5nHE

— Jack Lusby (@jacklusby_) February 23, 2015
This was a technique which mirrored the approach of Ibe at right wing-back, and allowed a more fluid attack.
Moreno bombed forward with consistency, pinning Clyne back and stymieing the attacking forays that made him such a threat in the first half.
Sterling's goal is the perfect evidence of Moreno's second-half attacking potency.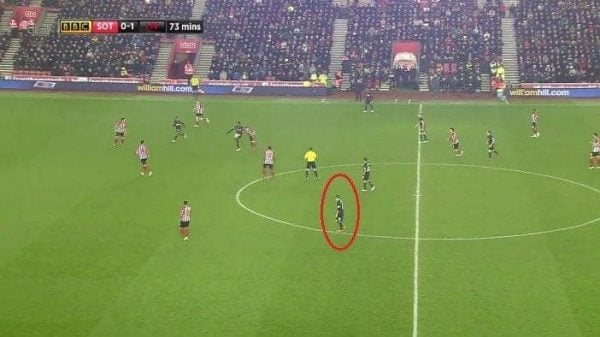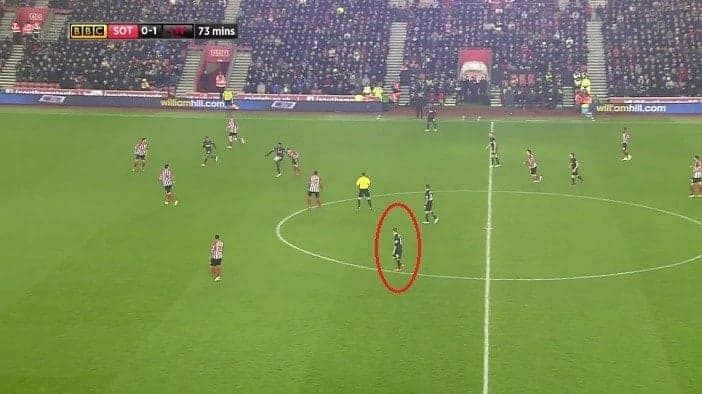 Phase #1: Moreno's position on the edge of the centre-circle draws him closer to the combination play of Coutinho, Sterling and Sturridge.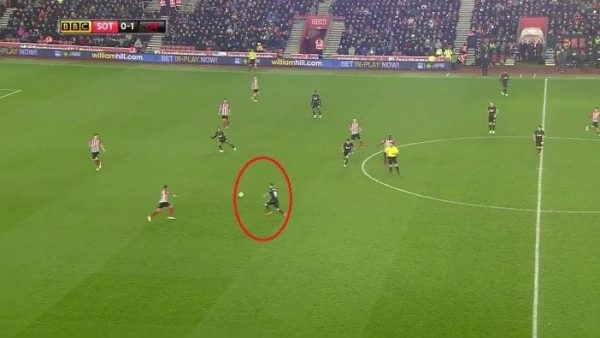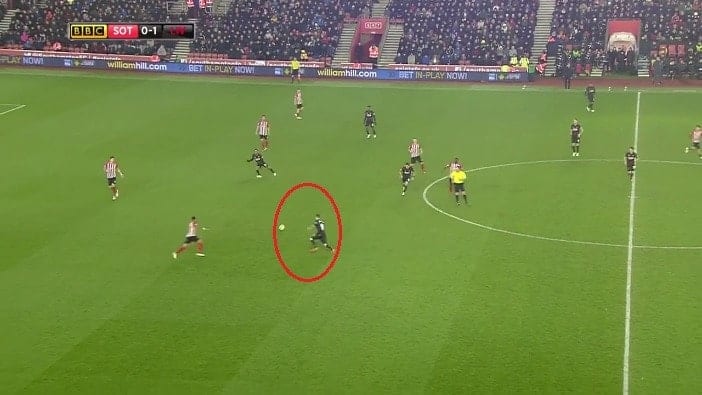 Phase #2: When Schneiderlin sweeps up a high ball in this area, he turns to Clyne as an outlet, but with Moreno on his toes the left-back is quick to intercept the pass.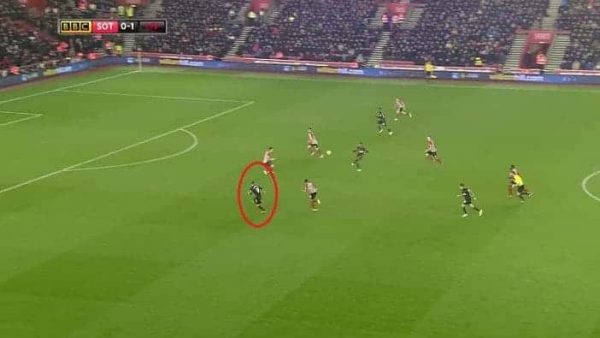 Phase #3: Having returned the ball to Sterling, Moreno has now advanced past Clyne and into a dangerous position to receive a pass near the edge of the penalty area.
Southampton 0 – 2 Liverpool (Sterling) https://t.co/WeEVZrSE91

— Ste Carson (@sjrcarson) February 22, 2015
Phase #4: Moreno's low cross is fumbled by his Southampton counterpart, Matt Targett, with the 19-year-old's clearance falling to Sterling, who made no mistake with his shot on goal.
Moreno's involvement in a more central area in the second half not only served to hamper the productivity of Clyne in the Liverpool half, but aided a fluency in the Reds' attacking movement.
Replacing Lazar Markovic with Alberto Moreno at half-time in Liverpool's 2-0 win over Southampton on Sunday proved a masterstroke by Brendan Rodgers, who saw his side a more complete and proficient attacking force as they charged towards victory.
Statistics via Squawka and FourFourTwo.
Did Alberto Moreno prove his importance to the side in Sunday's win over Southampton? Let us know in the comments below.