It's a year to the day since Liverpool's dramatic 3-2 win over Fulham, which sparked a sensational run of form for Brendan Rodgers' side. Henry Jackson asks whether Tuesday's crucial win over Tottenham could inspire the Reds in a similar way.

The win at Craven Cottage on 12th February 2014 was arguably the most important in Liverpool's 2013/14 campaign, considering the victory against Manchester City in April ultimately proved meaningless in the grand scheme of things.
Having annihilated table-toppers Arsenal 5-1 at Anfield four days earlier, it looked as though two precious points were drifting away against the Premier League's bottom club.
Fortunately, Steven Gerrard's stoppage-time penalty, which led to pandemonium in the away end, earned Rodgers' men a precious victory, and it led to a remarkable run of form over the next two months.
The Reds won their next nine straight league games, playing some extraordinary attacking football and going from top-four hopefuls to unlikely title favourites.
It's easy to forget, but that Fulham win was more about cementing a place in the top four rather than mounting a title challenge, and failure to win could easily have seen the Reds' campaign tail off.
As it happened they won, and it proved to be massively significant.
Spurs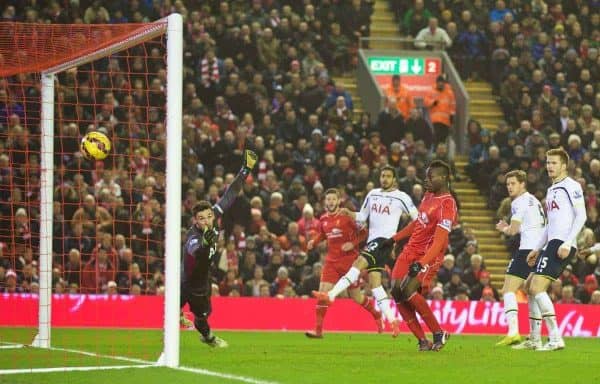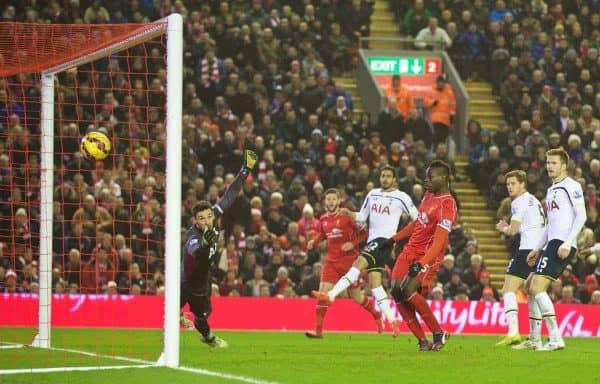 Fast forward 12 months, and you could be forgiven for sensing a bit of deja vu. Liverpool faced an in-form Spurs side at Anfield, knowing failure to win would dent their chances of finishing in the top four.
With a thrilling game edging towards a frustrating 2-2 draw, Mario Balotelli's 83rd-minute strike won it for Rodgers' men. There was a definite feeling around Anfield that it could be a pivotal result in Liverpool's season.
The significance of the win was highlighted by several players afterwards, with Adam Lallana, Jordan Henderson and Mamadou Sakho all realising its importance.
Lallana:
"That's a massive three points for us. We're only one point behind Tottenham now and we have got everything to play for.
"We can go higher than fourth, we can hit third place. We've got Daniel Sturridge back now and it was great for him to get through 70 minutes. We've got a great squad and we're gaining momentum."
Henderson:
"It was a very important game for us, we deserved to win. We're picking up a bit of momentum, we're playing some great stuff.
"I thought we showed great character tonight. Going in front and them coming back into the game – but we stuck at it and got the three points, which is vitally important for us.
[…]
"We always feel as though we can beat anyone if we keep playing the way we have been."
Sakho:
"It was a very good game for the team. We were very strong mentally and we stayed focused on our objective. I think altogether we worked for this and tonight I think the team stayed focused and we demonstrated a good mentality."
Momentum

The word 'momentum' was used by both Lallana and Henderson, and is one of the most important things in football. Liverpool seem to be affected by it more than most at times, particularly since Rodgers has been in charge.
There have been spells over the last two and a half years when a victory simply could not have looked less likely if they tried, but on the flip side, a few wins has suddenly seen them revitalised and virtually unbeatable.
Any win over a fellow rival is a huge confidence boost, but Tuesday's triumph was not only crucial on the night. It has also come at the perfect time in terms of Liverpool's upcoming league fixtures.
Southampton await in the next league game, on 22nd February at St Mary's, in what is another huge match. The Saints are four points ahead of the Reds, and currently lie in that precious fourth spot. Victory for Liverpool would be enormous.
Rodgers' men also face Manchester United, Manchester City and Arsenal in the space of five games in March and early April, which along with the Southampton game, completes a six-game spell that will surely have a major bearing on the top four.
It's worth stressing that this gain in momentum could also bode well for the upcoming FA Cup clash with Crystal Palace on Saturday, and the Europe League showdown with Besiktas.
Conclusion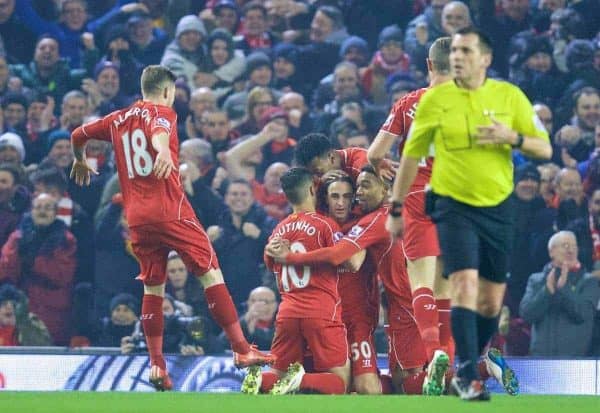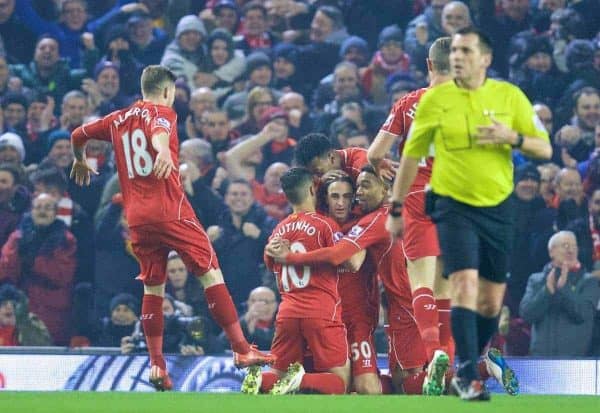 Perhaps expecting a run similar to last season may be asking a little too much- the 11-game winning streak was one of the longest in Premier League history- but there is a definite feeling that Liverpool are gaining impetus just like they did a year ago.
The pace and fluency in their attacking game is back, their key striker is fit again and the belief within the squad is sky high.
If Liverpool do end up achieving their goal and qualifying for next season's Champions League, the win over Spurs will likely be seen as the key moment in their season. It could be just like Fulham all over again.
[poll id="315″]