Daniel Sturridge made his first Liverpool start since August in Tuesday night's win over Spurs, we assess his performance and the impact he will have on the Reds.
Sturridge made his long-awaited return to the Liverpool starting lineup against Tottenham and his contribution to Brendan Rodgers' side's 3-2 win over Spurs outlined a promising future for the Reds.
While Mario Balotelli's late winner took the headlines, the more encouraging feature was Sturridge's performance, with the striker making up for lost time on Merseyside. Balotelli took the striker's place on 74 minutes, but Sturridge had already made his mark.
With Sturridge, Liverpool look a near-finished article once more.
Sturridge vs. Spurs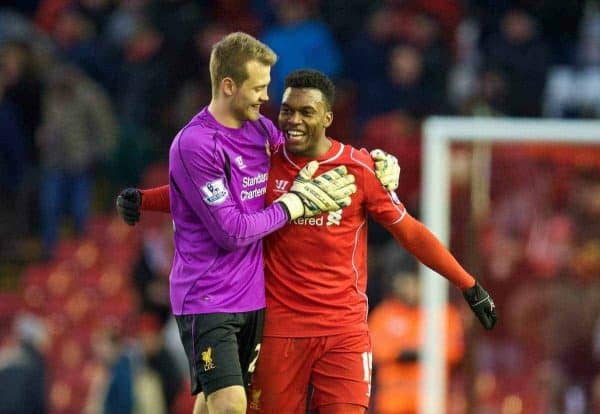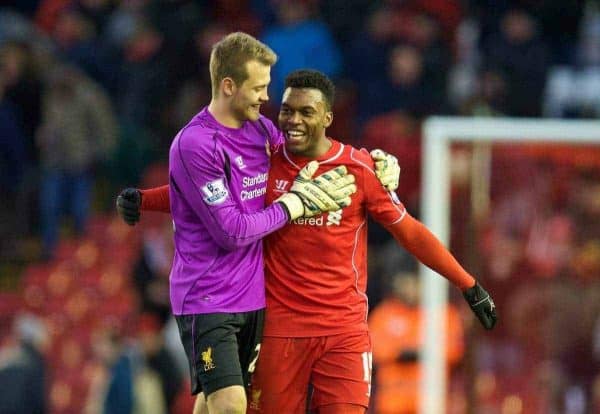 The anticipation was palpable, and Sturridge's return to the Liverpool starting lineup didn't disappoint—the 25-year-old looked to complete a burgeoning Reds attack.
Sturridge opened the season by showing his finesse as a lone striker, following the sale of Luis Suarez, and his hold-up play, creativity and understanding of space were again prominent against Spurs.
It was clear that Rodgers' intention was to exploit Mauricio Pochettino's high defensive line, and Sturridge played a vital role in this.
At Anfield on Tuesday, 17.7 percent of Liverpool's passes were lofted, long balls, compared to their season's average of 11 percent. On the same day that Manchester United manager Louis van Gaal was forced to produce a four-page dossier defending his direct tactics, this could be seen as cynical.
17.7% of Liverpool's passes vs. Spurs were long (72 in total). Exploiting space behind defence w/Sturridge pace. #LFC pic.twitter.com/ToBy4Af173

— Jack Lusby (@jacklusby_) February 11, 2015
In this case, this was not a reductive style of play. Rodgers highlighted Spurs' defensive weakness, and used Sturridge's pace and intelligence to exploit. The gameplan was to get wide and in behind, using Sturridge's movement.
There were areas where Sturridge struggled, with his poor first touch and weight of pass often letting him down in the build-up, but these can be attributed to a lack of sharpness after injury.
But as with in his introduction against West Ham, Sturridge's contribution at Anfield on Tuesday night lifted the performances of those around him, with his sheer quality and experience of the role hugely important.
This showed just why all Liverpool supporters had been pining for his return for the last five months.
Student vs. Master
Typically, when Sturridge was out, Raheem Sterling lead the line for Rodgers, after several failed experiments involving the likes of Rickie Lambert, Balotelli and Fabio Borini.
Sterling had all of the raw qualities required to perform in the role, and slowly developed this to become a progressive centre-forward option in his own right, culminating in an seasoned all-round performance in the 2-0 win over West Ham ahead of Sturridge's introduction.
Out of the picture at Anfield on Tuesday, Sterling watched on as Sturridge did much the same.
Looking at the pair's average positions, through means of the heatmap, in these respective games outlines the similarity of their performances:
Not a big heatmap fan but here's Sterling vs West Ham & Sturridge vs Spurs. Sturridge playing more on shoulder. #LFC pic.twitter.com/wKqWIaRnjX

— Jack Lusby (@jacklusby_) February 11, 2015
Both dropped deep to aid build-up, interchanged with the likes of Moreno, Markovic and Coutinho and continued to drive at the defence.
The big difference is that Sturridge's play is focussed on the wide areas of the penalty area, and this shows the striker's desire to play off the shoulder of the opposing centre-backs—in Liverpool's system, this is paramount.
Sturridge also saw slightly more possession, with 4.2 percent of the overall Liverpool effort of 51 percent, while Sterling had 3.8 percent against West Ham, of Liverpool's 59.3 percent.
Sterling's display against West Ham truly underlined his ability to play this role, but Sturridge's semi-fit performance in the win over Spurs outlines the importance that he resumes this role.
That Sturridge managed this while not yet at full match fitness is truly encouraging.
Five Months On
While it was noticeable how rusty Sturridge was against Spurs, that Liverpool finally had a genuine, consistent presence in the centre-forward role meant that Rodgers' other attackers, particularly Markovic and Ibe, could thrive.
Having Sturridge back confirmed all of the hopes that his recovery harboured—that Liverpool could devastate opponents if they actually had a striker.
Some sloppy touches and an inevitable withdrawal aside, Sturridge's display at Anfield on Tuesday night showed such promise, and his timing couldn't better. During his absence, Liverpool often scrapped for results, but now his inclusion seems like the final flourish.
Sterling's progression in the centre-forward role deserves much credit for this, of course.
But Sturridge adds that extra something to the Liverpool attack—a more physical presence, and a more experienced attacking intelligence.
If fully fit, there is no doubt Sturridge would have seized on some of Spurs' sloppy back-passes and Eric Dier's negligent spatial awareness to put a decidedly poor Hugo Lloris to the sword.
Liverpool's season, and their top-four challenge, is finally kickstarting, and Daniel Sturridge has found himself perfectly placed to benefit after five months on the treatment table.
Statistics via WhoScored.
Do Liverpool look the finished article with Daniel Sturridge up front? Let us know in the comments below.