PJ Vaughan puts together a team of players who arrived with great expectations, but for one reason or another they didn't work out at Anfield.
GK: Chris Kirkland
In August 2001 Gerard Houllier signed Chris Kirkland for a then record £6M, the largest fee involving the sale of a British Goalkeeper. Jerzy Dudek was also signed on the same day. While Dudek was seen as the No.1, Kirkland was seen as the long term future. However it didn't quiet work out like that.
Kirkland only ever made 25 league appearances for Liverpool before leaving for Wigan in 2006 after an injury plagued 5 years at the club.
RB: Markus Babbel
When Liverpool signed German international Markus Babbel in 2000 there was much excitement among the fan base. Babbel had attracted interest from a number of big clubs including Manchester United and Real Madrid.
Babbel had a good start to his career and was a key part in the treble winning team of 2000/01 when he set up a number of goals from the right-back role. Unfortunately for Babbel and Liverpool he was struck down with Guillain –Barre syndrome and missed a whole year. On his return he couldn't force his way back into the side. In all he played 42 times in the league for Liverpool and scored 3 goals before leaving in July 2004 on a free transfer.
LB: Christian Ziege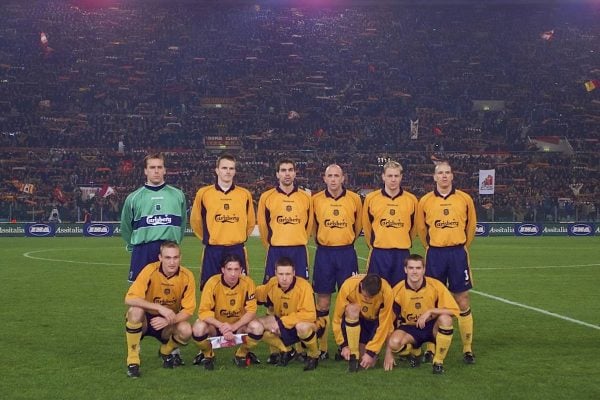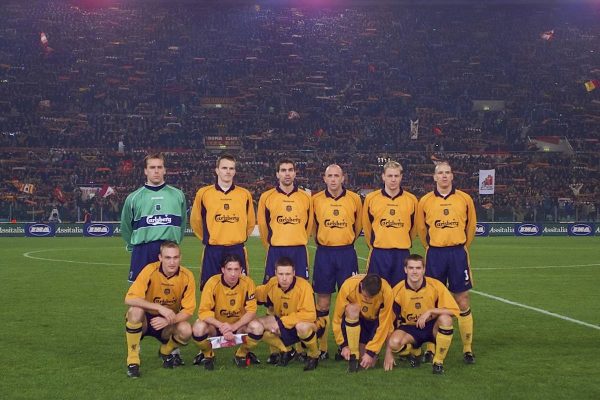 Ziege was a German international that had played for Bayern Munich and AC Milan. Liverpool signed him from Middlesbrough. Liverpool became aware that Ziege had a £5.5M buy out clause in his contract and then bid that amount in August 2000. Middlesbrough were far from happy. The case ended up in court where both Ziege and Liverpool were fined.
Ziege's career at Liverpool was littered with injuries and he only made 16 league appearances scoring once before leaving for Tottenham Hotspurs for £4m in July 2001.
CB: Phil Babb
Liverpool signed Phil Babb for £3.6M in 1994 on the back of a good World Cup campaign for Ireland. Babb went on to make 128 league appearances for Liverpool before leaving on a free in 2000. He is best known for being part of the 'spice boys' and for an attempted clearance against Chelsea when he collided with the post – you know the one.
CB: Neil Ruddock
Ruddock signed for £2.5m in 1993 and went on to play 115 league games, scoring 11 goals. He had impressed at Tottenham Hotspur and it was thought he would provide some defensive steel and aggression. Instead he was a hugely disruptive influence at a time when we were bringing through some very good young players.
In his time at Liverpool he was involved with an altercation with Eric Cantona on the pitch and Robbie Fowler on a plane. He seemingly broke Peter Beardsley's jaw in a testimonial match and broke both of Andy Cole's legs in a reserve game. He was consistently plagued with weight problems, he was cautioned for drink driving and his philandering was well documented in the papers. He provided a very bad example to the young players we were bringing through at the time.
DM: Paul Ince
When Liverpool signed Paul Ince the self proclaimed 'guv'nor' from Inter Milan in 1997 for £4.2M it looked like the club had made an excellent purchase. Ince was a driving force behind the early United league success under Alex Ferguson. However United decided to get rid of him in his prime. The media reported this as lunacy yet United won the double without Ince.
Ince did okay in Italy but it was soon clear his career was in decline when he lined out for Liverpool. He lasted two trophyless seasons and a seventh place league finish in his last season before departing for Middlesbrough for £1M, not wanted under Houllier.
CM: Alberto Aquilani
Aquilani arrived from Roma for £17.1M 2009. He was seen as the direct replacement for the departing Xabi Alonso. The only problem was Aquilani was an attacking midfielder and not a defensive one and the second that he arrived injured. It was November before he started a first team match and while he was impressive he rarely lasted the 90 minutes. He was also competing with Steven Gerrard for the AM role and was never likely to displace Gerrard.
He spent two seasons on loan with Juventus and AC Milan who both refused to pay Liverpool's asking price before leaving for Fiorentina in 2012.
AM: Harry Kewell
Liverpool signed Harry Kewell from Leeds United in 2003. Liverpool had to beat a host of top English and European clubs to secure his signature. Most fans saw it as a huge coup. However allegations surfaced that Kewell's agent received £2m of the £5M signing fee.
On the field Kewell's Liverpool career was very stop-start. He limped off in the Champions League final in 2005 but he returned the next season to have his best season for the club. His final two season were injured plagued yet Rafa Benitez still wanted him to stay. Kewell turned down a contract and left for Turkey in 2008.
CF: Fernando Morientes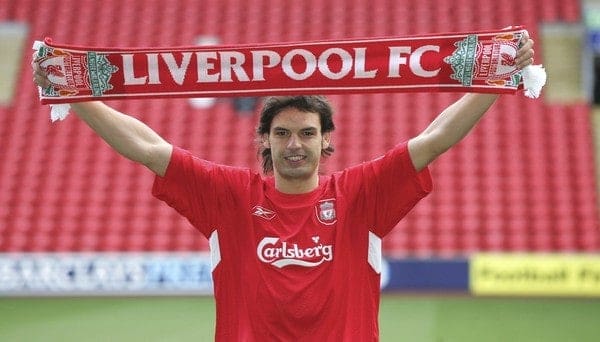 Most Liverpool fans were excited when Liverpool signed Fernando Morientes from Real Madrid in 2005 for £6.3M. The Spaniard had spent the previous season on loan at Monaco and was a huge factor in them reaching the Champions League Final.
Morientes was supposed to be a world class striker but Liverpool fans rarely saw much evidence for that besides his first league goal against Charlton Athletic. He couldn't really cope with the pace and physical side of the Premier League and left for Valencia in 2006 for £3M.
CF: Djibril Cisse
Gerard Houllier's parting gift to the club was Djibril Cisse – a £14.5M signing from Auxerre. In days prior to YouTube I remember seeing a compilation of Cisse goals from France on TV. He scored all sort of goals and may spectacular ones from distance. Like many Liverpool fans I believed we had signed the new Thierry Henry.
It was difficult for Cisse as he was never Benitez's signing. It was strange that the club would agree to such a big signing before sacking the manger soon after. Despite scoring on his league debut, Cisse's Liverpool career never really took off. He suffered a bad leg break at Blackburn Rovers early into his Liverpool career and when he returned he would often be used on the right wing. Benitez clearly did not want him as a centre forward and he left for Marseille for £6m in 2007. Did win the Champions League though and scored in the shootout.
CF: Stan Collymore
Liverpool signed Stan Collymore from Nottingham Forest in 1995 for a then British record of £8.5M. Collymore scored all sorts of brilliant goals for Forest. On the field Collymore did well for Liverpool. He scored and created lots of goals and established a good partnership with Robbie Fowler.
However, Collymore caused most of his problems off the field. He allegedly refused to move to Liverpool and preferred to commute from Birmingham. Reports of being late for training and refusing to play in a reserves game saw Roy Evans lose patience and sold him to Aston Villa in 1997 for £7M.
Subs and Reserves
Julian Dicks, Mark Wright, Joe Cole, Robbie Keane, Nigel Clough, Dean Saunders, Ryan Babel, Jari Litmanen, Bruno Cheyrou, Anthony Le Tallec & Florent Sinama-Pongolle.