My apologies to Kopblog regulars. It's been over 2 months since the last blog was published. In that time there has been a new addition to the Cousins family and Liverpool have actually found a bit of form.

Since the car crash that was our Champions League campaign came to an end, Brendan Rodgers switched to a 3-4-2-1 formation and it's fair to say that it has worked well. We've played 16 games, won 9, drawn 5 and lost only 2.
The 9 wins have come against the following teams: Bournemouth, Burnley, Swansea, Wimbledon, Sunderland, Aston Villa, West Ham, Bolton and Spurs. Not exactly the crème de la crème of the football world (although Spurs looked a good side at Anfield) but after our disgraceful start to the season we'll certainly take it.
We've played well enough to beat some of the so called top sides during this run. Arsenal should have been beaten at Anfield, we had enough chances to win at United and we played Chelsea off the park in the first leg of the league cup semi-final. We'd have had some big scalps and more importantly we'd be closer to fourth place, and have a place in a cup final if we had that bit more quality in the final third.
Goal shy
My favourite computer games back in the day were Street Fighter 2 and Mortal Kombat and I had both on my Super Nintendo. Day and night I'd be on those games for weeks on end but while I was a bit of an expert on Street Fighter, I never did quite conquer Mortal Kombat. The special moves on SF2 were fluid I just couldn't master the moves on MK. 'Back Back Forward Down Down Hard punch'. WTF?
The best part of the game is what I dreaded the most. Applying the fatality after beating an opponent to submission…. "FINISH HIM"…. "Oh s**t, wait", *back back forward erm down down hard kick*… nothing, no fatality no nothing. Incredibly frustrating. Now what's supposed to happen is this.
I liken my inability to execute a fatality to Liverpool's form in front of goal. In fact it was watching the first 80 minutes of the Bolton game that reminded me of my faffing around on Mortal Kombat.
Lovely approach play, some pretty football but lacking that decisive killer instinct. Frustrating to watch.
Over the course of those 15 games – since the switch in formation – we've scored 26 goals and in the 10 PL games within that we've scored 17. That's quite an ordinary goal return considering this has been, by far, our best run of the season.
Number of goals Liverpool have scored after 25 games in the PL era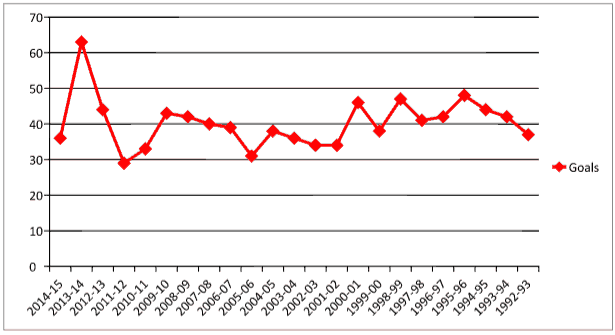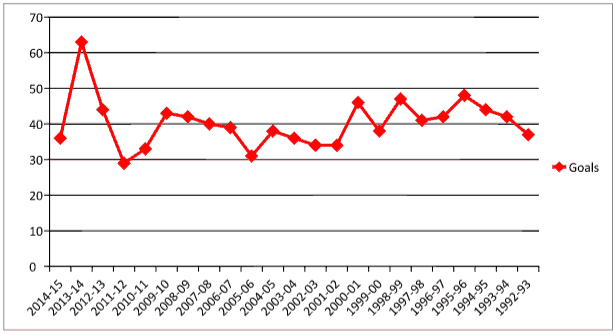 Only 5 times in the last 23 seasons have we scored fewer goals after 25 games. At Anfield it's slightly worse. Only 4 times have we scored less goals at home at the stage of a PL season.
Number of goals scored at Anfield after 13 games in the PL era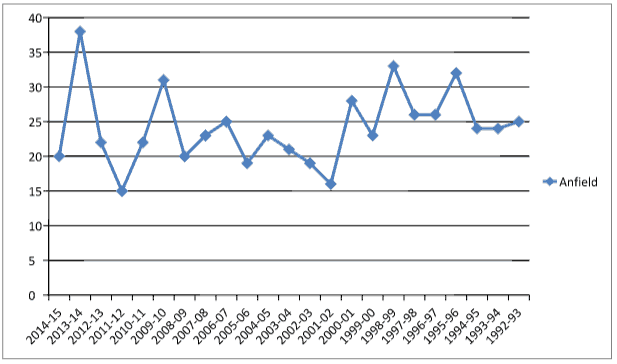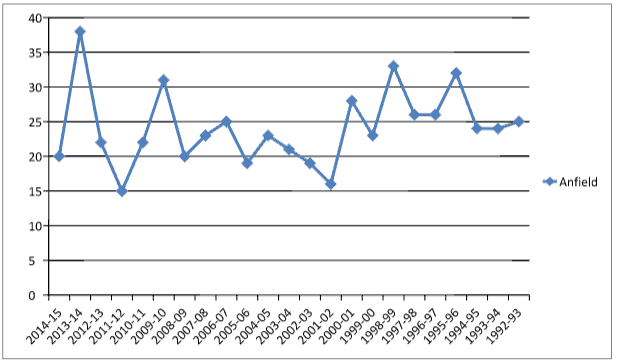 Why the lack of goals?
During our recent run we've averaged 14.1 chances created per game in the league which equals the average of a title winning side. Impressive but it does suggests poor finishing when you look at the goal return.
However, when looking at clear cut chances created we've averaged 2.25 per game. This is short of the average for teams finishing in the top 4 (2.68 per game). Although it is a big improvement on what we were producing before the formation change when we averaged only 1.06 clear cut chances per game (f**king hell).
Interestingly, our clear chances conversion since the switch to 3-4-3 is at 50%. This is comfortably higher than the average for teams that finish in the top 4 (40.2%) and teams that win the league (45.4%).
(Stats courtesy of Dan Kennett @DanKennett via his brilliant LFC performance dashboard, designed for iPad.)
These stats surprised me as I thought we had been creating a lot of chances but not been taking them. I naturally blamed poor finishing and the lack of a proper striker for the lack of goals. It turns out though, according to the stats, that we are just not creating enough high quality chances.
The Arsenal game is a case in point. From my memory we played them off the park and should have won comfortably but despite having 27 shots on goal, 10 of which were on target, we only created one clear cut chance.

The lack of quality chances and goals is compromising our recovery and will continue to if we can't put it right. We're all hopeful that once Sturridge has his match sharpness back we will improve because when he is on the pitch, the midfield players tend to become more creative. Coutinho and Gerrard in particular.
The more games the merrier? I don't think so Brendan.
It's not only the lack of goals that worry me. I'm concerned about the FA Cup and Europa League games having a negative impact on our league form. We already saw the effects the Bolton game had on the Merseyside Derby. We looked knackered and our 2 best players were hooked off while we were desperate for a goal.
I think we have a squad capable of doing well in the 3 competitions we are in but I'm not confident in Brendan's ability to manage the squad accordingly. Playing Gerrard for 90 minutes at Bolton and then another 90 at Goodison while Markovic and Lallana kicked their heels on the bench and in the stand. Strange, and probably led to his injury.
Soon we'll be playing 2 games a week and if we progress to the latter stages of the cups we'll be playing up to 3 games a week at the business end of the season.
Since 2012-13 we've played 25 PL games after a midweek cup/European tie. Our record is: Won 7. Drawn 12. Lost 6. That's a 1.26 points per game average. 48 points over a 38 game season.
This season our record after a midweek cup or European tie is even worse. Played 12. Won 3. Drawn 5. Lost 4. 1.17 points per game. 44 points over a season.
Compare this with our record when we have a full week of rest before a league game.
Since 2012-13: Played 64. Won 38. Drawn 13. Lost 13. 1.98 points per game. 75 points over a season.
This season: Played 9. Won 6. Drawn 0. Lost 3. 2 points per game. 76 points over a season.
Average points for the fourth placed since 2001-02: 69
Average points for the third placed since 2001-02: 76
(2001-02 is when fourth place in the Premier League was first granted a champions league qualification spot – more of this later).
The results say that when we have a week to prepare for league games we are a top 3 team. But throw cup and European games into the mix and our league results resemble a mid-table side.
So Kopblog reader, now you're armed with this information what would you do?
If it were me I'd prioritise the Premier League. That's not to say I'd field the reserves in the other competitions but I wouldn't let Coutinho or Sterling anywhere near a cup or European tie. Not until the semi-final stage should we get that far.
In reality though, I don't see Brendan leaving out our best players in the FA Cup. I expect to see our strongest possible side against Palace with possible rotation against Besiktas. In contrast, our next league opponents Southampton will have had 11 days' rest.
The Race for fourth
There has been a bit of debate around what it will take for teams to finish in the top four this season. There are some that think the usual candidates for the top four spots are dropping points more than is usually the case. There are some that think the usual 70 point mark is what will be required to have a chance. Well let's have a look.
I thought it would be good to look at whether or not the top 4 candidates this season had been dropping more points than has usually been the case. I looked at what the points totals were for teams positioned 3rd to 7th after 25 games every season since 2001-02 to work out the average and then compared to this season.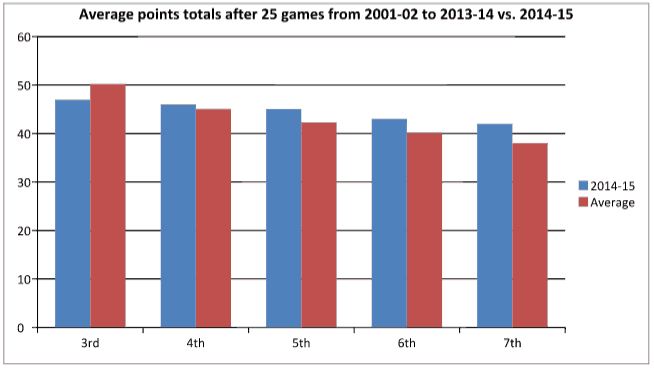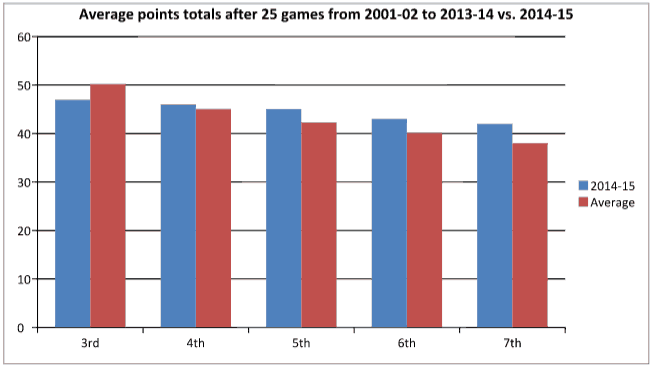 The above bar chart shows the 3rd place team has, in past seasons, done better than the 3rd place team this season. By 3 points. However the 4th place team this season is doing better than 4th placed teams in past seasons. The same is true of the 5th, 6th and 7th placed teams.
If we only look at the last 4 years to maybe get a more accurate picture when comparing to this season it's a similar story. The averages from 4th to 7th increase a little bit but they are still less than this season.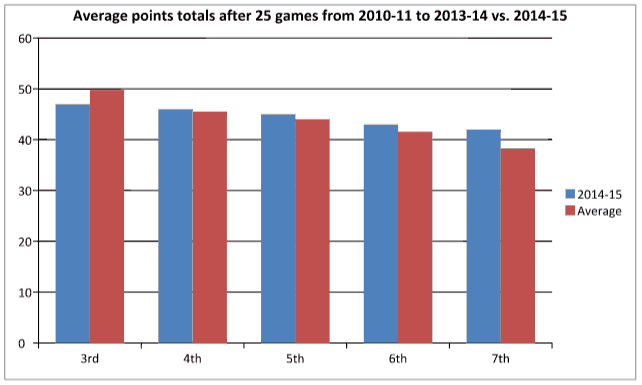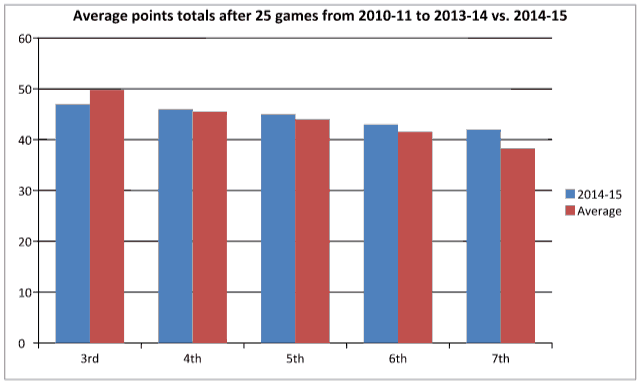 So, we can confirm that teams from 4th to 7th this season are not dropping more points than they have done historically. You'd therefore expect the points total of the 4th placed team to be similar to what it has been in recent times.
Interestingly the third placed team this season is dropping more points than has historically been the case and therefore the feeling is that there are 2 champions league places up for grabs (so to speak) this season.
3rd and 4th placed points totals going back to 2001-02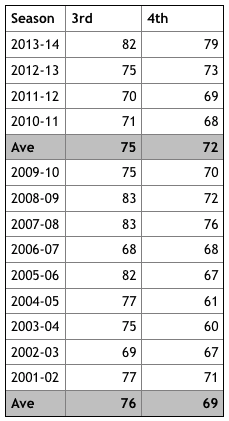 The average points the 4th placed team has finished with over the last 4 seasons is 72. Go back to 2001-02 and the average is 69 points. Anything is possible but if I were to stick my neck out I'd say between 70 and 72 points will be required to finish in the top 4 this season.
Can we do it?
Is 70-72 points achievable for Liverpool? I'd say yes but it is a tall order. We'd require at least 9 wins (and 3 draws) from our remaining 13 games. The awful start has given very little wiggle room.
Where are the 28-30 points going to come from? Predictions in the comments section very much welcome!
Remaining league fixtures – with my optimistic predictions
Southampton (a) win
Man City (h) draw
Burnley (h) win
Swansea (a) win
Man Utd (h) win
Arsenal (a) draw
Newcastle (h) win
Hull (a) win
West Brom (a) draw
QPR (h) win
Chelsea (a) lose
Palace (h) win
Stoke (a) win
The other avenue is of course winning the Europa League although I'm not confident there. We've not exactly taken Europe by storm in the last few years and the competition is hardly full of cannon fodder. The following teams will present a stiff challenge:
Roma, Napoli, Wolfsburg, Villareal, Sevilla, Inter, Athletic Club, Ajax, PSV, Fiorentina, Feyenoord and our next opponents, Besiktas. Getting to the final will be a tough ask.
Whatever happens I am happy that LFC has finally found form and that we even have a chance to achieve objectives this season. Before Christmas it was very painful watching the team play, especially those Champions League games, but now I'm having fun watching the reds play again and very much look forward to the next game. Hopefully we will all have something to celebrate when this season comes to an end.